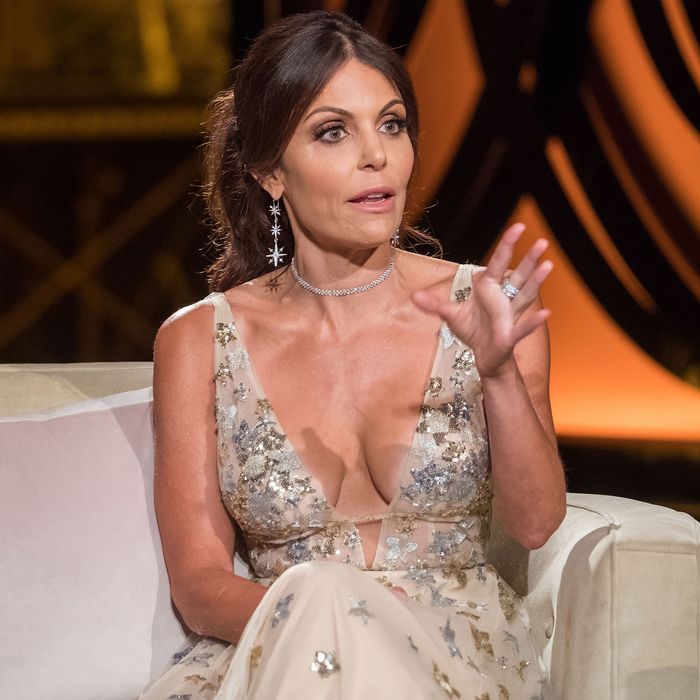 Photo: Bravo/Charles Sykes/Bravo
The conventional Real Housewives wisdom has been that Carole Radziwill's job was always protected because she and Andy Cohen, the ringmaster of our favorite dog and pony show, were "actual" friends. At least that was the gospel according to Carole's detractors who found her boring, annoying, or pretentious. Well, it's clear that their friendship didn't protect her job. It's also clear that their friendship might be over.
The episode started with something we saw last episode, which is Carole telling Andy that he's full of shit for saying that Carole and Bethenny bashed each other on the show the entire season. Sorry, Carole, but that is an actual true statement. However, Carole told Andy that he was "full of shit" and then accused him of being scared of Bethenny too. "Yeah, I'm scared of her," he says dripping with sarcasm like a chocolate self-serve melting all over your hand on a hot August day. Then, when Carole tried to say she was cold because of her "large hippocampus," Andy countered with, "And Trump is a stable genius," comparing Carole to her bête noire in an agile feat of incomparable shade. Add to this him giving her the side-eye when her phone went off during his introduction, you could see that Carole's former friend was done with her.
At the end of the episode, when Andy went around the horn and asked all of the women their biggest regret, he asked Carole, "Is yours telling me I'm full of shit?" Carole played dumb, saying she didn't remember saying that. In an inspired bit, the editors then replayed the clip that aired earlier this episode to show Carole saying just that.
That was a little bit of self-reference in an episode of the reunion that was just smothered with it. At one point Bethenny told Carole to "get a hobby," an obvious callback to the same advice she gave Jill Zarin, her last best friend turned intense enemy. (Jill Zarin is now a spy intent on destroying the Real Housewives.) Later Carole told Bethenny to "get off my jock," which is a line she also referenced earlier this season but one that she stole from Bethenny, who memorably used it in season seven. (Bethenny even emblazoned it on a men's muscle tee, available now for $12.)
While RHONY has become a snake eating its own tail, the argument between Bethenny and Carole is a tale as old as time, a song as old as rhyme, no beauties and just a whole bunch of beasts. It wasn't an enjoyable or entertaining fight, like when Porsha Stewart and Kenya Moore tear into each other, trading hatred and hilarious insults like nerds perfecting a deck of Magic: The Gathering cards. (Well, except for the time it led to an actual assault.) This was not George and Martha duking it out with bon mots to the end. This was just annoying bickering. This was one-upping each other into oblivion, each making sure to get the last word.
I think that it is an official rule of the Real Housewives Code of Engagement that as soon as anyone says, "Will you let me speak?" they've already lost the argument. If you need that long to explain yourself before someone can interrupt, no one is going to take your point. Reality television, much like the internet, is no place for nuance, and our attention spans are shorter than an ant with no legs.
I also propose adding another official rule to the RHCOE, which is to never show up to the reunion with receipts. We do not want receipts. Yes, the women think they can clear up all of the miscommunications that have happened during a season with print-outs of text messages or Twitter DMs or bravotv.com blogs. They all think that if the fans only knew the truth — their truth — they would be vindicated. The sad truth is that the show is the only truth. We only want to judge based on what we see. We want to judge based on our evidence, not yours.
That is why the texts that Carole pulls out from Red Scarf Brian (no relation) fail utterly. That is why Bethenny's "Boo-yah, bitch," which was so heavily hyped in the promos, is entirely empty. Carole starts reading the texts to us, which is the only thing more boring than someone stalling a conversation so they can flip through their phone looking for an eight-month-old picture that may or may not be in their "Moments." Bethenny starts reading the texts, too, and we have no idea what these are even supposed to prove. We have no clue what either of them hopes to accomplish by this.
By the time we realize that Carole is trying to call out Bethenny's "lie" in a blog that she tried to set Carole and Brian up, Bethenny proves it both to us and to Andy, thus prompting the heavily-hyped "boo-yah." Then Carole tries to say that the text was sent weeks after she and Brian had already been on a date, therefore proving some kind of lie. But it is proof of nothing. It is proof that the truth is messy and complicated and we don't want that. It is proof that this is all more dumb and complicated than any of us signed up for and we'd much rather be hearing about exactly how Ramona's poop smear ended up on the floor of a luxury villa and why she didn't think it appropriate to inform a member of the household staff.
We leave the fight with Bethenny and Carole where Carole talks about how only "two people read" her blogs and apologizes to Bravo. Bethenny counters back about how people read it, and as the camera pulls away like a kite finally loosed from its string, we hear them bickering away into the distance, like the last crickets of summer.
The strangest thing about this reunion, to me, was that we had to revisit the beginning of the season when everyone was mad at Sonja Tremont Morgan of the Coachella-Brand Flower Crown for Grown Women Morgans. Do you even remember that? It seems like the stink of a turd long flushed. The rest of the season has been so crazy that the animosity toward Sonja seems like an entire lifetime ago.
I was in Fire Island this weekend and a fellow Housewives fan came up to me at tea (which is just a fancy name for "gay happy hour") and said, "This season of New York was such a snooze." Now, everyone is entitled to their opinion of what makes good entertainment and what doesn't, but this gentleman was wrong. He was the most wrong person I've ever met and I've met PK, a poop smear a grown woman left on the floor of a luxury villa.
This season started with Luann in blackface, it took a detour through Dorinda and Sonja fighting about whose former husband was worse, and then spun its way through another fight in the Berkshires. Then we got Luann's arrest and rehab stint, Ramona alerting the press that she was out, the Nutcracker of Doom, Ramona screaming at Bethenny about not supporting women, and Dorinda boozy in Florida. We went on a relief effort to Puerto Rico, which made me cry, and Carole finishing the marathon, which also made me cry.
Finally, like all the gilding on every lily, we had a trip to Cartagena, which was perhaps the craziest trip on a series that has also brought us to Scary Island and the Mexican Tequila-a-Thon. This trip turned out to be even better than Bethenny and Ramona crying in each other's arms naked in a pool. Then, the perfect cherry on top of this lovely cherry was the "Jovani!" night at Luann's cabaret debut. You're going to call this a "snooze"? What does this guy want? The actual Hunger Games?
There was so much this season that they didn't even show Sonja finally moving out of her townhouse. We only got that footage here, on the reunion, though it was presented as if it was a flashback. Are the producers trying to gaslight us? Are they trying to make us think there was a whole episode that we don't remember where Sonja packed up all the Wesson oil in her basement, all of her bidet-washed thongs and threadbare towels, and moved out of the townhouse and we missed it. That's what this season was, something so packed with drama, fighting, revelations, and spiritual growth that Sonja finally giving up on the illusion of her illustrious past is nothing but a footnote jammed into the reunion. That is not a snooze. That is a mother-f-ing triumph.