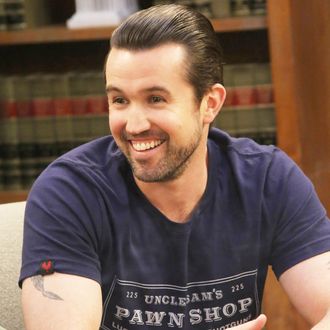 Rob McElhenney as Mac.
Photo: Copyright 2017, FXX Networks. All Rights Reserved.
Rob McElhenney, most famously known as Mac from It's Always Sunny in Philadelphia, debuted a fresh look on the show's 13th season premiere this week — and no, that doesn't mean he's chimichanga fat again. Mac is now swole. Like, carved out of stone swole. And in case you were wondering how to get fit like the Paddy's Pub stalwart, McElhenney wants you to know that it's a total pain in the ass and you should not at all feel pressured to do as he does, not least of all because FX picked up the tab for his fitness routine. See the actor's whole message about forfeiting joy to get Hollywood sexy in his Instagram below.