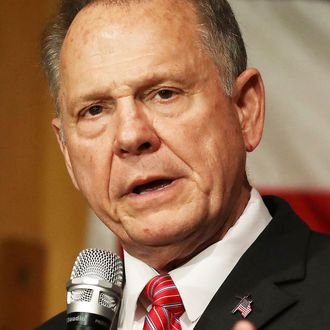 Roy Moore.
Photo: Joe Raedle/Getty Images
Roy Moore, who previously threatened legal action against Sacha Baron Cohen after his appearance on Who Is America?, has followed up on his threat. According to Variety, the lawsuit claims that "this false and fraudulent portrayal and mocking of Judge Moore as a sex offender, on national and international television, which was widely broadcast in this district on national television and worldwide, has severely harmed Judge Moore's reputation and caused him, Mrs. Moore, and his entire family severe emotional distress, as well as caused and will cause Plaintiffs financial damage."
On the show, Cohen posed as an Israeli colonel and pretended to wave a "pedophile detector" in front of the former Alabama Senate candidate, in reference to allegations of sexual misconduct against teenage women surrounding Moore. Moore cut off the interview and left, later claiming he was duped into the appearance. Though Moore signed a release before taping the show, his lawsuit claims that it was obtained on fraudulent grounds. He's suing Showtime, CBS, and Cohen for defamation, intentional infliction of emotional distress, and fraud, and asking for damages to the tune of $95 million.
"The press has been sent copies of an alleged complaint, yet to our knowledge Showtime has not been served," a spokesperson from Showtime said on the news. "With that said, we do not comment on pending litigation."