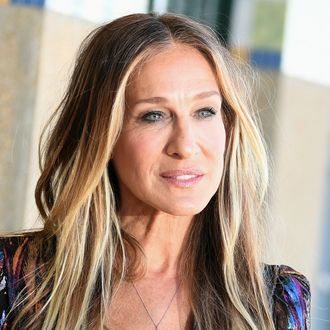 Sarah Jessica Parker.
Photo: Pascal Le Segretain/Getty Images
While the leads of Sex And The City have aged like four fine white wines, series lead Sarah Jessica Parker acknowledges that the show's lack of diversity really has not. "You couldn't make it today because of the lack of diversity on screen," the actress reportedly said at the premiere of her film Here and Now at France's Deauville American Film Festival, according to The Hollywood Reporter. Said the actress, "I personally think it would feel bizarre."
But while other shows have attempted to course-correct a dearth of diversity on TV by focusing their respective reboots on characters of color, Parker also thinks a Sex And The City reboot with a new, more racially or ethnically mixed cast of ladies just … wouldn't be Sex And The City. "I don't know that you could do it with a different cast. I think that's radical and interesting, but you can't pretend it's the same," she said. "It wouldn't be a reboot as I understand it."
Mused Parker, "If you came back and did six episodes, you'd have to acknowledge the city is not hospitable to those same ideas. You'd look like you were generationally removed from reality, but it would be certainly interesting to see four diverse women experiencing NYC their way." Concluded the Divorce star, "It would be interesting and very worthwhile exploring, but it couldn't be the same." On the other hand, Lily Goldenblatt will be 30 in about, oh, 16 years. Or we can just do a time jump? We could always do a time jump.