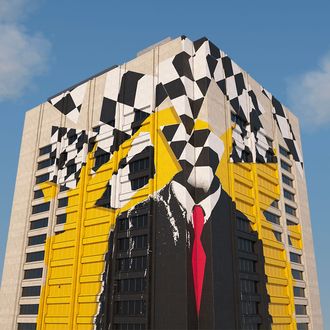 Photo: Moth Studio and Adam Maida/Courtesy of SERIAL
When Serial returned with its highly anticipated third season last Thursday, dropping two episodes to kick off an ambitious journey into the heart of Cleveland's criminal-justice system, the podcast scored its biggest debut yet: More than 1.4 million people downloaded each of the first two episodes within the first 14 hours of publication, according to the podcast measurement firm Podtrac.
The first episode, "A Bar Fight Walks Into the Justice Center," saw around 1.46 million unique first-day downloads, according to Podtrac numbers provided to Vulture. The second episode, "You've Got Some Gauls," brought in around 1.43 million unique first-day downloads.
That's higher than the launch numbers for Serial's second season, which debuted in December 2015 and focused on the mysterious kidnapping of Army Sergeant Bowe Bergdahl in Afghanistan. The debut episode of that sophomore season garnered around 1.34 million unique downloads on its first day. Its second episode, published a week later, dropped down to 1.24 million unique first-day downloads.
The huge numbers are great news for Serial, says co-creator and executive producer Julie Snyder, especially because the third season is so different than the first and second. "One of the things that's stressed me out about Serial the last few years has been audience expectation. That we're supposed to be true-crime, or just one deep investigative story, or some other easy descriptor. So to come out this season and say, Instead we're gonna do a bunch of stories from Cleveland! Well … we were admittedly a bit nervous before the release," Snyder said. "So these launch numbers — and the response to the episodes in just the first few days — have been so gratifying. Because we really believe these stories are important. The world is crazy now and there are so many podcasts and there's such wonderful journalism being produced … it's heartening that people are excited for us to keep going."
The performance of Serial's third season can't yet be compared to that of S-Town, its acclaimed novelistic spinoff by Brian Reed that was released in March 2017. (Snyder was also the executive producer.) S-Town released all seven of its episodes at once, and they went on to collectively bring in over 40 million global downloads within the first month — a high-water mark for the podcast industry at the time. We'll have to wait until the end of the season, and then dig through the data, to figure out how Serial measures up.
In the meantime, here's another neat data point for context: When the very first episode of Serial debuted on October 3, 2014, it was downloaded only 86,000 times on its first day. Today, the combined downloads for the first two seasons have topped 350 million. And some of those downloads, I should add, come from Kim Kardashian.