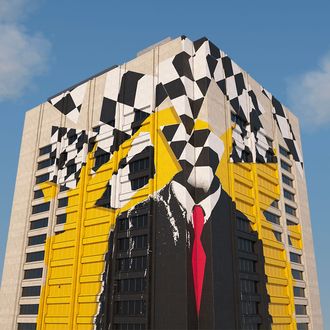 Photo: Moth Studio and Adam Maida/Courtesy of SERIAL
Serial will officially return for its third season later this month, and this time, the hit investigative podcast is switching things up. Instead of focusing on a single case — a murder in Baltimore in season one, a soldier's desertion in season two — the upcoming season will dive into the infinitely complicated topic of the American criminal justice system by delivering weekly stories from inside the courts of Cleveland, Ohio. "It's one courthouse, week by week," according to a press release.
The first two episodes of Serial season three will debut on September 20, with new episodes released every Thursday. Julie Snyder once again serves as executive producer, and host Sarah Koenig will be joined by reporter Emmanuel Dzotsi, who was raised in Ohio. Koenig and Dzotsi spent a year embedded in Cleveland's court system, examining a wide range of cases and documenting the city's process of judgment. Cleveland was chosen for the significant access the team was granted to record from within courtrooms, judges' chambers, and attorney offices.
The choice to focus on the American criminal justice system appears to be in some part a response to unexpected legacies of Serial's first season, which investigated the 2000 conviction of Adnan Syed for the murder of his ex-girlfriend Hae Min Lee in Baltimore. "People have asked Sarah Koenig and the Serial team: What does that case — Adnan Syed's murder conviction — tell us about the criminal justice system? But cases like that one are not typical: a defendant with no criminal record, a private defense attorney, a six-week trial — the fact that it went to trial at all!" the press release says. "Extraordinary cases like Adnan Syed's are not what's filling America's courtrooms. To tackle the criminal justice system, Serial would need to look at something different: ordinary cases."
You can listen to the trailer on the Serial website.
Debuting in October 2014, the first season of Serial was an unexpected sensation that had a wide cultural impact: Besides inspiring obsession, debate, controversy, backlash, a Saturday Night Live parody, and a veritable generation of true-crime podcasts, that debut run was also deeply invested in the consequences of an individual, Adnan Syed, potentially done wrong by the justice system. Koenig's investigation even ended up sparking a new trial for Syed.
Serial's sophomore effort featured a shift in environment and a step up in scale. Released in December 2015, that second season revolved around Bowe Bergdahl, a soldier who deserted his base in eastern Afghanistan and ended up being captured by the Taliban. I liked that season more than most people despite the fact it never matched the cultural explosion of its predecessor, believing its examination of the overlaps between individual psychology, American warfare, and the military ecosystem to be an ambitious effort matched by very few within podcasting.
This third season seems poised to meld together elements from its two preceding efforts: the crime-reporting roots of its first with the ambition of its second. And its choice of topic seems to further push the production away from associations with the true-crime genre — an affiliation, it should be noted, that was never actually intended. When the podcast was first announced as a spinoff of This American Life back in the summer of 2014, its pitch was almost generic. "What's different about Serial is that it's a story that takes a dozen or so episodes to tell," This American Life chief Ira Glass wrote in a blog post from the time. "So each new episode brings you the next chapter of this amazing, unfolding story. Serial's a podcast, not a radio show, because a podcast seems like a better place for a long story that you need to hear from the beginning."
These days, the "serialized narrative" podcast structure has become ubiquitous, and it has been utilized by a range of shows including Gimlet's Mogul, ESPN's 30 for 30 Podcast, Slate's Slow Burn, an expansive universe of modern audio dramas, and even improvisational comedy podcasts like Hello From the Magic Tavern, Mission to Zyxx, and The Adventure Zone. At this writing, Serial has been downloaded over 340 million times across its two seasons.
The true-crime affiliation continues to stick strongly to Serial — even looming over S-Town, the novelistic spinoff by Brian Reed that was distributed under the Serial Productions banner, and which turned out to be an unconventional act of biography as opposed to anything resembling Making a Murderer — but for Glass, Koenig, and the Serial team, the point was always to use podcasting's on-demand audio format to increase the depth of story that This American Life can tell. "Our hope is to give you the same experience you get from a great HBO or Netflix series, where you get caught up with the characters and the thing unfolds week after week, and you just have to hear what happens next, but with a story that's true," Glass wrote in another blog post from 2014. "And no pictures. Like House of Cards or Game of Thrones but you can enjoy it while you're driving."
With its system-level focus on justice in America, this upcoming third season of Serial may well have a shot at evoking The Wire, only with a story that's true.