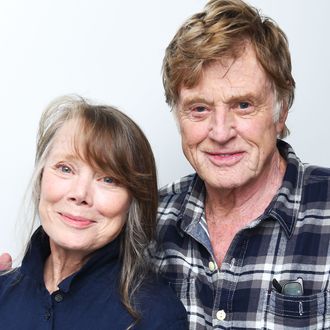 Two of the hardest-working bangs in Hollywood!
Photo: Griffin Lipson/BFA.com
After nearly 50 years of knowing each other, The Old Man and the Gun is the first movie Robert Redford and Sissy Spacek have made together. He plays a gentlemanly bank robber; she's the country woman who dates him. During a Times Talk Friday night in New York City, Spacek recounted their first meeting: "I was just 19 or 20 — maybe not even that old — Bob wasn't that much older, but he was already a big star. I met him through a mutual friend, a wonderful casting director named Marion Dougherty. We called her Aunt Marion," she said. "I was going to her office for a meeting with a friend of yours, Michael Ritchie, who directed you in Downhill Racer and The Candidate. I was just going there to meet Michael Ritchie about a film called Prime Cut, my first film. I was so excited to meet him. He doesn't remember, but I called him 'Bobert.'" Swoon!