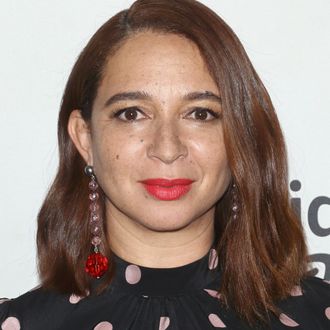 Maya Rudolph.
Photo: Jim Spellman/Getty Images
Saturday Night Live has a notoriously bad track record when it comes to hiring women of color, with Maya Rudolph, who was on the show from 2000-2007, being one of the show's few examples of diverse hiring. (Leslie Jones and Sasheer Zamata have since followed in her footsteps.) While Rudolph ultimately thinks her SNL tenure was a positive one, she also believes her white cast members were given an advantage when it came to securing certain roles. "There were times I was frustrated, like, 'Why can't I [expletive] just play that role?'" she recalled to the New York Times Magazine in a new interview. "But obviously the person next to me that's white is going to play that white character." However, there was another source of frustration on the show that wasn't related to acting at all: the reactions to her hair.
"My hair was natural when I started Saturday Night Live, but it was so thick to get under the wigs," Rudolph explained. As such, she had to set aside time "several hours a week" to change its texture, which turned into a weekly Friday evening blow-out appointment with the hair department. "[The blow-dry station] was on the same hallway as a lot of the dudes' dressing rooms. And every [expletive] Friday night, we'd hear some [expletive] white guy walking down the hall going, 'Is something burning in here? What's burning?'" Rudolph said. "I'm like — I'm. Get-ting. My. Hair. Done.'" And now we're get-ting a bit mad, just thinking about this.