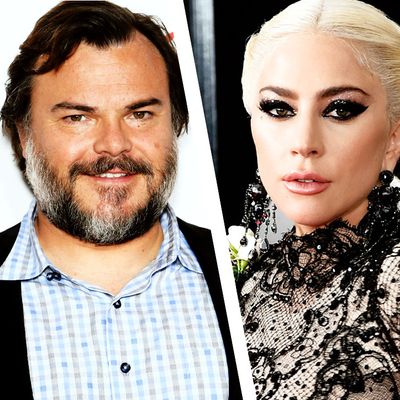 Jack Black, Lady Gaga, and Constance Wu.
Photo: Getty Images
When the premiere of Saturday Night Live takes place on September 29, fans will focus on the cold open and the newly minted players, but the first guest host sets the tone for the coming season. Certainly, Lorne Michaels and his casting directors yearn for the magical sort of performer that will spur both ratings and conversation. Some possibilities are easy to imagine — longtime SNL favorites, alums, or those comic movie stars who have just released (or will soon release) a hotly anticipated project. Some — longstanding TV stars who seem to have missed their window, up-and-coming actors whose projects may or may not take off — remain long shots. Let's look at some of the year's potential hosts, their odds of getting the call, as well as some possible musical guest pairings.
Jack Black / Arctic Monkeys
Given the new adaptation of The House With a Clock in Its Walls stars Black, SNL has a good excuse to call up this three-time host and two-time musical guest. The Tenacious D front man can carry a tune, gnaws the scenery just right, and also hasn't hosted since 2005. Though he may not hold the public imagination as he did in the aughts, he pops up regularly (e.g. this summer's Jumanji sequel) and remains a reliable presence in series such as Drunk History. For my money, convincing Black's Clock co-star Cate Blanchett to host would be an eff'n treat, and would bring out a different energy in the writers. But for the first show of a season, SNL is more likely to put their money on a proven, high-energy dude who already knows what he's doing at 8H. (This synergy spot might have gone to Emma Stone or Jonah Hill, but both have hosted in the fairly recent past.) For Black, the musical guest spot will go to a band enjoying rock's waning days as they age: Arctic Monkeys, who have an excellent release in Tranquility Base Hotel & Casino.
Odds: 5 to 1
Constance Wu / Travis Scott
SNL likes to invite breakout stars of the summer to host, often right out of the gate, and Wu is the best candidate for that slot. The Fresh of the Boat star went from hot to blazing with Crazy Rich Asians, playing a genial, middle-class American interloper with very little resemblance to exacting FOTB matriarch Jessica Huang. Wu is poised and charming, something that's clear each time she is a guest on late night; she also has great timing and a lovely ability to dig into even little moments she's given. Sure, commitment to diversity at SNL will show through in their new hires, but getting Wu to host would also be a nice signal that this shit matters. Also, not for nothing, it would open the door for drop-ins from the likes of Ken Jeong and other Crazy Rich Asians stars. Meanwhile, Travis Scott will ride his Astroworld wave right onto the SNL stage.
Odds: 10 to 1
Lady Gaga
Lady Gaga has been on SNL a lot. She's been the musical guest three times — her most recent appearance was 2016 — and appeared both as host and musical act in 2013. Regardless of her duties, Our Lady Stefani has been more than willing to horse around with the cast; her performance as herself in the "What's That Name" sketch alongside Justin Timberlake, for instance, was masterful. Most importantly for SNL 44, Ms. Gaga is making a star turn in Bradley Cooper's directorial debut this fall, A Star Is Born. This time around, she would take on hosting and musical guest duties once again, poking fun at herself during the sketches and playing stripped-down songs from the movie during the interludes.
Odds: 20 to 1
Some Chris (Pratt, Evans, or Hemsworth) / Pusha-T
This pack of reliable dudes, while certainly not indistinguishable, share a fair number of qualities. (SNL already made hay about the fact that there are a few blonde, hunky Chrises when Chris Pine hosted last spring.) Each of them can don capes and growl catch phrases, each has a palpable sense of humor and, yeah, each is easy on the eyes. As far as recent credits go, every single one of 'em was in this big Avengers movie this summer. While Hemsworth and Pratt have both hosted SNL and performed swimmingly, for some reason ol' Captain America has not yet hosted. So if one of the three has an edge, it's Evans. With an eye toward juxtaposition for one of these grinning white knights, SNL will welcome Pusha T; he knows his way around 30 Rock after featuring during one of Kanye's visits, and he's got a really noteworthy release this year.
Odds: 30 to 1
Maya Rudolph / Janelle Monáe
Neither The Maya Rudolph Show nor Maya & Marty had a long life, but there's a reason why the former SNL cast member keeps returning to song and sketch: She absolutely excels at the variety-show format. Though Forever, the new series she stars in with Fred Armisen, isn't the cheery spectacle that might contribute to the celebratory atmosphere of a season kickoff, SNL is always happy for a homecoming. Presuming that Forever gets decent marks, SNL will likely have either Rudolph, who hosted once, in 2012, or Armisen, who hosted in 2016, at some point before the new year, maybe even together. If it does happen at the top of the season, imagine a musical guest that's going to make things bright and funky and a bit dance-y; Monáe fits that bill, and makes another case for her vision of the freaky future with Dirty Computer.
Odds: 50 to 1
Kristen Bell / Thundercat
This one may be less likely, but there's no reason why that should be. Bell has proven her comedic chops for years in film and TV; and The Good Place, which is now entering its third season, is a trippy, existential delight that Bell anchors with aplomb. Perhaps it's more of a critical darling than a runaway smash, but remember Bell's larger track record. She's nabbed fans in everything from Veronica Mars to Bad Moms — and hell, even tweens who grew up with Frozen would watch SNL for the first time if they knew Anna was on. Bell has even had experience hosting a late-night show, as she filled in for Jimmy Kimmel in May of last year. For Bell's partner, I'm going full-on funky underdogs with Thundercat. It's not just that his latest (Drunk) is great, he's an imaginative musical mind (Kendrick Lamar's To Pimp a Butterfly wouldn't be the same without him) who deserves a big audience. Thundercat was also the late Mac Miller's close collaborator, so it could evolve into a nice tribute to Miller, too.
Odds: 75 to 1
Lil Rel Howery / Future
No, SNL never had Jerrod Carmichael to host while The Carmichael Show was on NBC; understandably so, in that he leans toward the controversial and isn't one to pull punches. Carmichael executive-produces Lil Rel Howery's new series, Rel. It'll be hard to gauge the success of the Fox series by the time the SNL premiere rolls around, but it's sure to court controversy less than The Carmichael Show did. Rel is also an engaging comic with an easy onscreen presence. He will have no problem playing the foil for oddball characters and otherwise code-switching through an episode of SNL. Even though Future appeared as an SNL musical guest in 2016, producers will bring him back as he's just been unstoppable of late — Beastmode 2 is only his most recent example.
Odds: 100 to 1