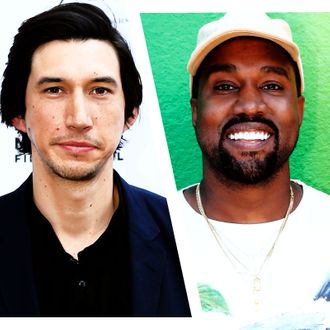 Adam Driver and Kanye West.
Photo: Getty Images
Saturday Night Live, at long last, has revealed the lineup for its season 44 premiere. On Twitter today, the show announced that Adam Driver will host the show's premiere on Saturday, September 29, accompanied by musical guest Kanye West.
Both have performed on SNL before; Driver made his hosting debut in January 2016, while Kanye has performed as musical guest a handful of times, most recently when Ben Affleck hosted in 2013 and Melissa McCarthy hosted in 2016.