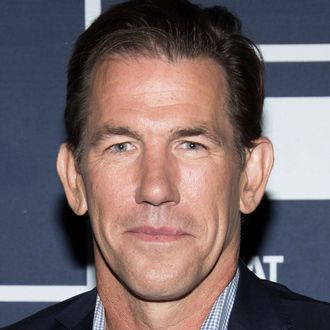 Thomas Ravenel.
Photo: Bravo/NBCU Photo Bank via Getty Images
In May, a woman reported Southern Charm's Thomas Ravenel to the police for sexual assault, and this morning he was charged with second-degree assault and battery, according to People.
A woman named Dawn previously spoke to People and said she was the one who reported Ravenel to the police. Reportedly a former nanny for his children, the woman said Ravenel "corralled" her into a bedroom where he blocked her from leaving, pushed his pants down, and "proceeded to rip my clothes off" before she was able to get away. According to People, "sex offense/forcible rape" is the crime listed on the arrest report.
Earlier this year, a different woman came forward and said Ravenel attacked and forcibly penetrated her mother. The two apparently met on Tinder, and Ravenel allegedly assaulted the woman in his home while they were on a date. The woman reportedly settled with Ravenel for $200,000 and signed a nondisclosure agreement, but her daughter did not. A court date has not yet been set for Ravenel's current legal proceedings, though Bravo confirmed to People he is no longer part of the Southern Charm cast. Ravenel tweeted in August that he wouldn't return to the show, saying, "I decided I've got too much to lose and informed them I'm not coming back."