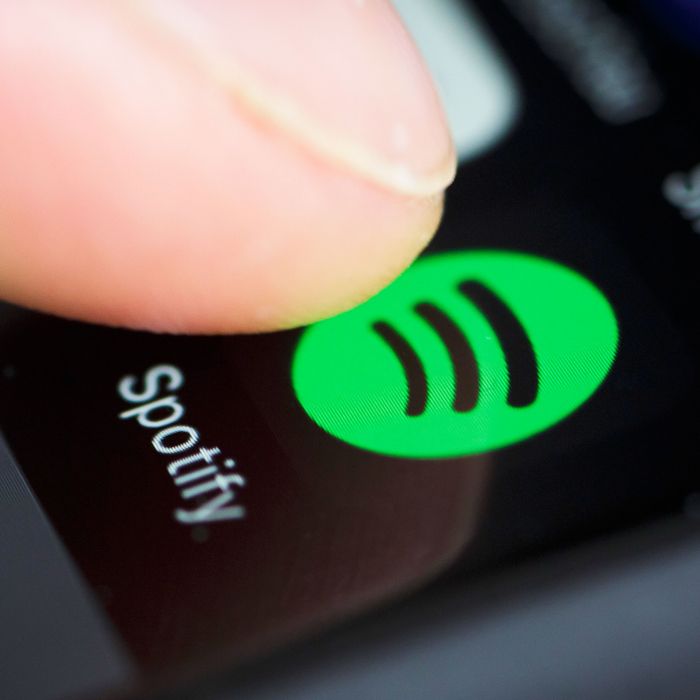 Photo: Thomas Trutschel/Photothek via Getty Images
Changes are coming to Spotify, the biggest music-streaming service on the market. In a way, they always have been. Streaming services are always in flux, adapting to our needs as we adapt to needing what they have to offer. While most of the disruption and constant change has tended to matter only to its growing user base, Spotify is now upping the stakes. Last week, Spotify began beta testing a new feature that allows independent artists to upload their own music directly to the platform, completely bypassing the old label or distributor model that's existed as the barrier between artist and consumer since the music business' infancy. It's not Spotify morphing into its own record label, per se, but it's also not not that. It's also not quite Spotify advocating for artists' rights either, as they've so often been accused of neglecting. So what is it? And how might this next move affect you, the music listener?
So anyone can just put their music on Spotify?
Not quite. Right now, the direct upload option is available as an invite-only beta feature on its Spotify for Artists platform — which includes about 200,000 verified users, accounting for 72 percent of all streams — and only "a few hundred U.S. based artists" got the invite. But, according to Spotify, in the next few months, more artists will get in. So far, the biggest name to use it is Chicago rapper Noname, who independently self-released her new album, Room 25, on Spotify without any middleman.
Is it free?
For now, yes, and that's the main appeal. Typically when an unsigned artist wants to get their music on any streaming service, they have to do so via a distributor like TuneCore, but that comes with a fee and, sometimes, a cut of your revenue. Spotify says it isn't charging just yet and you get to keep all the money you earn off streams, rather than having to give a large percentage to a record label. Most importantly, there's no cap on how much music or how often you can release through the service. "Just like releasing through any other partner, you'll get paid when fans stream your music on Spotify. Your recording royalties will hit your bank account automatically each month, and you'll see a clear report of how much your streams are earning right next to the other insights you already get from Spotify for Artists," they say. "Uploading is free to all artists, and Spotify doesn't charge you any fees or commissions no matter how frequently you release music."
Are they the only ones doing this?
Nope. SoundCloud and Bandcamp pretty much built their DIY reputation by allowing artists to directly upload to their sites without a label. (It's what birthed SoundCloud Rap and SoundCloud R&B, more or less.) But unlike Spotify's new feature, they offer the direct upload in tiers. It's free on SoundCloud, but there is a cap (three hours of music) until you have to upgrade to a paid Pro subscription, which can give you unlimited upload bandwidth for a price. Bandcamp doesn't charge for its artist accounts, but if you'd like access to more of your consumer data, it'll cost you with premium accounts. And then there's YouTube, which remains free to upload but is also extra vigilant about copyright violations. (That makes it much harder to use samples in your music.) Another point in Spotify's favor is that you get access to all of Spotify's coveted data for free.
Spotify also isn't the first major streaming service to bypass labels. Chance the Rapper, who remains label-free, signed an alleged $500,000 deal with Apple Music in 2016 to exclusively release his album, Coloring Book, without any label meddling or outside distribution. When Frank Ocean released his visual concept album, Endless, on Apple Music to fulfill his record contract, he then went on to release Blonde exclusively via Apple Music under his own label, Boys Don't Cry.
But will you own your own music?
That's tricky. Artists rarely own the rights to their own music when released via a record label; it's why Spotify and all the streaming services have had to contentiously re-up their licensing deals with the Big Three labels to have continued access to their catalogues. On the beta page for Spotify's new service, there's mention of artists having to sign a "content license agreement," but the terms of that agreement aren't stated. It's referenced merely to reiterate that artists get to keep their royalties and that Spotify isn't charging fees or commissions; you're just granting Spotify permission to license, a.k.a. stream, your music. And any artist that wants to use the service must own the copyrights to the music they upload. Both the New York Times and Billboard have reported that Spotify has been quietly signing licensing deals directly with artists or their representation over the last year, allegedly offering advance payments of "tens or hundreds of thousands of dollars." It could become possible that, like Facebook and Twitter, when you upload content directly to the service, you forfeit ownership, but so far that does not appear to be the case.
There is certainly a catch and that has to do with publishing. According to Spotify, "Publishing royalties for songs underlying the sound recordings released through Spotify for Artists will still be paid to appropriate rightsholders through existing relationships with local and international performing rights societies (e.g. ASCAP, BMI), mechanical rights societies (e.g. Harry Fox), and/or music publishers." And they strongly encourage songwriters to register their work with "the appropriate societies." In other words, if you don't own your publishing, you still don't own your songs, regardless of if they're self-uploaded or done so via a label or distributor. Spotify's new initiative doesn't change that.
Wait wait wait but what's this I hear about Spotify owning my DNA?
Hoo boy. This week Spotify announced a new partnership with Ancestry.com, which would allow users to input their genealogy findings into Spotify so they can "explore the soundtrack of their heritage," or whatever. But no, that does not mean Spotify suddenly owns your DNA. They don't even have access to it, according to a statement. Relax for now.
Hmmm. Anyway! How exactly does an artist get paid using this?
According to Spotify, via Spotify themselves. "Only music that's been released through Spotify for Artists will receive recording royalty payments directly from Spotify," the say on the beta info page. Publishing royalties to various third-party rightsholders, however, are "generally not paid to songwriters by Spotify directly." One Spotify exec broke it down to the Verge like this: "We created a pretty simple and fair deal for uploading music where artists receive 50 percent of Spotify's net revenue, and Spotify also accounts to publishers and collection societies for additional royalties related to the musical composition." But every artist has the opportunity to rake in 100 percent of their royalties. Artists will be asked to submit their bank information for direct deposit of royalties via Spotify's payment service, Stripe. (Similarly, Bandcamp asks for your Paypal information.) It appears artists will be paid "based on the number of times listeners streamed your music," calculated at the end of each month, and then paid in the second half of every month. There is apparently also a way to register yourself as a business, which makes payments a bit murkier. At the end of the year, Stripe will send you an email containing information for filing your taxes.
Will Spotify let you upload just anything?
Nope. Though Spotify's Hate Content and Hateful Conduct policy was a bust, it still maintains some unclear guidelines for what's considered acceptable content. But it's more an issue of ownership versus subject matter. Like YouTube, Spotify won't let you upload anything that contains a copyright violation. "Content that infringes on copyright is not allowed on Spotify, and we may prevent you from uploading potentially infringing content through Spotify for Artists," they state. "If your upload is blocked, you'll need to contact support before you can submit your release. If your content is found to be infringing on copyright after it goes live, it will be removed."
Is Spotify basically a record label now?
If you ask Spotify, they'll deny it. "Licensing content does not make us a label, nor do we have any interest in becoming a label," Spotify's CEO Daniel Ek said earlier this summer. "We don't own any rights to any music, and we're not acting like a record label." (Billboard noted in their report that Spotify isn't buying the copyrights to any of the music it directly licenses.) Spotify's CFO Barry McCarthy doubled down on that point earlier this month, saying Spotify still maintains a "you scratch our back and we'll scratch yours" dynamic with the record business. "We're not trying to be a label, and we're not trying to compete with the labels. We have what I would describe as a co-dependent relationship," he said. "There are three labels who own most of the marketplace, and they have oligopoly power, and we can't be successful without them as partners … It's important for both of us that we never allow the relationship to become a zero-sum game." To date, Spotify hasn't actually signed or developed any artists — and has reportedly told artists not to say they're signed to Spotify — but they have been accused of gaming their own system by planting fake artists in their playlists by paying producers to create music with that intent in mind, which Spotify has denied.
What's the benefit of releasing via Spotify instead of a label?
That's a question a lot of artists are going to have to seriously consider as this new feature rolls out. On the one hand, it cuts out the middleman, giving artists full control over the release of their music and seemingly the full cut of their royalties (publishing rights notwithstanding), and makes it easier for artists to remain unsigned. It's that freedom of choice that's most attractive, since it appears that music uploaded direct to Spotify doesn't also have to be exclusive to Spotify; artists can put it on competing services, too. But sometimes the middleman is necessary. Every record label has a set marketing budget, chunks of which are allocated to promoting their signed artists. Without a label, it's up to the artists to promote themselves and pay for it, too (that means music videos, ads, appearances, etc.). With Spotify's direct upload service, they aren't promising anything more than the opportunity to put your music on Spotify. They do note, though, that artists need to submit music seven days ahead of release to be "ready for opportunities like Release Radar and editorial playlist consideration." Meaning Spotify could promote your songs on its playlists if it feels like it, but you're not paying for that added bonus so they're not obliged to do so.
That said, there are exceptions. This summer when Drake dropped Scorpion and decided not to make it a streaming exclusive, Spotify rewarded him by launching an unprecedented takeover, promoting his music and his face on all of its playlists — even the ones that didn't make sense for him to be on. (And, in some cases, Spotify will promote artists on billboards.) But it's a gray, potentially unethical area: Spotify users subscribed to its premium tier pay to not have ads, but a Drake takeover is essentially one giant advertisement for Drake. For that reason, some users demanded refunds and got their wish.
Okay okay, so how will any of this actually affect me?
If you're not an artist, don't worry about it. It's likely most consumers already can't tell the difference for how their music got onto their preferred streaming service anyway; Spotify's direct upload won't change that, unless more artists start speaking up about it. But if you're an artist, it means this: You could soon have the option to upload your own music, on your own time and your own dime, directly to Spotify. No label, no distribution, nada. Just you and your computer, essentially. You will have to sign up on the free Spotify for Artists platform (which means you'll have to be a Spotify user), then get on the email waitlist for the beta version until it becomes widely available, then voilà, the power is yours. For now.