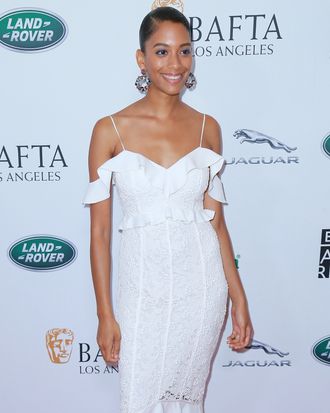 Robinson.
Photo: Leon Bennett/FilmMagic
At just 26, Stefani Robinson is holding it down as the youngest writer and only female writer in Atlanta's writers room, but Robinson said she's yet to womansplain anything to her male colleagues of the award-winning series. "The guys on Atlanta are really, really, just smart people and very empathetic people so there's never a point where I've been like, 'This is how it has to be' … or 'They don't get this' or 'They did that wrong,'" she told Vulture at BAFTA's pre-Emmys party. "They're always so open about human experiences."
And while it's a major accomplishment, Robinson's the first to admit that a fellow female body in the writers room definitely wouldn't hurt. "I always say yes to more women. I think it's definitely not a time to be selfish," she said. "If there's an opportunity to get more women in any way we can in this industry, I'm all for it."
As open-minded as the Atlanta writers are, Robinson said she may be reluctant to bring certain ideas to the table from time to time due to being so outnumbered. "I can't think of anything specific. But I'm sure I maybe have a couple times been like, 'Oh, I don't know if that's the thing to bring up.' I'm sure I've policed myself in some ways," she explained. "It's just part, you know, of the structure. It's just what ends up happening if you're one of anything, you start to monitor the little aspects of yourself."
Reflecting on her work thus far, she's particularly proud of season two's fourth episode "Helen." The setting was her brainchild, based on personal experience she brought to the writers room. "It's a German town that actually exists, but I used to go to yearbook camp there when I was in high school. So stupid, I'm such a nerd … I never thought I would think about that place or that time in my life again. It became the setting for an entire episode."
Correction: A previous version of the story said Stefani Robinson was 24. She is 26.