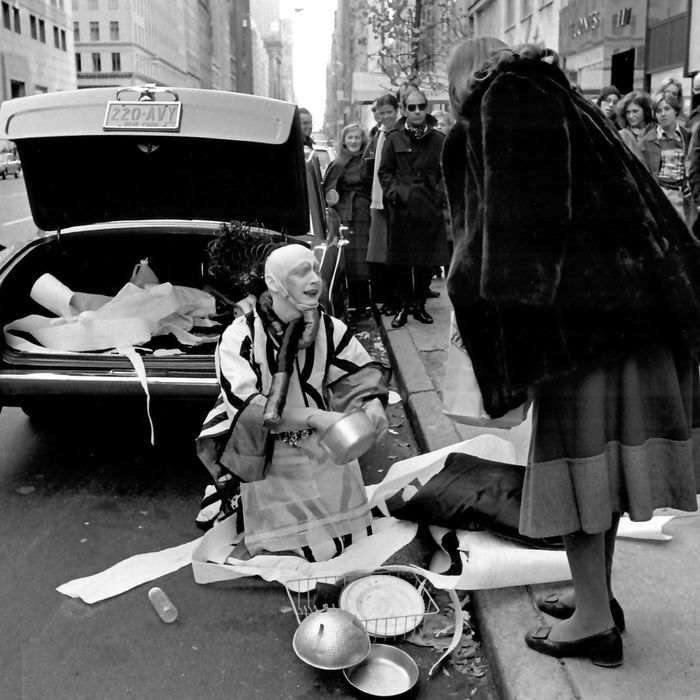 Jimmy DeSana, Untitled ("Stephen Varble performing Gutter Art with onlooker"), 1975. Silver gelatin print (2018).
Photo: Courtesy of the artist/Jimmy DeSana Trust
Stephen Varble is posed, mostly nude, at the corner of West Broadway and Spring Street. He wears a sculptural costume, "Pearl Dress," which he made out of a life vest he'd stolen from the Staten Island Ferry and a codpiece beaded with fake pearls, clearly made to resemble what it obstructs. From the harness of the life vest dangle strings of pearls that graze the sidewalk. Atop his head sits an elaborate headdress made of more pearls coiled around a precariously balanced cheese grater. In one hand Varble holds a garden hose aimed at a man sitting at his feet, spraying him with a continuous stream of water. With the other, he offers an exaggerated shrug to go along with his slightly bewildered expression, as if to innocently ask, "Who, me?"
A crowd gathered to watch from across Spring Street. The year is 1975 and Soho is a lively incubator of the avant-garde and experimental art. Photographer Allan Tannenbaum, a friend of Varble's, captured a moment of Varble's eccentric performance in a photograph titled Fountain of Safety. The photograph is one of several acquired by the Leslie-Lohman Museum of Gay and Lesbian Art for the first-ever retrospective of Varble's largely unseen work, called "Rubbish and Dreams: The Genderqueer Performance Art of Stephen Varble," curated by David Getsy.
Varble, who died ten years after that hose performance, at 39, of AIDS, is virtually unknown today. Varble earned an MFA in film direction from Columbia University and had his works performed in Lincoln Center's Refectory theater and the Lower East Side's La MaMa Experimental Theater Club. His performances were visceral, parodic commentaries on capitalism, gender identity, and wealth. He knew the Andy Warhol crowd and wrote for Interview, but ultimately stayed true to his vehement opposition to the commodification of art.
To that end, he'd stage costumed guerrilla performances in galleries, museums, banks, and retail stores. As his alter ego, Madame Debris, he wore a combination of skirts, dresses, codpieces, and even breasts, all made of found materials, including trash.
One of Varble's performances in 1976, which he called the "Chemical Bank Performance," lives on in photographs by Peter Hujar. According to Getsy and Gonzalo Casals, executive director of the Leslie-Lohman Museum, what happened was this: Varble found out that his bank account had been drained by someone writing checks in his name. In response, he went in full costume to the Sheridan Square Chemical Bank, begging tellers to remedy the situation. The tellers told Varble, who wore condoms filled with fake blood as breasts under a gown of fishing net adorned with sequins and fake dollar bills, that there was nothing they could do. In response, Varble brandished a check written for none-million dollars, punctured the condoms, and began to sign checks in the fake blood leaking from the condoms.
Radical theatrical provocations weren't uncommon back then, but few took them to his level. That defiant spirit would become a part of the public language of ACT UP and AIDS activism, and continues to influence our culture today.
Ahead, artwork excerpted from the exhibit, including Tannenbaum's Fountain of Safety.
"Rubbish and Dreams: The Genderqueer Performance Art of Stephen Varble" is on display at the Leslie-Lohan Museum of Gay and Lesbian Art from September 29, 2018–January 27, 2019.