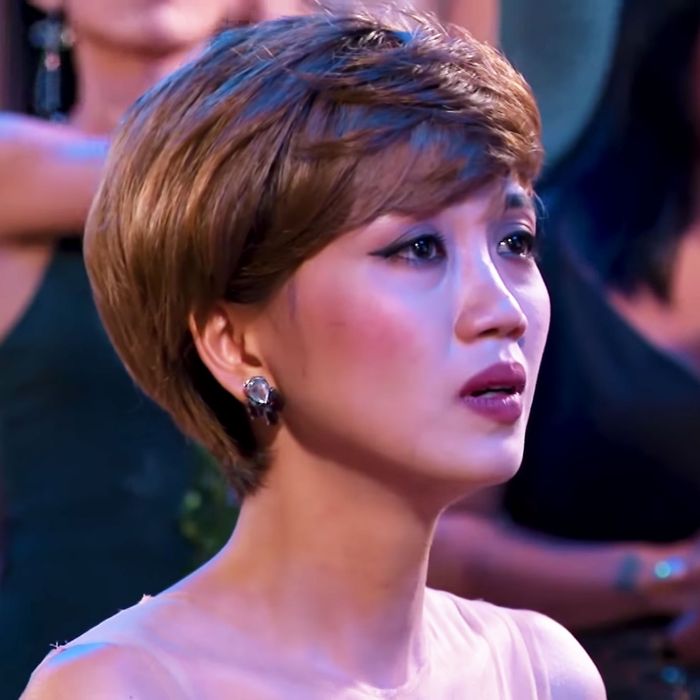 Truc Nhu, a contestant on
The Bachelor: Vietnam
.
Photo: Youtube/The Bachelor Vietnam
Like their American counterparts, the producers of The Bachelor: Vietnam work hard to shape contestant story lines. But they want to make it clear that the biggest twist of their first season wasn't planned. At all.
"Myself, the story producer, the director, the host … I think 'jaw drop' is the only way I can describe everybody's face," says executive producer Anh Tran of the stunning revelation that two of the show's female contestants fell in love. "It was this gigantic declaration that no one saw coming."
In a headline-making rose ceremony posted online this week, 20-year-old student Minh Thu tells Bachelor Quoc Trung Nguyen that she has fallen for fellow contestant Truc Nhu, a 27-year-old stuntwoman. "Come home with me," she begs Truc Nhu through tears while embracing her. Truc Nhu then hands back her rose to Nguyen, telling him, "I know you'll find someone who really loves you," before the two women depart the ceremony together.
Unsure how to proceed in the moment, the shocked production team decided to just keep the cameras rolling.
"I almost had a heart attack behind the monitor," said story producer Anh-Thu Nguyen. "I've watched the show for years, and I didn't even know you could give back a rose once you'd accepted it!"
Despite forfeiting her rose, Truc Nhu ultimately decided to remain on the show after a heart-to-heart with Quoc Trung, who encouraged her to stick around. But Minh Thu's confession of love still made waves in Vietnam after it first aired on September 11. When the clip was posted online last week, it became a viral breakout, drawing tens of thousands of comments on social media and plaudits from Asian LGBT advocacy groups.
Reality-TV skeptics may speculate that the pair were produced into their romance, but Tran and story producer Nguyen swear they never saw it coming. In contestant screenings, they didn't think to inquire as to whether any of the women identified as LGBT. And while Minh Thu and Truc Nhu had clearly developed a close friendship, that's not uncommon in a tribe of women marooned in a mansion without phones, laptops, or any other connection to the outside world. "The cast gets quite close," said Nguyen. "It's almost like a sisterhood."
"Now, in retrospect, some of the [other] girls have said, You know, I thought something was happening between the two of them," added Tran. "But it was never in the open … [The confession] played out pretty much as you see it, in real time."
Relationships between female contestants aren't an entirely new phenomenon in the 30-plus-country Bachelor diaspora — two contestants on the Australian edition, Megan Marx and Tiffany Scanlon, started dating after their season ended in 2016 — but Nguyen, a Vietnamese-American "hardcore member of Bachelor Nation" who won the story producer job thanks to her encyclopedic knowledge of the U.S. edition, believes this the first time two women have struck up a romantic relationship while still in the mansion.
Vietnam has its own editions of American reality franchises ranging from Idol to The Voice to Top Model, along with a bumper crop of homegrown dating shows. But Tran says The Bachelor was still a tough sell to networks. A Fantasy Suite was a nonstarter for censors — "Fantasy Suite for sure is something that would be considered culturally inappropriate and would be barred," Tran says — while even kissing is "highly frowned upon" on reality shows. Rose ceremonies need to be edited carefully, as shots of women lined up in a cattle-call-like fashion can also cause issues with censors.
"The censors are concerned about … it's a word in Vietnamese that's hard to translate, but it basically means 'the honor and the dignity of women,'" Tran said. "A lot of networks we pitched actually asked if we could do The Bachelorette instead, because 25 guys standing in a line is no problem, but not 25 women." (If the show gets renewed by HTV7, a state-owned station, he plans to mimic the American format, switching to The Bachelorette for season two.)
Nonetheless, the producers say they were allowed to air Minh Thu's confession almost exactly as it occurred on set. They're hoping it'll be a positive contribution to the perception of LGBT people in the country, where the first-ever Pride parade took place a mere six years ago.
While homosexuality has never been criminalized in Vietnam, same-sex marriage isn't legally recognized and employment protections for LGBT people remain out of reach. But the pair of producers note that a recent run of Vietnamese films about gay people — as well as an out trans contestant on Project Runway Vietnam — have led to increased acceptance.
They hope that acceptance might also spread to the estimated 4 million Vietnamese people living outside the country — largely refugees of the Vietnam War and their descendants. The show is aimed by design at the Vietnamese diaspora: Producers Nguyen and Tran are both Vietnamese-American, Bachelor Quoc Trung (who rose from intern to COO of a manufacturing and export company) is Vietnamese-French, and the contestant pool includes Vietnamese-Swedish and Vietnamese-German women.
As for the fate of the romance between Minh Thu and Truc Nhu, the producers are tight-lipped. While the season was filmed in its entirety over the course of a month earlier this year, Minh Thu's confession and departure came at roughly the halfway point of its current 12-episode run, and Truc Nhu remains in the mansion. Further developments in the pair's relationship are promised in coming episodes.
Strict controls by producer Warner Bros. on international Bachelor franchises mean that Americans likely won't be able to legally see full episodes, but interested fans can stay abreast via weekly clip recaps on the show's YouTube page, complete with English subtitles.
Nguyen, who identifies as queer, says she's thrilled to have this unexpected opportunity to increase LGBT visibility in Vietnam, noting that reality stars like The Real World's Pedro and the original Queer Eye cast were critical in moving the conversation forward in the U.S. when she was growing up.
"It's such a brave, courageous thing, that these two women made this powerful gesture," she said. "In Vietnamese pop culture, there's a lot of people that are rumored to be LGBT or people that hint at it. Everyone knows it, but it's never been distinctly said. So to see a moment that's unequivocal, where someone is saying that they love someone else … I think it's going to be very powerful for young people."