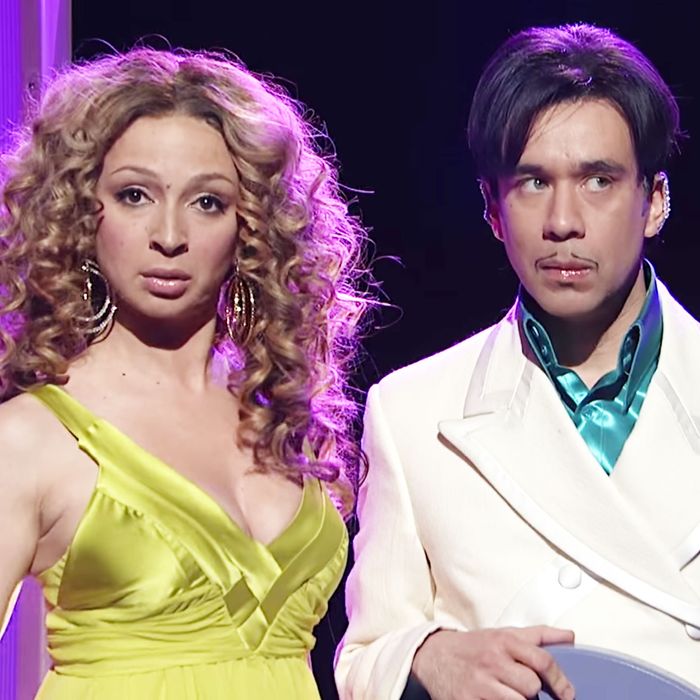 Maya Rudolph and Fred Armisen in
SNL'
s "Prince Show" sketch.
Photo: NBC
Fred Armisen and Maya Rudolph are doing the strangest thing they've done thus far in their careers: play normals together. In the limited Amazon series Forever, Rudolph and Armisen portray a longtime married couple who reconsider the value of matrimony in the face of a sudden change in lifestyle. (We'd say more, but Amazon has kept plot details under lock and key.) From the looks of it, the oft broad and odd character performers keep things pretty close to the vest while maintaining the chemistry they've exhibited in the past. In anticipation of the new Alan Yang–Matt Hubbard show, we look at six of Armisen and Rudolph's best collaborative moments on Saturday Night Live.
The Art Dealers
In one of the few recurring sketches Rudolph and Armisen shared during their SNL tenure, the duo played wackadoo art dealers of vague European origin, Nuni and Nuni Schoener. As with all standard sketches, this one had a simple formula: A sane person enters the Schoeners' crazy world, has trouble pronouncing their names to their satisfaction, is offered some strange contraption to sit on and then a snack served in a bucket or through an artificial udder. Both Rudolph and Armisen can play it straight when required, but the fun here is watching them nudge one another as they indulge a shared penchant for the bizarre.
The Prince Show
It's no revelation that Armisen and Rudolph share a musical connection. Armisen is a drummer who played in punk bands before he turned to comedy; Rudolph is a belter who takes after her mom, the '70s pop icon with the stratospheric falsetto, Minnie Riperton. In another recurring sketch, "The Prince Show," both players got to indulge their musical impulses while doing playfully credible impersonations of iconic personalities. Here, Rudolph plays backup as Beyoncé, singing and shimmying and interpreting Prince's weird whims for their bewildered guests. Meanwhile, Armisen gives a loving portrait of a musical hero. His Prince is all shyness, swagger, and more than a little mystery — but he'd be nowhere without his Beyoncé.
Obama & Michelle
SNL has never had the most diverse cast in TV, which is doubtless the reason why Armisen was asked to play Barack Obama regularly during his tenure. (While he was born in Germany, his mother has Venezuelan roots and his father, Korean; his mixed-race heritage helped him to play many ethnicities outside his own.) This sketch, which aired not long before Obama's reelection in 2008, plays on the confident lead that the incumbent president had going into the fall. Though Rudolph has since confessed that her Michelle Obama impression needed work, in this sketch, she and Armisen have a lot of fun with one format at which they excel — the musical variety act.
Club Traxx
Rudolph and Armisen again tackle boisterous but clueless Europeans in this recurring sketch about a Euro music-video show hosted by Beertje Van Beers and her mononymous pal Leonard. With clunky, Kaufmanesque "Foreign Man" accents and a strange array of retro Western garb, the duo toss around American platitudes ("It's time to get your freak out!") while their weirdo guests prance around and sing hits vaguely related to their country of origin. Though there's a fun undercurrent of European kids having incredibly astute political views, this sketch is really about enthusiastic, singsong delivery of naïve notions, and both players really dig into the snippets of song and silly dialogue together.
Cosby Obama
With Bill Cosby's conviction and the last several years of shift in the public consciousness, it isn't possible to blithely recall The Cosby Show as the charming and relatively innocuous sensation that it was in the '80s. That said, when this sketch aired in 2012, Barack Obama was still in office and the parallel between the Obamas' family dynamic and the Huxtables' domestic squabbles felt fun and incisive. Armisen and Rudolph bend their layered impressions a little closer to Cliff and Claire than Barack and Michelle, but who could blame them? The politics of nutrition and health are all about the Obamas, but playing big TV characters made for a lot more fun.
Bossa Nova
This sketch is perhaps the best distillation of what Armisen and Rudolph can do with very little. In it, they play a Brazilian bossa nova bar band, delivering a Getz and Gilberto–style ditty in gibberish Portuguese. The star of the sketch, ostensibly, is Alec Baldwin; he plays an American expat creep called Rick Corman, who indiscriminately hits on women and gets drinks poured on his precious white suit. In between bouts of gross-out talk, the band underscores Corman's marked failures with that sweet lilting tune. As the sketch toggles between the foul and the gentle, Armisen and Rudolph score laughs just changing the pitch or, in one instance, a single vowel in their song. It's a testament to their musical chops and understated yet supple communication skills.