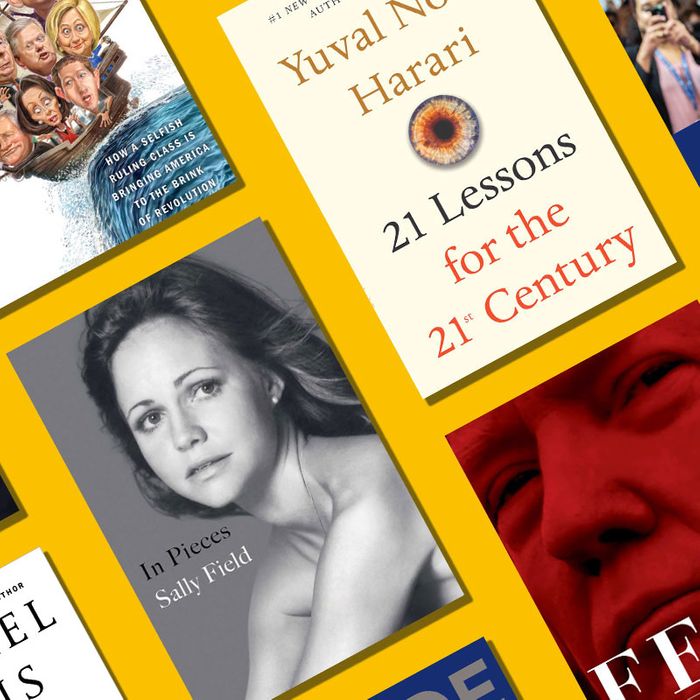 Autumn — especially the autumn of a bizarre midterm-election year — is the season of fierce competition in publishing. Some books only want enough fans to be prize-winners, or cult favorites, or genre best sellers. But some want to command readers' most precious commodity: well, money, to be sure, but also attention, the kind that compels readers en masse to close out Twitter and throw down cash or credit for the title of the month. Vulture assesses the autumn books most likely to succeed — and a couple that already have.
21 Lessons for the 21st Century, by Yuval Noah Harari (Spiegel and Grau, Sept. 4)
The Israeli historian's 2015 book, Sapiens: A Brief History of Humankind, was a phenomenal best seller, with over a million copies sold on the strength of endorsements from Bill Gates and Barack Obama — not bad for a work of cultural anthropology in translation. On the heels of his breakthrough, Harari found a new publisher and adopted the highbrow self-help mode of The Tipping Point and its countless emulators. (Simple white cover, numbered list, etc.) It worked: 21 Questions is the best-selling nonfiction hardcover on this week's Times list, and in combined print and e-book formats, it's second only to … Sapiens.
Fear: Trump in the White House, by Bob Woodward (Simon & Schuster, Sept. 11)
Between Woodward's status and the somehow still insatiable appetite for Trumpiana, the latest presidential exposé from the Washington access hound was destined for this list the minute its publication was announced two months ago. But how well would it do? Would it live up (or down) to the examples set by Michael Woolf's Fire and Fury and Omarosa's expert Amazon-click-bait? Would it, at least, match their success? Unlike Trump, the numbers don't lie: this week Simon & Schuster reported sales of 1.1 million copies in all formats — the best first week in the giant publisher's history.
In Pieces, by Sally Field (Grand Central, Sept. 18)
Celebrity memoirs are rarely good, and they don't always even sell that well. Field's reportedly unassisted tell-all, a story in part about childhood sexual abuse and the slow escape from gendered subjugation, is earning raves on and off review pages. (There's also some dish on problematic paramour Burt Reynolds.) Just two days after its publication date, Grand Central was already on its third printing, with 325,000 copies out in the world. It seems to be a classic in the making — the kind that will land on the best-seller list next week and stay on shelves for years to come.
The Fifth Risk, by Michael Lewis (W.W. Norton, Oct. 2)
If there's any justice in the current era, Lewis's book won't be entirely washed out by Stormy Daniels's Full Disclosure, out on the same day. Not that the author of The Big Short and Moneyball is hard up for attention or sales, but his subject is a touch more important than presidential parts: the (mal)functioning of the actual government under administrations (not just this one) that don't understand the purpose of federal agencies —departments like Energy and Commerce that save us daily from tornadoes and nuclear accidents. Having already published a few of his chapters in magazines as well as an audio-only release about the National Weather Service, he's got his loyal followers locked in, justifying a very sizable announced print-run of 400,000.
Frederick Douglass: Prophet of Freedom, by David Blight (Simon & Schuster, Oct. 16)
Publishers report having difficulty selling serious nonfiction about anything other than Trump these days. But if anyone can break through it's Frederick Douglass, who even, now, has a Trump tie-in. The president famously said the very-long-dead writer and activist has "done an amazing job and is being recognized more and more." That may have the ring of truth to it, as this is the first comprehensive biography, and Blight has devoted his life to Douglass scholarship. If there's one doorstop you'll be giving Dad for the holidays, this might be it.
Shade: A Tale of Two Presidents, by Pete Souza (Little, Brown, Oct. 16)
Obama's presidential photographer, whose photo book, Obama: An Intimate Portrait, became a best seller on the strength of our nostalgia for competence and dignity, is himself not above some (profitable) trolling. Shade juxtaposes Souza's official photos with some presidential headlines and tweets of more recent vintage, and the message from both him and his publishers is clear and probably effective: "Do you long for better days, and would you like to display that longing prominently on your coffee table for guests to admire? Buy this book."
Becoming, by Michelle Obama (Crown, Nov. 13)
When they go low (and when even the house photographer isn't above taking a few swipes), Michelle goes high. She'll surely do that in this memoir focusing largely on her youth, fulfilling her half of what was famously one of the biggest two-book deals in history. Will Random House makes its $65 million back? Of course not, but they'll sell a whole lot of copies, and when it comes to book sales, there is no Electoral College.
Ship of Fools, by Tucker Carlson (Free Press, Oct. 2)
Because money is indifferent to politics or morality, it bears remembering that books on both sides of the Great Divide have benefited from the insanity. (The people in Carlson's rocky boat aren't the grifters and sycophants in Trump's orbit, but rather all those people, left and right, who dare to oppose him.) "He inherited Bill O'Reilly's time slot," says one publisher. "Will he inherit his sales?" The publisher isn't sure. Carlson has matched O'Reilly's ratings in the wake of the latter's #MeToo moment, but when it comes to books, O'Reilly still lives. Henry Holt continues to publish him, following Carlson by a week with Killing the SS: The Hunt for the Worst Criminals in History. Preorder now! (Please don't.)