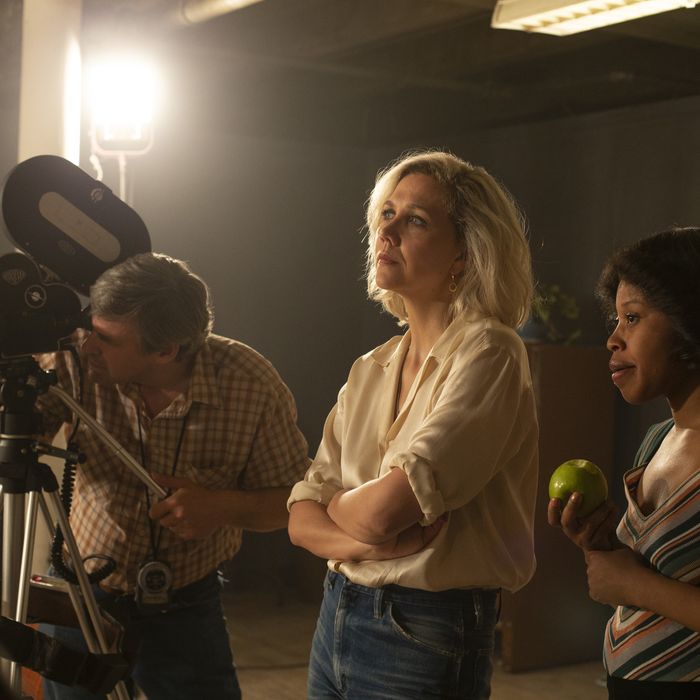 Photo: Paul Schiraldi/HBO
In The Deuce, David Simon and George Pelecanos chronicle how the loosening of societal mores and progressive cultural changes provide an illusion of true freedom. Mainstream America codified the social phenomena of the '60s into a framework they could accept, but external forces — primarily capitalism, as well as a fundamentally conservative patriarchal society — inevitably constrain those hard-won personal liberties. Everybody still serves a master, even if that master cons you into believing that they don't hold the reins at all.
Last week's episode of The Deuce tracked key members of the ensemble (mostly women) as they pursue their larger aspirations. This week's episode, "Seven-Fifty," reemphasizes the shackles they must break in order to reach them. Candy, Harvey, and Lori travel to Los Angeles to attend the AFFA Erotica Awards and find themselves in a land of opportunity that's ultimately too good to be true. Back in New York, various authority figures — pimps, city officials, and mob bosses — exercise (and abuse) their power to maintain control just as they feel it slipping away from them. It wouldn't be America if progress didn't take one step forward only to be pushed two steps back by the forces that be.
Initially, however, our merry band of pornographers has a great time in California. Harvey and Lori both win Best Director and Best Supporting Actress, respectively, and celebrate their wins at the award ceremonies, but more importantly, the change in setting offers a different, but dispiritingly familiar vision of their current lives. After C.C. chickens out of attending the ceremony with her (he's afraid of flying, plus it's a seven-hour flight, and time zones exist?!), Lori goes alone, and it's moving to watch her embrace her brief independence. Director Steph Green lingers on a scene of Lori slowly but excitedly surveying her luxurious hotel room, a temporary place she can call her own in which no one contains her autonomy. In L.A., she's respected first and foremost as an actress, not a prostitute, and she's encouraged by talent scout Greg Taylor (Ryan Farrell) to move to the West Coast to develop her craft. You can see she genuinely considers it, even though there's still the C.C. of it all.
Yet, Candy offers a counterpoint to Lori's respect when she tries to schmooze the various moneymen to fund her Little Red Riding Hood porn film. She's done all the research and has a thorough, creative marketing strategy, but at the end of the day, she's not a director to these guys. She's just a woman who fucks for a living. After being recommended to Alexander Pullman (Rick Holmes), a small studio head with ties to Warner Bros., for financing, she goes to his office and proceeds to sell him on her idea. At first it goes well, but then he balks at the idea that she would direct and not act in the film, and then he offers her $10,000 and 10 percent on the back end in exchange for a blow job. We watch Candy as she first laughs it off, realizes it's a real offer, assesses the obstacles she had to surmount to even get in this room, and then begrudgingly agrees to his demands. She goes home with the check, but not without feeling like the whore that everyone assumes she is. Harvey may genuinely respect Candy's ambition and talent, but there just aren't enough Harveys in the world looking out for her interests.
In New York, the Deuce faces the twin forces of government intervention and mob expansion. After Bobby informs Rudy that the Horse has opened up massage parlors along their block, often hiring junior-high girls as employees, Rudy promises to have a sit-down with Carmine over the loss of territory, but he loses the argument when the Horse preaches rudimentary free-market economics. Thus, Rudy fights back with violence, ordering Tommy Longo to set fire to one of the Horse's massage parlors. Last week, the Horse already sent a gang to harass and assault Paul's gay bar in order to secure his protection, but that was just an overture, one that was easily squashed when terms were explicated. But now, it can be reasonably assumed that the arson will lead to a lengthy period of violence and destruction that will inevitably envelop the humble business owners who merely paid to make sure they weren't hassled.
But all chickens come home to roost, as Vincent slowly realizes. He agrees to stake Paul on a loan to open up a supper club without Rudy's hand in the affairs, but when Vincent informs Rudy about the development, he isn't exactly thrilled. He initially agrees to let Paul open the place on his own, but then implies to Vincent that Paul might face violent pushback from the Horse if he doesn't accept protection. You're damned if you do and you're damned if you don't.
On top of that, Frankie is finally out of the game, per Rudy's request, after stealing the take from Irene yet again. It's ironic that this final aggression results in him winning big at poker, netting a bunch of cash as well as a laundry business on 49th Street. He's going to need it once Vincent delivers the bad news, but something tells me that Frankie isn't the type to go straight all of a sudden.
Meanwhile, Gene Goldman of the Koch administration returns to give Alston's precinct a rundown of their reformist agenda for the Deuce. It goes over poorly amongst the men, mostly because Goldman is green and can't communicate his policy ideas to hardened cops, but it's also because these initiatives have been introduced before to little effect. Yet, Alston's supervisor informs him not to underestimate the group of idealistic do-gooders. Koch is hellbent on recouping millions of dollars of untaxable income that the Deuce's cash businesses make every year. "It's not morals," he tells Alston. "It's money."
For C.C., it's about the money, too, but it's more about respect and control, both of which he's rapidly losing any time Lori sees greener grass. She returns from L.A. elated, but her feelings are dashed when C.C. makes a crack about how she's worth $2,000 a trick now that she's an award winner. She claims she's an actress and she doesn't want to work on the street any longer, which compels C.C. to break her award against the wall. "Never forget what you are," he sneers to her as she collapses to the floor in tears. The Deuce has always tread a thin line with its depiction of the pimp community, poking fun at their machismo while also capturing their misogynistic violence. C.C. might have been humanized a little bit with his aviophobia in the beginning, but in the end, he's the monster that he always has been.
Yet, he gets a little bit of comeuppance at the end of the episode when he visits the High Hat to vent his frustration. The problem is that Abby, having spent the entire day with Ashley as she tries to spread her organizing and health efforts to the prostitutes on the East Coast, doesn't have the patience to listen to a pimp complain that one of his women thinks she's too good for him. She asks him to leave, but he cracks wise and demands a drink. Just as things threaten to get violent, Ashley appears from the back room and sees her former abuser in the flesh.
Ashley had been under C.C.'s thumb long before the events of the pilot, and has clearly shouldered years of abuse from the man. (The pilot ends with C.C. slashing Ashley with a knife underneath her arm after she refuses to work in the rain.) When she finally escaped the life, it was one of the few unambiguous victories the series has offered. But now she's back in New York, and though she's doing good work, she's still afraid to walk the streets for fear of seeing C.C. again. But when that fear is realized, she stands tall, and though she's shaking and on the verge of tears the entire time, she doesn't give C.C. any satisfaction. "How you been, Ash?" he asks. "My name is Dorothy," she seethes in response without looking him in the eye.
C.C. might still profit off the women in his charge, but one of them got away, and now she refuses to capitulate in any way, shape, or form. What C.C. doesn't realize is that there will be more Dorothys in the future who will embrace their autonomy and abandon him. What C.C. can't fathom is that he will be completely forgotten one day. That day isn't soon, but it's coming, and Dorothy will be there on the front lines as it happens.
Other Tricks and Pricks
• In a subplot, Larry and Darlene face racism on the set of Bernie Wolf's shoot after Darlene realizes that she's being paid less than her white co-stars. Larry, now a rookie porn star, asks him why he doesn't hire more black actors, and Bernie frankly tells him that interracial porn doesn't sell. "It's not racism. It's economics. No market for it." Sounds like a lot of current studio execs working today.
• Bless Larry for assuming that "DP" on a porn shoot means "director of photography" instead of "double penetration." When his co-star explains the mechanics later, he's completely taken aback.
• Another nod to The Wire this week: When Bobby asks Black Frankie about his take on the Rangers' roster, he responds by saying, "The fuck do I know from hockey, man. I'm from West Baltimore."
• John Belushi cameos at Club 366, partying hard in the VIP section. Rudy picks him out of the crowd and expresses admiration for his samurai character on Saturday Night Live. When Vincent offers to introduce him, Rudy declines. "Nah, let him have his fun." Little does he know that he only has four years left of fun ahead of him.
• The Deuce takes a pointed shot at Westworld in a spare exchange between a porn star and a producer: "It's a parody of Westworld, but instead of cowboys and Indians, it's sex robots. I mean, it is brilliant …"