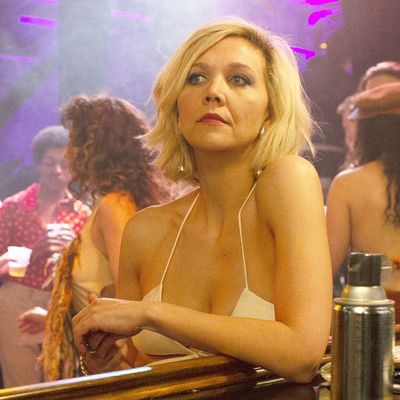 In the second season of HBO's The Deuce, the series about New York City's burgeoning porn industry has jumped ahead to 1977, and many of the women are making moves toward a modicum of autonomy. Candy (Maggie Gyllenhaal) has gone from tricking to adult-film auteur; Abby (Margarita Levieva) is managing the Hi-Hat and introducing her punk-rock sensibility to Vincent's (James Franco) dive bar; Lori (Emily Meade) and Darlene (Dominique Fishback) are transitioning from streetwalkers to porn stars. But one of the first major signifiers of the show's changing landscape is its main title song: Curtis Mayfield's "If There's a Hell Below We're All Going to Go" has been replaced with Elvis Costello's "This Year's Girl."
Dropping the needle on Costello and the Attractions' 1978 song from the album This Year's Model wasn't as simple as it sounds. Leading the effort to find a new refrain was The Deuce's music supervisor, Blake Leyh — an old-school punk-rock fan, who, as a teenager in 1977, made a pilgrimage to New York's CBGB. He had three goals for the new song: It had to be historically accurate, it had reflect the city's dynamism, and he wanted it to be sung by a woman. That last requirement was ultimately abandoned, however, when Leyh says it became clear "the misogyny of the music industry" of that era meant there were few female singer-songwriters to choose from. (They couldn't find a Patti Smith song that worked, and the Pretenders hadn't recorded yet.) Here's what else Leyh — who has worked with Deuce co-creator David Simon since The Wire — says was instrumental in the show's latest musical selection.
Why Elvis Costello made the cut
Because the period piece had to convey many things, Leyh listened to hundreds of tunes by bands including Gang of Four, James Chance and the Contortions, the Clash, Talking Heads, Devo, Siouxsie and the Banshees, and the Runaways. "It was definitely one of the hardest songs we've ever had to find," he says. Costello's "Lipstick Vogue" from This Year's Model was also a contender. Leyh's personal favorite, "We Are All Prostitutes" by the Pop Group, wasn't well loved, especially because Leyh says, "One of the cardinal sins in David Simon's world is being too on-point."
On the other hand, the New Wave icon's song works because it addresses the show's theme more obliquely. "It's about the commodification of women and the process of turning them into sexual products for male consumption," Leyh says. Even though it was released in 1978, the song ultimately was allowed because music accompanying montages and title songs is given a bit more historical slack — and because the story will head into '78 by the end of this season. (Elsewhere, Leyh is a stickler for accuracy: All of the singles in Abby's Hi-Hat jukebox are period perfect.)
Leyh says Costello, who revealed in July he'd had surgery on a "small but very aggressive cancerous malignancy" and canceled part of his European tour, liked the idea of giving new life and context to the song by pairing him with a female singer to create a duet.
Who's singing "This Year's Girl"?
Simon first approached Costello about using his song. He and Deuce co-creator George Pelecanos have known the legendary singer-songwriter since he appeared on the first episode of Treme. "At the time I didn't know if Elvis had seen the first season of The Deuce," Simon told Vulture via email. "As it turned out, he had enjoyed and understood the show, having been drawn in specifically by the use of [the] Curtis Mayfield [song]. He understood entirely the resonance of "This Year's Girl" to our theme and he quickly committed with us to trying to remix [the song]."
Using the master recording, Leyh says he first tried duets with "belters" going up against Costello's original vocal to match its intensity. But after working with several singers whose names he declines to disclose, he realized the vocals sounded too similar. That's when Sebastian Krys, who co-produced Costello's upcoming album, suggested Wild Belle's Natalie Bergman, with whom he's also worked. Krys recorded Bergman in Los Angeles, and her sultry rendition provided the contrast the updated version needed. "Her voice made it new and fresh," Leyh says. "The way she sort of imposes herself on the song — it's a subtle thing, but it's quite effective. She takes the song away from Elvis for a minute and then lets him back in, so there's a bit of a battle going."
Why the lyrics are so fitting for The Deuce
On the surface, the infectious tune seems celebratory. But a closer read of the lyrics reveal something more intense. In his 2016 book, Unfaithful Music & Disappearing Ink, Costello said it was "an answer song" to the Rolling Stones' "Stupid Girl." "My lyrics might have been tough on the girl, but, it was full of regret and a little sympathy, while the Jagger-Richards song seemed to take delight in being heartless and cruel," he wrote.
On the new duet, Bergman raspily delivers some of the song's most brutal lines: "You want her broken with her mouth wide open 'cause she's this year's girl." Leyh, who was 16 when the original record was released, said it was only when he revisited the pop song in this new context that he realized how dark it is. Which makes it perfect for a show about the objectification of women in the 1970s.