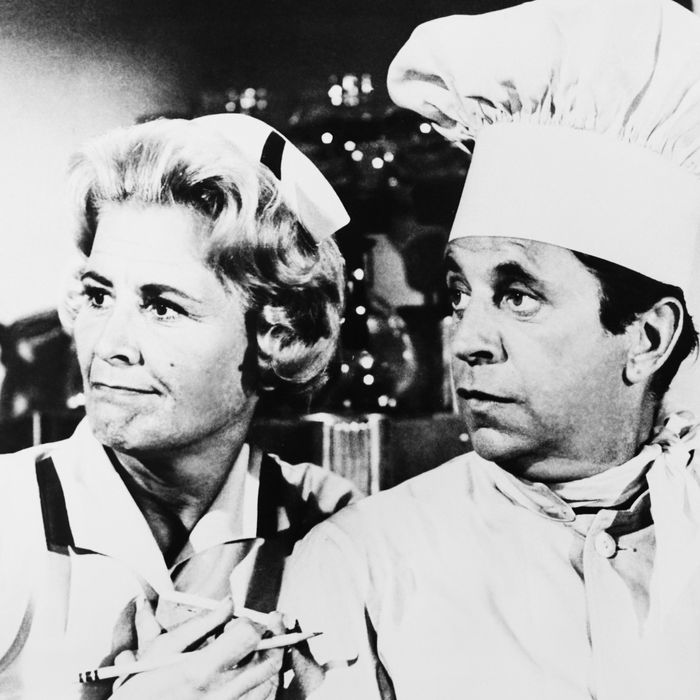 Rose Marie and Morey Amsterdam in 1966's
Don't Worry, We'll Think of a Title.
Photo: Everett Collection
Carl Reiner's The Dick Van Dyke Show was ground zero for a number of comedy mainstays. It introduced the world to Broadway star Dick Van Dyke, Mary Tyler Moore, Morey Amsterdam, and Richard Deacon and reintroduced the world to the then grown-up child star Rose Marie. The show ended in 1966, but that certainly wasn't the last the world was seeing of the cast. Van Dyke and Moore would go on to star in several more movies and shows that you already know, and that same year also saw the release of a film written by and starring Amsterdam alongside Deacon, Reiner, and Rose Marie. They also brought along a few other names you might know: Steve Allen, Milton Berle, Danny Thomas, and even Moe Howard. The movie was called Don't Worry, We'll Think of a Title, and it is goofy, madcap, and boasts enough star power to rival It's a Mad, Mad, Mad, Mad World, yet you've probably never heard of it. Well, there's a reason.
If one looks at a list of the top films of 1966, you won't find Don't Worry… anywhere near it. In fact, with the exception of a couple of outliers (such as the Dick Van Dyke–starring family comedy Lt. Robin Crusoe, U.S.N.), you won't find comedy anywhere near the top of the list. The feature-length comedies of this time were predominately situation-based; strong on premise and plot, with the jokes there in service to the story. While there are exceptions, for the most part during this period, the laugh-a-minute comedies of the Marx Brothers' films or the Stooges' shorts were gone.
Don't Worry, We'll Think of a Title is different. There is a plot, sure, but focusing on that would be like becoming invested in Borat to follow his quest for love. Jokes are the priority of Don't Worry… and you're going to get a ton of them.
But, since you asked, let's get into it: Morey Amsterdam plays Charlie Yuckapuck and Rose Marie plays Annie, a cook and a waitress, respectively, in a restaurant owned by Richard Deacon's Mr. Travis. A Soviet spy sits at the counter one day to observe Charlie, and reports to her bosses that he is the escaped cosmonaut Yasha Nudnik. When a lawyer, played by Moe Howard, informs Magda, another waitress played by January Jones (not that one), that she has inherited her uncle's bookstore, and Charlie and Annie are fired on the same day, they all leave their jobs as wacky restaurant employees to become wacky bookstore employees, with the Soviets hot on their tails. Secret agents of various affiliations arrive to settle the matter, and zany hijinks ensue.
If this film is mentioned by anyone today, it is generally because of the cameos. What I found most surprising was the disparate way in which these cameos were employed. Moe Howard, in one of his final film roles, is given absolutely nothing funny to do. He is there purely to deliver line after line of exposition, and it's immediately clear why the Stooges shorts are generally devoid of monologues. In his old age he's still sporting his signature haircut, but it's clear that delivering scads of dialogue is not his strong suit.
Later, our main characters unsuccessfully attempt to hitchhike from one job to the other and are subsequently ignored (or run over). Eventually we see them being dropped off in front of the bookstore in a familiar old jalopy driven by Irene Ryan, in character as Granny from The Beverly Hillbillies. No funny lines for her, either. She just drops our stars off at work, honks her horn, and drives off, her mere presence in the film enough of a joke for the filmmakers.
Later in the bookstore, as Charlie and Annie open the store for their first day on the job, a string of wacky customers come in, including Milton Berle, who breezes past them dragging a rope. When asked why, he retorts, "You ever try pushing it?" He continues walking and is never seen again, presumably walking through the bookstore forever. Carl Reiner asks for a "real hair-raiser" and is handed a book off the shelf. He opens it to find a toupee within that perfectly matches his head and leaves, pleased with his purchase. Immediately after, Steve Allen arrives asking to buy hamburger meat. Rebuffed, he then asks if they have a copy of The Sex Life of the Armadillo, and when informed that they do not, he tells the shopkeepers that they should try his, and hands them a copy of the book.
Those three jokes take up a little over one minute of the film's run time, and while I would never claim that any of the jokes in this film are great — quite the opposite, in fact — they are constant. Don't Worry, We'll Think of a Title was clearly an inexpensive film, filmed at television mainstay Desilu Studios, with most of the action taking place in the bookstore. The jokes are mostly corny, and Rose Marie frequently is given nothing more to do than roll her eyes at Amsterdam's one-liners. In short: This film is not a classic. Pop-culture expert Mark Evanier had the opportunity to interview Rose Marie and brought up the film with her. "I'd obviously touched a very sore spot. She said … when it was announced that The Dick Van Dyke Show was shutting down after its fifth season, she turned to Morey and said, 'Well, what are we going to do now?' And Morey said not to worry. He had these friends who had financing and he had an idea for a movie…" The film did not launch them into their next line of employment. It was not widely seen in its time (or ever). In fact, as far as I can tell, the film may not have even had a poster or trailer.
In spite of all of this, this movie does represent a forgotten stepping-stone that bridged the gap between the Marx Brothers and It's a Mad, Mad, Mad, Mad World on one end to the similarly zany Zucker brothers' films of the '70s. The "anything can happen" spirit that Morey Amsterdam brought here may have felt out of place on theater screens in 1966, but it would live on in what came after.
So, if you've ever wondered what it would be like if Sally and Buddy from The Dick Van Dyke Show had their own spinoff, well, wonder no more, then wish for Rob and Laura's return.