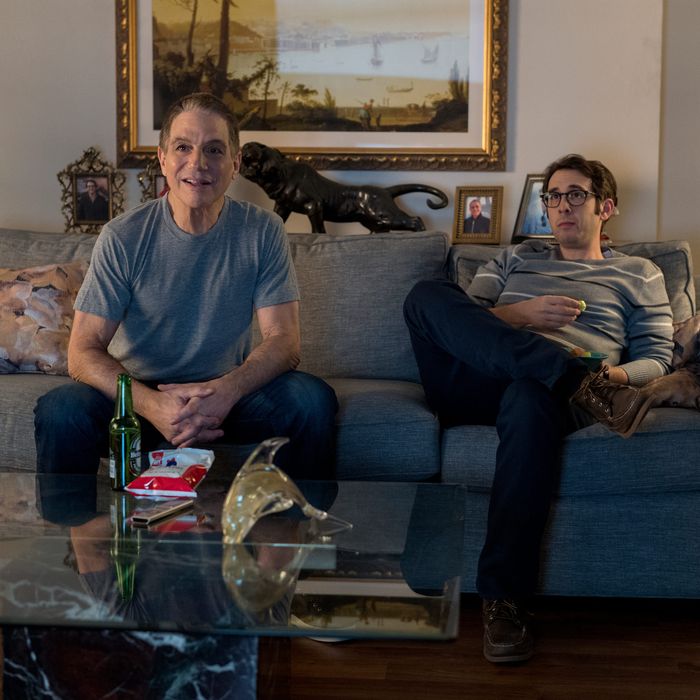 Tony Danza and Josh Groban in
The Good Cop
.
Photo: Michele K Short/Netflix
I wouldn't have predicted that the creator of Monk would follow up that beloved hit with a buddy-cop comedy-mystery about a straight-arrow detective and his father, a retired detective who did prison time on corruption charges. But here we are — and the most striking thing about Netflix's The Good Cop is how much it feels like old-fashioned, lovable TV comfort food, despite having one of its two main roles played by the sort of character who's constantly showing up in real-life headlines for doing things that chill the blood.
Executive-produced and mostly written by Andy Breckman and based on the same-named Israeli series by Erez and Tomer Aviram, The Good Cop stars Josh Groban, for some reason, as Italian-American police detective Tony Caruso Jr., a by-the-book homicide detective whose father, Tony Sr. (Tony Danza), is a legendary (or notorious) detective who just got out of the joint after being the main target of a police corruption investigation so specifically damning that it's known as "the Caruso Commission." When one of Tony Sr.'s old colleagues turns up dead, his son quickly becomes the main suspect because the body, which was discovered in a public park, was riddled with six bullets fired by Tony Jr.'s gun. This is a fine hook for a mystery plot in that Monk/Sherlock Holmes tradition, and the pilot, written by Breckman and directed by Monk veteran Andy Zisk, has a pleasing if sometimes too solicitous tone (complete with a reflective, jazz-flavored, kinda Monk-ish score by Pat Irwin, of Bored to Death and Nurse Jackie). After a few twists and turns, the show wraps things up, and by the following episode we're onto a new mystery, as if it's the 20th century and a television show doesn't have to commit to ten hours or nothing.
Still, the character of Tony Sr. — who shares a house with his son for wacky sitcom energy purposes — left this viewer with an uneasy feeling. Danza, who often plays characters named Tony, makes the elder cop a lovable lug, a father who may be disreputable but who often does turn out to know best. There are constant hints that he might not be guilty of the specific offenses that sent him to prison, but by his own admission, he's guilty of plenty else, from beating up suspects (he calls the beatings "tune-ups") to robbing drug dealers' stash houses. In a tense moment in a later episode, when Tony Sr. finds himself bound in the basement of the house with another man (played by the great character actor John Carroll Lynch, in a role I'd rather not describe because of plot-giveaway fears), a brick of cash falls out of a hole in the ceiling and he quips, "Oh, I forgot about that."
Groban is likable, if not exactly dazzling, in a Matthew Broderick–like part that mainly requires him to look emotionally constipated and fret over the fact that his beloved rules and laws don't really register with his dad. The show seems to be going for the sort of energy you've encountered in films like The In-Laws and Midnight Run, and as the series goes on, it starts to nail it, though it does this mostly by resolving not to think too much about the implications of presenting Tony the Elder as a hilarious wild card who doesn't play by the rules but who loves his tight-assed son and would do anything to save his life or reputation. "Don't worry, kid," Tony Sr. says. "The devil takes care of his own."
Don't misunderstand: My objection here is not to the essential nature of the character. Some of the great TV characters are, shall we say, complicated when it comes to their sense of ethics and morals. But I prefer it when such a show approaches the contradictions of that character in an open, uninflected manner, striving whenever possible not to reassure that he's really a good person at heart and that the worst things you've heard about him might not be true, and that it's okay to write off his bad qualities because "at least" he's not worse. (Tony Sr. advances this very line of argument early in the pilot, when he assures his son that he's illegally beaten people but never committed murder, because that would be crossing a line.)
Danza plays Tony Sr. with the sort of leathery machismo that'll ring true to anybody with an elder ex-cop in the family. (The older he gets, the more his delivery is reminiscent of the late Nicholas Colasanto on Cheers.) But he's not an especially deep actor, and neither he nor the show seem inclined to do anything that'll really rattle us and make us ask if it's okay to like this guy and think of him as an essentially good-hearted eccentric who has many useful things to teach us if only we'd listen. That safe approach, coupled with the wacky high jinks and the "we're having a grand time here" score, makes The Good Cop sometimes feel like a defense of the kinds of police whose terroristic activities make people on the receiving end of their behavior feel like targets rather than citizens. Tony Sr. is absolutely part of a long tradition, in popular culture as well as the real world, of lionizing the tough or even dirty cop who doesn't play by the rules and irritates his straitlaced colleagues, but has a sense of honor and justice and gets the job done his way. I wish the show had the self-awareness to ask us, and itself, whether endorsing that kind of attitude is a good thing.