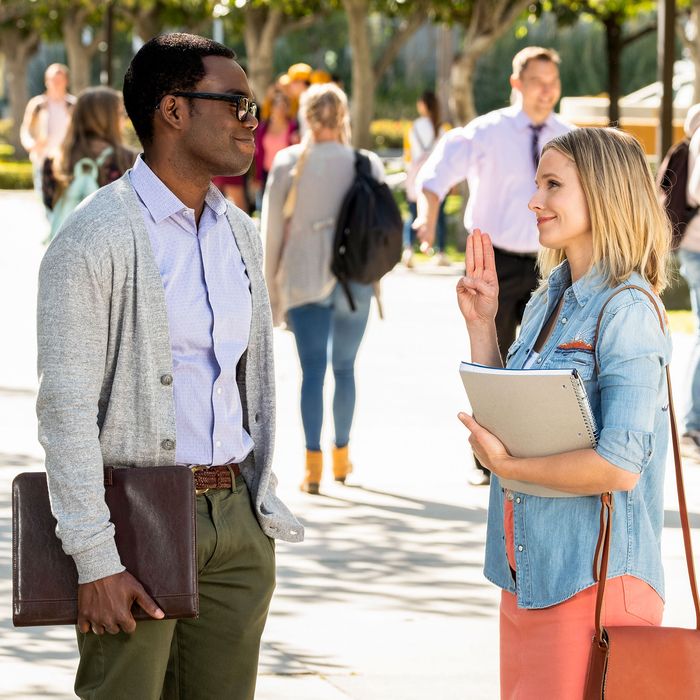 Chidi (William Jackson Harper) and Eleanor (Kristen Bell), still living their not-quite-best lives in
The Good Place
.
Photo: NBC/Justin Lubin/NBC
My friends, The Good Place is a beacon of light in this week of darkest timeline news feeds. In its third season, which premieres Thursday night, the NBC sitcom is still surprising, still meticulously plotted, and still hilarious at an extremely high velocity. It is, without question, television's best philosophi-com, which is what I call a comedy that explores philosophical and ethical issues. I realize it doesn't have a lot of competition in that regard, but that doesn't change the fact that it's earned the title.
Actually, here's a philosophical question for you: Does humanity even deserve The Good Place? Because I look around at people — yes, I'm including the individual on Facebook who suggested that everyone should donate to a GoFundMe for Brett Kavanaugh because people gave money to help Christine Blasey Ford pay for her security and it's only fair — and I honestly wonder if we deserve this show.
Here's another: What if the next huge twist on The Good Place is that the world is really the Good Place and we're screwing it up? That's kinda, sorta, but not exactly the starting point for the third season. As you may recall from the end of season two, recovering demon Michael (Ted Danson, still an utter joy in every scene) convinced Judge Gen (Maya Rudolph, also a joy) to let him send Eleanor (Kristen Bell, yet another joy), Chidi (William Jackson Harper — yep, a joy), Tahani (Jameela Jamil, who is — you guessed it! — a joy), and Jason (Manny Jacinto, who I'll call "a constant revelation in idiocy" just to mix things up) back to Earth in order to determine whether it's possible for flawed human beings to course-correct without the guarantee of a heavenly destination. It's an experiment that is much like, you know, life.
Thanks to some nudging from Michael, all four of his lab rats wind up in Australia, where Chidi and Simone (Kirby Howell-Baptiste of Killing Eve and Barry), Chidi's university colleague and possible soul mate, launch a study that considers whether near-death experiences lead people to behave in a more ethical fashion. Because Michael came to Earth and intervened, the incidents that initially caused the deaths of the show's central characters were averted, making Chidi, Eleanor, Tahani, and Jason ideal subjects for the study. Even the study itself is sparked by a bit of Michael's manipulation: He believes that none of them can reach their decency potential unless they remain in each other's presence.
The problem for Michael — who's aided in his efforts by Janet (D'Arcy Carden, a joy in her depiction of robot genius) — is that every time he leaves the netherworld to ensure that the foursome stays together, there's a chance he will alter the master timeline and cause a ripple effect of unintended changes. This is basic Back to the Future stuff that Michael would understand if he hadn't been working in the afterlife for hundreds of years and, presumably, learning nothing about McFlys and flux capacitors. In other words, spoiler alert: Michael's plan goes more than a little oopsy-daisy. "Because of you," Judge Gen informs Michael at one point, "Byron Allen owns The Weather Channel now." What other show on television makes jokes about Byron Allen's business decisions? No others — because they don't have the guts.
Since season one, The Good Place has repeatedly rebooted its central narrative and shifted our understanding of its setting and what its characters are capable of doing within it. That it's still able to do this so skillfully in its third season, without ever becoming remotely predictable, is an astonishing feat. After the season-two finale, the AV Club's Dennis Perkins wrote that "lesser TV shows give you what you think you want," while The Good Place "gives you what you didn't know you needed." That's absolutely right, and still accurate based on the three episodes I've seen from this latest season.
The Good Place also serves up more ridiculously random gags per second than any other show on TV, with the possible exception of Unbreakable Kimmy Schmidt, but I think it's even got that beat. This season has jokes that involve BuzzFeed Kim Kardashian quizzes, Spider-Man, Ted Danson wearing an array of ridiculous disguises, dank memes, a fourth Hemsworth brother named Larry, and, of course, Jason's beloved Jacksonville Jaguars. Trevor, the especially evil demon played by Adam Scott, plays a key role in the second episode and is given a hilarious array of characteristics to highlight what a garbage person (demonic entity?) he is. Example: He gets very excited when he realizes that the theme of a trivia night is Logan Paul. There's also an entire sequence that unfolds in an American-themed restaurant called the Cowboy Skyscraper Buffet, an absurd, reverse-Outback Steakhouse stuffed with details that absolutely demand to be savored.
The third episode ends on a cliff-hanging note that suggests The Good Place is about to swerve in yet another new direction. I look forward to the whiplash that will no doubt set in as it careens around that next corner. Not only is this a thought-provoking, supremely intelligent series, it's one that keeps asking, over and over, what it takes to be an upstanding citizen, which is something we're forced to consider every day as we digest the latest headlines. The Good Place may not have all the answers — at least not yet — but it compels us to ponder what it means to have moral fiber just as often as it cracks us up. It's an ethics lesson and a brilliant piece of escapism at a time when this country desperately needs both.