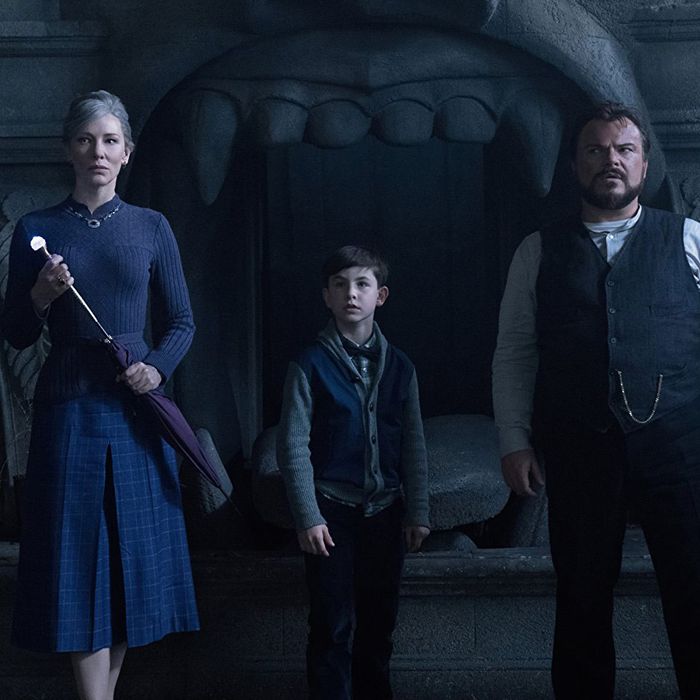 Photo: Universal PIctures
If you are interested in seeing Cate Blanchett shoot demonically possessed jack-o'-lanterns with a purple laser-gun umbrella, then by all means, get out to a screening of The House With a Clock in Its Walls posthaste. Eli Roth's witchy kid adventure, produced by Steven Spielberg, has the kind of kooky old-school texture that feels right out of a well-worn library chapter book, one populated with arbitrarily whimsical characters like Blanchett's Florence Zimmerman.
Based on John Bellairs's 1973 young-adult mystery, the film opens with the young, tragically orphaned Lewis Barnavelt (Owen Vaccaro) arriving in New Zebedee, Michigan to live with his eccentric Uncle Jonathan. Uncle Jonathan lives in a creepy old house that is very obviously haunted from the get, but he seems nice enough in an anarchic way, and he and his neighbor Mrs. Zimmerman have a kind of acid-tongued platonic camaraderie (the tween set will come away from House certainly knowing what "platonic" means, as well as a host of other dictionary words Lewis is obsessed with — long live edutainment!) Pretty soon they can no longer hide from Lewis the fact that they are magic practitioners — and they have been bedeviled by a curse left in the house by its former owner and their late friend, the dark magician Isaac Izard (Kyle MacLachlan, born to play a dark magician).
The cast in House is exceedingly fancy, but they never seem to connect; Blanchett and Black are about as awkward a pairing as they sound on paper, engaged in two irreconcilable ways of going about their performances. It's a lot to ask of young actor Vaccaro to bring them together, and while his Lewis is a sweet, believably awkward little weirdo, there's not a lot of oomph to him, which makes sense for scaredy-cat Lewis, but leaves the trio feeling a little out of sync. The film doesn't trust Lewis's point of view enough; this is a kids' movie that prioritizes the machinations of the adult characters, and throws in some left-field darkness to add real-world weight to a story that wasn't necessarily asking for it. (The film is set in 1955, and more than one of the adult characters survived World War II.)
The film feels long, though I don't claim to know how much it can hold young people's attention spans — I found my attention wandering. Perhaps someone along the pipeline anticipated this, and threw in at least three different gags in which an enchanted topiary lion "poops" dead leaves, often in the faces of our protagonists, with a long, blustery flatulence sound accompanying it. These and other cheap gags are an unfortunate, if predictable blemish on an otherwise innocuous adventure tale. If a second Lewis Barnavelt film, or one about his plucky insect-loving friend Rose Rita (both of whom have multiple books around them) gets greenlit, here's hoping Roth or whoever else takes the reins has more faith in their oddball young protagonists to sell all the magic and whimsy.