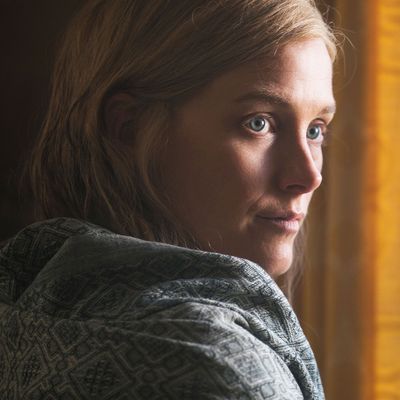 Photo: Aimee Spinks / Netflix
When Ben's away, the shape-shifters will pl… — get a little drunk and bond in ways they are typically not allowed to but desperately crave. Although I'm extremely invested in the Ballad of Harry and June, I could've spent this entire episode with the women of Sanctum — the things that happen there while Ben's gone are so, so lovely. The doctor is adamant that the ladies refrain from touching anyone, that they never speak about personal things, and that this is for their own good — but he's got it all wrong. The women need each other. As much as Dr. Ben pretends to be the center of this whole little shape-shifting world he's created, it's the three ladies who are the only ones who can understand what the others are going through. BRB, just going to cry into a sweater for a few minutes.
It all starts with Runa — having trouble being apart from the man who holds her together and getting into a nasty fight with Elena over an old dress — unearthing her secret stash of booze in the chicken coop. Seriously, everyone get yourself a person who looks at you the way Runa looks at her chickens. That's real love. Sigrid catches Runa in the act, but instead of taking the woman who helped invent the rules to task for breaking them, Sigrid wants a sip. She thinks its time they all started sharing. Who knew little Sigrid was so much fun?
And so the three shape-shifters gather round a fire pit and hit the booze. Feeling much more open than usual, the girls share their secrets. Sigrid is in love with a woman back home and she can't wait to tell her how she feels. Elena admits that she never loved John and only married him to keep her kids safe. Runa shares what has been hinted at all along: She has dementia, and it is getting worse. But Runa doesn't want to spend her time crying about it; the woman wants to live. And so all three of them go for a late-night swim. I had no idea, what with all the testing and forlorn looks and rain, that Sanctum could hold so much joy.
Runa has another secret to share. While alone with Elena, she tells her that the most harrowing part of her dementia is that she has a daughter, Freya, who is lost. If Runa loses her memory, her daughter will be forgotten. Elena, mother to mother, shape-shifter to shape-shifter, promises to remember Freya. And the women hold hands and I am crying and does Ben really have to come back?
Apparently, yes. Ben lands in London, and after callously handing Steinar a check to purchase his parents' home before firing the dude. (Steinar's done some horrible things, but all in the name of Ben Halvorson, so this is cold.) He can't have Steinar around June and the other women now. It's not safe. With that bit of business handled, Ben's off to meet his prize.
Last we saw June, she and Harry had a falling-out and she was headed back to Kam's to get her phone. Suffice it to say, June is having a moment. She happens upon Kam cutting into Andrew with insults to make him leave. "You always have to push them away in the end," Kam tells June after he's gone. You want to be angry with Kam — June sure is — but she really is the saddest character. Shape-shifting is a lonely business. She wants June to stay, to be her sister, but June can never forgive her for what she did to Harry — to her! — and parts ways with a fierceness we've previously never seen.
It's a good thing that June's feeling so strong ahead of her first meeting with Ben. She needs to figure the guy out. She's wary of him at first, but after explaining the genetics of shape-shifting (usually it skips a generation, so June is truly special), he tells her what she wants to hear. She'll be safe at Sanctum with her mom, and he can help her understand what's happening. It doesn't take long for her to agree to go to Norway with him. Someone needs to teach this chick about stranger danger.
There is one small glimmer of hope in protecting June, and it comes by way of Kam. Kam's so desperate to keep June with her, it's not surprising that she shape-shifts her way around London to keep an eye on her new friend — all the way to June's meeting with Ben at his hotel. Instead, the surprise is that Kam gets one look at Ben and for the first time since we've met her, she looks absolutely terrified. She knows Ben. And she knows he's up to no good.
Unfortunately for Kam, Steinar is lurking outside the hotel, trying to come up with a way to make Ben take him back. He sees Kam shift, instantly recognizes her as Freya (YOU GUYS) and goes after her. If Kam was scared just seeing Ben, the fear certainly gets kicked up a notch when she discovers Steinar is after her. They play a little cat-and-mouse until Kam makes it back to her apartment and realizes she is trapped. She does the only thing she can think of to protect June in this moment: She calls Harry. She tells him that he needs to stop June from going to Norway. Dr. Halvorson and his Fjordian Paradise are not what they appear to be. June is in danger and she knows how much they love each other — she saw it when she shifted into him. This last bit of info is, of course, news to Harry. But is learning that June didn't betray him enough to push him to go after his girl? Kam sure hopes so, because now all she can do is have a trippy flashback to stomping through the snow-covered woods on her way to Sanctum with HER MOTHER RUNA, and sit and wait as Steinar enters her apartment. Good luck, Kam!
Harry's back at home — always and forever living for mom-and-son reunion hugs — and almost immediately pulled back into that shape-shifter grind. Chris has some questions about that whole seeing-June's-face-in-Nurse Deborah's-reflection thing and shows Harry the video tape of his father and Elena's reflection. Harry knows the horrible significance of this — that Elena and her shape-shifting have something to do with Lewis's current state — and before he can even attempt to explain it to his mom, he's off looking for John and some answers.
Thankfully, Ryan's around to inform Harry that there's no way June could've known that Elena was involved in what happened to Lewis, but the idea that John has known and has looked Harry in the face and not said a thing all these years completely guts the kid. John and Harry exchange words at the local pub and things almost get physical. It's a shame that John and Ryan need to leave because Ryan's over at the bar getting straight-up hit on by the bartender, an old classmate of his. Not like this show needs another storyline but I am here for Ryan falling in love, FYI, should that be a thing that The Innocents pursues.
It's after this confrontation, after Harry promises his mom that he'll never see June again, after he learns the truth about his father, that Harry gets that panicked call from Kam. But even though Harry is in complete turmoil, he does not hesitate in packing up and going after June. He loves her, you guys, duh. At least he leaves a note for his mom, this time! He also doesn't go it alone — he tells John and Ryan what's going on, too. It seems like a whole bunch of people will be converging on Norway very, very soon. It's about time.
Knit Happens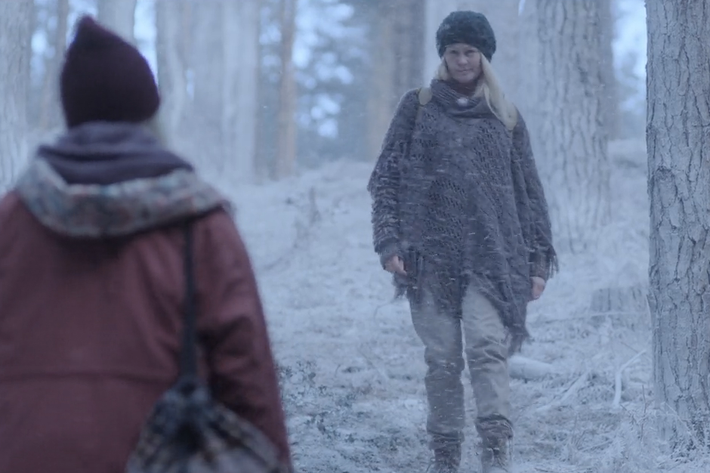 • We interrupt your regularly scheduled Sweater Session to bring you an entire knit ensemble. I know, it's almost too much to bear. I'm mainly here for Runa's wonderful knit hat that makes our favorite Sanctum resident look like she's in a Ralph Lauren winter-wear shoot and not running off to hook-up with a shady doctor. And I'm not typically a poncho person, knitted or otherwise, but props must be given to the fact that she is wearing one over another sweater. Knit-on-knit action of any kind deserves to be acknowledged.