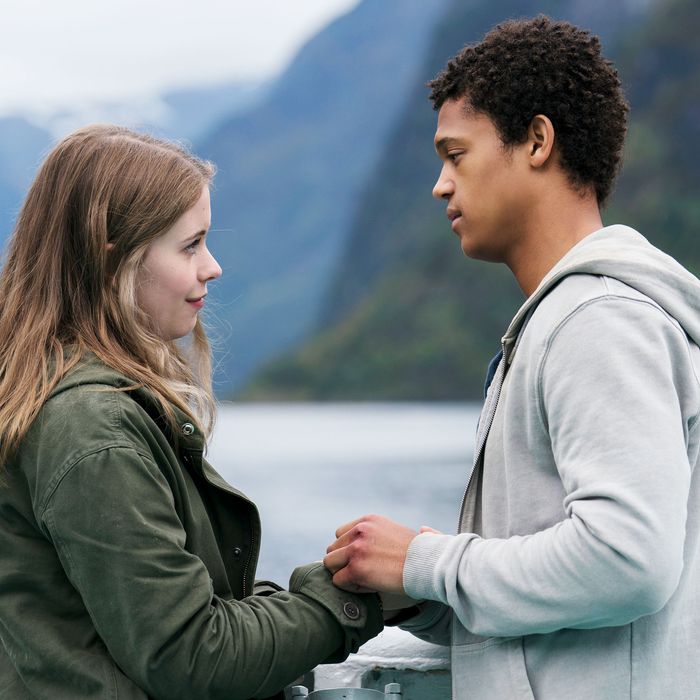 Photo: Aimee Spinks / Netflix
Feast your eyes on that gorgeous fjord one last time — we've made it to the end of this shape-shifting journey! For as much as the middle of the season dragged, and for as many extraneous story lines as there were — but what of Ryan and the bartender?! — The Innocents pulls off an excellent season finale that fits all the pieces it's been slowly building throughout the season together, while also clearly setting up a second season. The final scene is so tragic, I'm still screaming nooooooooo at my screen. Why'd you have to do me like that, The Innocents?
But a lot goes down before that. When we last left Sanctum, Ben decided to teach the very suspicious Harry a lesson and locked him in the padded shape-shifter interrogation room. He does check on the teenager he is holding against his will, but only in an attempt to get more information about June and her shifts. Harry refuses because Harry is a king among men. He's left in the dark once more.
Ben makes up a bullshit lie about Harry realizing he could no longer help June, that he was losing her a little bit each time she shifts, and leaving Sanctum. For some reason — I guess after seeing how Elena made Harry's family suffer? — June only questions this for, like, one minute. This is infuriating. JUNE. If you have learned anything from this insane turn of events, isn't it that Harry will never give up on you? He came all the way to Sanctum! I know you are sporting your new Sanctum Apparel dress and all, but remember who you are. And more importantly, remember who Harry is.
Even if Ben has "handled" the Harry situation, there is another stranger questioning the practices of Sanctum still hanging around: John. Like any outsider would, he immediately sees the more cult-ish side of Sanctum — and he's not afraid to tell Ben how he feels. But John is really only concerned with June. Father and daughter finally have a moment to themselves in which John apologizes for trying to protect her instead of trying to prepare her for what was happening. He also blows up Ben's lie about Harry just leaving June in 2.5 seconds. Everyone needs to listen to John! No one does.
He doesn't relent in his pursuit to figure out what Ben's up to: At family dinner, he questions why both Sigrid and Runa are still there if they have been, as Ben calls it, "re-centered." Instead of June seeing the problem with this, she turns on John (apparently the only person she doesn't trust!) and pulls your typical teenager "Oh my God, Dad stop embarrassing me on the Shape-shifting Farm, okay?" And when Ben calls John out for breaking into the testing room — Ben knows all, you guys — everyone at the table agrees that John should leave Sanctum first thing in the morning.
And yet still, Ben has another problem clogging his great Sanctum plans up: Runa! Runa's dementia is getting much worse. She has a full-on hallucination of Freya the day she left — Freya tells her mother about being able to see people's memories, and that she wants to get away from Ben — and it plays out how it did before: Runa chooses Ben over Freya. Runa runs after no one, still devastated by losing her daughter. But she doesn't really lose her shit until family dinner. Some mysterious audio coming from the barn plays loudly and Runa, recognizing Freya's voice comes running.
Everyone follows the audio into the testing room and there they come across Steinar, with a rifle, and some evidence regarding Ben's true intentions. He plays video of Freya's testing sessions in which Ben electrocutes the girl until she shifts into Steinar. The torture is hard for everyone to watch, but the things he says to Freya on the video, about Runa never leaving him, is pretty bad, too. Things really unravel from there. Everyone quickly turns on Ben. As Ben grabs the rifle from a distracted Steinar, Sigrid lays into him for being a monster and a liar — he was supposed to be protecting them — and when that brave little bird lunges to disarm Ben, he shoots her. Sigrid is dead.
Ben's in charge now and he wants June and Runa to follow him immediately. Finally his intentions are clear: He promised Runa he'd do everything to save her — anything — and that includes forcing June to shift into Runa in order to preserve Runa's memories as the real Runa fades into her dementia. All of this — Sanctum, getting June, with her special memory-seeing powers, by any means necessary — was done out of Ben's love for Runa. According to him, anyway. Meanwhile, John's trying to protect his girls by having them repeat their "keep calm, come to no harm" mantra because John is a stud and you should not sleep on this dude, people. Still, June bravely agrees to go with Ben to put an end to all this madness.
But then she finds Harry locked in that room. Ben uses their undying love to his advantage — if June doesn't shift into Runa, he'll shoot Harry in the head. It's important to note that Ben seems just as scared as the rest of them — he's in way over his head here. And it doesn't seem like Runa's really swayed by his grand gesture to save her. She is horrified that he'd sacrifice June, a child, like this. As June follows Ben's demands in order to keep Harry safe, Runa distracts him long enough for Harry to overtake him and grab the gun.
Ben's a goner — but it won't be at Harry's precious, kind hands. He frees Runa and June and it's Runa who takes the gun from Harry, keeping it pointed on Ben the entire time. Her great love! Harry and June flee with John and Elena, leaving Steinar and Runa to deal with Ben. This confrontation was a long time coming and it doesn't disappoint. Runa has to deal with the fact that not only has the love of her life been lying to her about her daughter, but that she chose Ben over Freya all those years ago. As Ben tries to convince Runa that he loves her, that no, he's not just discarding her for June, Steinar keeps reminding Runa that Ben doesn't love Runa, he needs her — she's his medical miracle. If you find it strange that Steinar would have suddenly flipped on his beloved boss, you're right. Because it isn't Steinar. It's Kam — Runa's Freya coming home to her — who has shifted into Steinar. She's returned to Sanctum to save June, to save them all, from Ben. And once Runa knows her daughter is back, it empowers her to stand up to the man who had so much control over her, and in some twisted attempt to right the wrong she made when she discarded her daughter, she shoots Ben. Dr. Halvorson is no longer a threat.
It's still not enough for Kam to want to stay with Runa. Freya is gone, too scarred and betrayed to ever forgive her mother. And so Kam leaves Runa alone on Sanctum, now just a beautiful place full of ghosts. Runa has to live with the choices she made.
That leaves Harry and the McDaniels, still making the return journey from Sanctum back to real life. It won't be so easy: As their ferry to Bergen approaches the dock, they see Chris, Doug, and the Norwegian authorities waiting on the other side. If they catch Elena and June, everything's over. So Elena decides to sacrifice herself. She'll turn herself into Chris and while they're distracted, Harry and June will jump in their car and drive off. Although the plan is totally half-baked and will never work, the sentiment is a moving one. Elena caused both June and Harry so much pain, like Runa, she's a mother trying to figure out a way to make amends.
But it doesn't take long for Chris to realize what's happening and she jumps in a car to chase after Harry and June. The roads are winding and Harry won't slow down — he must keep June safe, at all costs — and eventually he slams into a tree. June's injuries are extensive and so in his biggest act of bravery, Harry tells June to do the one thing he made her promise to never do — he wants June to shift into him. If June's Harry, she won't be bleeding out and can find someone to help her. It's a terrible option, but the only one. "I'll see you again soon" he tells her, she grabs his face, and she shifts. And now we're all crying at a shapeshifter show, GREAT.
And then things get really bad. Chris comes upon the car wreck and runs to find her son, but she grabs June, mistaking her for Harry—AND JUNE SHIFTS IMMEDIATELY INTO CHRIS. June shifts back into herself, knowing exactly what kind of tragedy shifting directly from one person into another causes. And then it's confirmed: Harry is catatonic, exactly like Lewis. She tries to wake him up, but poor Harry just stares into the distance and repeats the last thing he said to her, "I'll see you again soon." He's trapped.
I told you guys that Harry's too good for this world.
Knit Happens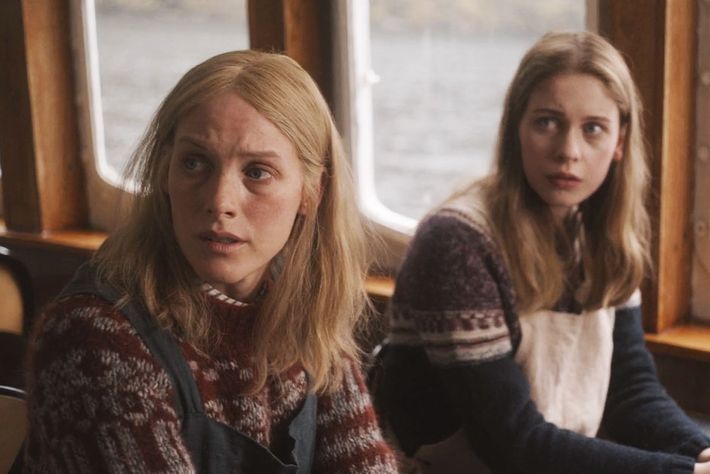 • It feels right that the final Sweater of the season should go to mother and daughter shapeshifting duo Elena and June. They may be suffering great tragedies — and I don't just mean those Sanctum Apparel dresses they're still wearing — but at least they get to don some festive, cozy sweaters. I mean, if we've learned anything from this show it's that sweaters should always be top priority.