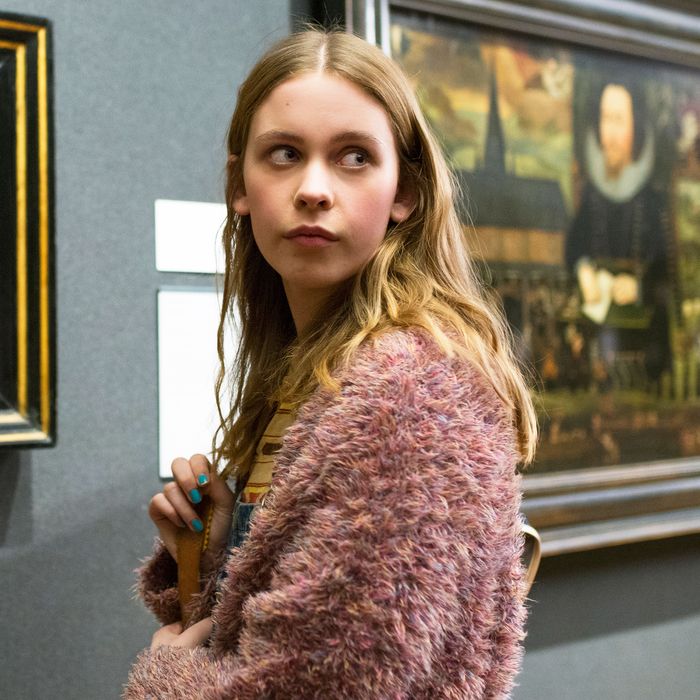 Photo: Richard Hanson / Netflix
It might behoove Harry and June to take some advice from another sci-fi TV show and, like The X-Files warned us all, "trust no one." I mean, can't two star-crossed teens run off to London and bump into one benevolent adult? Is this too much to ask? Needless to say, our runaways' second attempt at befriending a stranger in the city also goes very, very wrong.
Harry and June have landed at a hostel and are doing relatively well. They've made some friends, the receptionist seems very nice, and Harry is interviewing for jobs. Fingers crossed we get a scene with the greeting card sales company interviewer where he goes home and is like "Honey, let me tell you about this extra AF kid who came in today…" They're just greeting cards, Harry! Still, it feels like things are on an upswing for our heroes (can you believe it's only been a week since they ran away?!). But then June catches wind of that YouTube video of her shift into Lil, doesn't hesitate to respond to the mysterious commenter who offered help, and Harry and June are off on the next leg of this grand shapeshifting adventure.
They meet this commenter at the National Portrait Gallery, and it turns out he isn't a guy — it's another shapeshifter, like June. Her name is Kam (Abigail Hardingham) and she offers the two a place to stay for a few days and a crash course on what the hell is going on. It's interesting to see how Harry and June's reactions to Kam differ — the cracks in their relationship are showing. Harry, understandably, is wary of this new person, but June is so desperate for answers that she's excited and energized by this discovery. This reaction makes sense: June's a 16-year old girl and extremely scary things are happening to her. Yes, she has Harry, but there's no way he can fully understand what she's going through; That must be incredibly lonely. Kam offers some hope that she won't be alone in this forever.
If only Kam stuck to teaching June (and all of us!) about Norse folklore instead of taking her to a weird underground sex club! Admittedly I'm a nerd, but I'd much rather spend time learning about Norse Bear Warriors, also known as Berserkers, who were shapeshifting in the 9th century, than follow innocent little June to yet another dodgy club where the person she's trusting to help her takes advantage. And yet, after Kam schools June on triggers (Kam's is pain), demonstrates how easily she can shift into her boyfriend and willing participant Andrew (after which, Harry makes June promise she'll never do that to him), and recognizes Elena from June's video as a Norwegian nun who went missing (Kam collects news on possible shifters), she just HAS to take June out.
Although Harry is looking top-notch in his camel-colored coat (are good coats better than good sweaters? Discuss!), he is not into what's going on at this club. He attempts to get June out of there, ends up in a fist fight, and gets tossed out. When June finally catches up to him on the street, their differing opinions on Kam show themselves and Harry basically tells June to get her head out of her ass and figure out what she wants.
What June wants is to see her mom. So instead of going after Harry, she takes Steinar's phone and, I guess, hits redial? Somehow, she calls up the Shapeshifting Farm. Ben is practically giddy. Well, as giddy as an enigmatic bearded doctor with a jawline that doesn't quit can get.
Earlier, he received a phone call from a worse-for-wear Steinar by way of payphone, who informed him that he lost June but also that she's different from the other shifters — she can get into people's minds and memories. According to Steinar, June's everything Ben's been looking for. So although Runa wholeheartedly objects, Ben already had plans to head off for London to find June; she's too important. When he gets June's phone call, he knows this is his only chance — so he has her talk to Elena. Elena's trying her best not to shift — "love" is most definitely the worst trigger to have, let's be honest — and she does well with June. She tells her all the right things: that Ben is someone to trust, that Sanctum is safe, that they should be together. So yes, June will keep her phone on her and await Ben's arrival. Ben hops on his tiny boat, says good-bye to a fearful Runa, and speeds away through that gorgeous fjord.
Back in London, June wakes up to Harry in bed with her, eager to make up for their fight — only, June realizes pretty quickly that the guy she's making out with is not Harry. It's Kam. She's shifted. Kam, too, can get into people's minds and memories (what's the connection?), and while June begs her to get out of Harry, Kam feeds her lies about how Harry really feels about her. How they won't last. It's pretty awful, especially knowing how Harry feels about someone shifting into him, and it takes Andrew ordering Kam to quit messing around for Kam to shift back. Okay, yes, it's obvious Kam is lonely, too, that she craves a family, but this was not the way. Read the room, Kam!
The real Harry was stuffed into a coat closet, so once he fully comes to, Harry and June get the hell out of Kam's apartment and attempt to regroup. Just as they are about to move on, June realizes she left her phone at Kam's — she needs it to get in touch with Ben. And that's the last straw for Harry. He's not up for yet another stranger coming into their lives supposedly to "help" June. The drug dealers and Kam were already too much. The poor kid's been through it. He also knows that someone shifted into him. Heartbroken, he asks June if it was her. She could easily explain to him the truth, that it was Kam, but in a baffling turn of events, she says nothing and lets him think she betrayed him. Does she want to push him away to protect him? Does she believe the terrible things Kam told her about their relationship? Regardless, this feels like a dumb teenager move and now both Harry and June are on their own. We'll see how that works out for them!
There's some developments happening outside of London, too. Christine is obsessed with the CCTV footage of Harry running through the hospital with Nurse Deborah and notices something very curious: In their reflection, it looks like Harry is running through the hospital with June. (I don't know, I'm not a detective or anything, but, like isn't the bigger mystery here that Deborah is on video running down the hallway while also in a bed with vibrating eyes?) The vibrating eyes have dredged up a lot of unresolved feelings over the case with Lewis, and so Chris decides to look at some CCTV footage of her husband from the night he was changed forever. Wouldn't ya know it, in his reflection she clearly sees … Elena. Well, that's not good.
Chris forces her old pal John to come into the station for some unauthorized questioning and in the process, ends up getting suspended by Doug. "Sometimes I think you don't even want to find out what happened to Lewis," she spits at him. This relationship is complicated and I'm maybe more into it than we're supposed to be. Too late!
At least the whole messy thing forces John to do something he should've done a long time ago: Knowing that Christine is on the brink of figuring some things out, he finally tells Ryan the truth about his mother and June. There's a lot going on in this show (too much?), so a complicated pseudo-father-son relationship is low on the priority list, but this scene is so good. It also adds some much needed layers to John — he's not just a Mad Dad, he's a Sad Dad! He's so completely racked with guilt over not being able to help Elena and now June, that he's lost everything. Someone give this guy a hug.
Knit Happens
• Short-sleeve Sweater Alert: Sure, Dr. Ben is getting ickier with each installment — in this episode, he uses something Sigrid said during her testing to manipulate her into staying at Sanctum longer — but this little green number is almost good enough to make you look the other way. Almost. Short-sleeve sweaters for everyone!