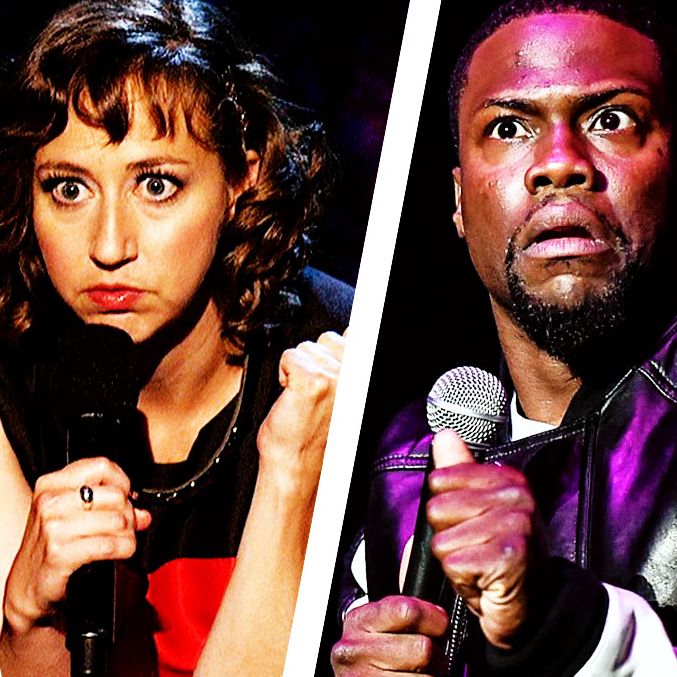 Hannah Gadsby, Kristen Schaal, and Kevin Hart.
Photo: Netflix/Comedy Central/Universal Pictures
Netflix is changing the way we watch comedy specials, and the comics are doing their part, too. Where once HBO and Comedy Central dominated the stand-up field, the streaming service has since convinced household names like Jerry Seinfeld, Ricky Gervais, Sarah Silverman, and Ellen DeGeneres to premiere their new material on a laptop screen. In 2017, Netflix released a new special each week, and it's also slated to debut a whopping 47 specials on one day sometime next year. Which begs the question: How do comics squeeze into your play queue when everyone — including superstars like Dave Chappelle — competes in one expanding, scrollable category?
The solution, for many, is to experiment with the form. Hence the recent spurt of nontraditional specials, each with a visual device to punch up, not distract from, the humor. That's not to say stand-ups haven't deviated from the same tried and over-tested formula in the past. If you go back a few years, outliers start to pop up. For instance, Chris Rock: Kill the Messenger (2008) consists of three performances — in London, New York, and Johannesburg — stitched together, sometimes within the same bit, to highlight contrasting energies. Elsewhere, Zach Galifianakis: Live at the Purple Onion (2006) rarely lasts five minutes without a sketch, leaving the theater, or meeting the legend that is Seth Galifianakis.
But now, in 2018, we're witnessing real momentum in the genre. So much so that Hannah Gadsby's Nanette and Drew Michael's audience-less HBO hour are challenging what we consider the medium to even be. "I'll settle this: my show is not standup because I got jack off an art form designed by men for men," Gadsby tweeted. "Female artists often defy genre." And if it weren't eye-catching enough that Bo Burnham directed Chris Rock's Tamborine, did you know that Adam Sandler's upcoming Netflix special boasts the involvement of Paul Thomas Anderson?
Basically, in the age of streaming, the smartest stand-ups are playing to the back of the living room. Along with Gadsby and Michael, here are the comics who are experimenting and expanding on the nontraditional special format:
Kevin Hart: Laugh at My Pain (2011) & What Now? (2016)
Some stand-ups never return once Hollywood comes knocking on the greenroom door. Kudos to Hart, then, for combining his passions and kicking off What Now? with a 20-minute spy parody. Simply put, it's Hart playing to his strengths: He's a bona fide action-movie star with the budget and persona to pull off a lengthy, star-studded James Bond audition, in which Halle Berry, Don Cheadle, and Ed Helms also suit up. Similarly, Laugh at My Pain opens with a 15-minute tongue-in-cheek doc and closes with a 20-minute bank heist sequence. Say what you will about Hart's material, but the presentation attempts something fresh and cinematic.
Maria Bamford: The Special Special Special (2012) & Old Baby (2017)
In what counts as extreme family bonding, The Special Special Special consists of Bamford dishing out jokes in a living room to just her parents. "The reason I decided to do the special here," she deadpans, "is because it's free to perform in your home." But whereas those viewers were invited onto her sofa, the inimitable comic meets various crowds halfway around town for Old Baby. In the 2017 special, a shape-shifting series of gigs occur indoors, outdoors, at a bowling alley, in a bookshop, at a park bench, in a living room, in more traditional L.A. theaters, and so on. All in all, they're venues that guarantee it's something you haven't seen before — unless you're on Bamford's bowling team, that is.
Kristen Schaal: Live at the Fillmore (2013)
The day before her Comedy Central special aired, Schaal warned us, "I just can't even believe they're going to air it." The vague statement starts to make sense around the show's midpoint, when Schaal stumbles over a gag and abandons the stage. In theory, comics use TV exposure to exhibit their greatest strengths. Live at the Fillmore is no different. Schaal returns a few minutes later, jokes that "what's in right now is autobiographical humor like Louis C.K. or Michael Richards," and is then heckled by a little girl in the crowd. Once the child actor is reciting roast material into the mic, it should be obvious to everyone that it's a tightly scripted Andy Kaufman–esque bit. Some viewers, however, were fooled — including The Hollywood Reporter, which wondered if it's a "meltdown for the ages."
Todd Barry: The Crowd Work Tour (2014)
My personal favorite is Barry's special, a partial travel doc that, through its gimmick — no material, just audience interaction — devotes substantial time to the comic's POV, peering into a sea of expectant punters. Sometimes they're drunk loudmouths, or — hopefully — they're amateur musicians with a thick skin. "Why shoot these five camera angles and cut to the crowd every time to prove people are laughing?" asked Lance Bangs, the special's director. "And maybe it could be Todd Barry in different cities and you don't spend the money on one giant theater." Even better is Barry in cars and temporary accommodation, explaining the minutiae of a touring comic. Come for the off-the-cuff jokes, stay for tips on surviving hotel bathrooms.
Chelsea Peretti: One of the Greats (2014)
Within minutes, Peretti revs up a motorbike — a nod to Eddie Murphy's Raw outfit — and exuberantly sends up decades of stand-up tropes in a fake self-mythologizing montage. And that's just the prologue. A backstage clown, an invading leaf blower, and Moshe Kasher heckling from the crowd are among the surreal inserts during the actual performance. "It's always driven me nuts when I'm watching stand-up specials, the reaction shots that they insert into them," Peretti said on the special. "It takes me out every single time … so I wanted to play with that." Even the dogs in the theater stalls seem to appreciate the subversion on display.
Garfunkel and Oates: Trying to Be Special (2016)
"Welcome to the musical comedy of Garfunkel and Oates," announces Anthony Jeselnik, the warm-up comic. "Or as I like to call it: music." The mini-roast not only establishes Riki Lindhome and Kate Micucci as good sports, it chimes in with the meta conceit: What you're watching is the fundraiser show needed to raise money for the special itself. Even without pretending to be failures, the singing duo punctuate their show with other fun distractions. There's a music video (basically a YouTube-ready sketch), a genuine flub is left in (Micucci runs offstage to sort out a backing track), and an occasional De Palma–style split screen shakes up the visuals.
Bo Burnham: Make Happy (2016)
As a former YouTube sensation, Burnham possesses a knack for engaging online viewers, and his proclivity for pre-prepared material does wonders in Make Happy. ("I'm trying to immortalize something I've worked on for a long time," he tells a heckler.) Bookended with snapshots of a depressed, existential comic on tour, the show consists of Burnham playing the stage as if it's a musical instrument. He refers to the piano as a prop and mines humor from light choreography, sound effects, and smoke cannons ($200 for one expensive gag). By cutting from the encore to a solo song in his hotel room, he's keenly aware of Netflix's reach: Though there's a sold-out theater cheering him on, the real audience is at home.
Reggie Watts: Spatial (2016)
Musical comedians have the luxury of operating a more traditional set-list that allows for palate cleansers in between songs. So when Watts isn't singing or rambling in his 2016 special Spatial, he cuts to Crowe's Nest, a fake sitcom starring him, Kate Berlant, and Rory Scovel. Working without a script ("Crowe's Nest was improvised in front of a live studio audience"), the trio spiral into absurdist dead-ends until they're a completely physical, non-verbal act. More importantly, the segments add breathing space to the music and are a reason to log into Netflix rather than, say, searching for Watts on YouTube.
Neal Brennan: 3 Mics (2017)
The premise is simple yet ingenious: Brennan alternates been a trio of microphones depending on whether the bit belongs to "one-liners," "emotional stuff," or "stand-up." Of course, it requires a comic capable of shifting gears, and Brennan ultimately delivers a three-man show that's touching, raucous, and always personal. Though he physically adjusts his body for each voice, it still feels like one complete, thought-out package. "The thing I like about 3 Mics is that it was everything," said Brennan, who also serves as producer and director. "Even the art, I knew what it should be, and that's what it ended up being on Netflix."
Todd Glass: Act Happy (2018)
"This is a small room of 75 people," Glass instructs his band. "But play like it's 80." That Glass has a backing group at all is indicative of his show's chaotic atmosphere. As such, Glass performs an act that may, at any point, be drowned out by "The Battle Hymn of the Republic," or be heckled by his onstage musicians — a routine familiar to listeners of his podcast. More impressively, the 75 audience members are in on the joke, too, chanting "Fuck Rory Scovel!" on cue to a faux-shocked Glass. Some recordings want you to feel part of the room; here, Glass lets you know they're having more fun than you.
Fred Armisen: Standup for Drummers (2018)
As the bandleader for Seth Meyers, Armisen has mastered delivering gags from behind a hi-hat. His special goes farther, though, by filling the audience with drummers (hello Dinosaur Jr.'s J Mascis) and converting the stage into a percussionist's wet dream. Switching instruments at a rapid tempo, the Portlandia star is practically a prop comic — just with cymbals instead of watermelons. And it works! So much so, a Seinfeld-ian riff on Burger King, spoken without a backing track, feels like B-side material. Elsewhere, there's a non-verbal impression of Meg White, a demonstration of drumming through the decades, and a cameo from Green Day's Tre Cool. The crowd can't help but nod and stroke their chin in appreciation.
James Acaster: Repertoire (2018)
Repertoire is a stand-up special designed for binge-watching. All recorded in a single week, the package includes four separate hour-long performances: Three are drawn from Acaster's past touring shows ("Recognise," "Represent," "Reset"), while a fourth chapter ("Recap"), a sort of remix, ties them all together. It's intended, then, to be digested in the same manner as a Netflix series like Altered Carbon (i.e. you stop after four episodes), and it rewards viewers with an overwhelming number of callbacks. As a Netflix-specific gimmick, it seems to be popular: Moshe Kasher and Natasha Leggero's The Honeymoon Standup Special arrived in three parts, and Dave Chappelle's recent releases were effectively four specials for the price of two.
Hannah Gadsby: Nanette (2018)
The Sydney Opera House isn't a typical comedy venue, but Nanette isn't a typical comedy special, either. On a stage usually reserved for orchestras, Gadsby stands alone, performing intimate material to a crowd that observes from a distance. In other words, this is very much a one-woman show. The camera focuses on Gadsby, not the dimly lit audience, and the raw anger of her material builds to a furious crescendo. It's powerful enough that even a Netflix viewer can sense the room's collective discomfort. These are all deliberate decisions in the direction, of course, and if you're dismissing Nanette as a TED Talk, then perhaps that says more about you than the show itself.
Stewart Lee: Content Provider (2018)
Not everyone gets a Netflix special. Lee, probably the U.K.'s most critically acclaimed comic, had his latest two-hour show, Content Provider, rejected by the streaming service for being "too parochial." Perhaps Netflix wasn't aware that Lee would eventually punctuate the filmed performance with a "hostile interrogator," a role carried on from his TV series, Stewart Lee's Comedy Vehicle. On season two it was Armando Iannucci, then Chris Morris for season three and four. For Content Provider, it's graphic novelist Alan Moore, who takes on bullying duties. "You're in the worst physical condition of your life," Moore informs Lee during a cutaway. "It's going to kill you." Netflix's loss is the BBC's gain.
Demetri Martin: The Overthinker (2018)
Before his latest special, Martin — part octopus, part comedian — already had a habit of juggling jokes with guitar strums, sketch pads, and PowerPoint presentations. As a new layer, The Overthinker is crammed with post-production gags aimed squarely at home viewers. For instance, hand-drawn illustrations regularly pop up onscreen as bonus material, and a self-referential voiceover (again, just for streamers) ponders, "What's next? Maybe I'll do some drawings." Of course, what complements Martin's brand of humor may not suit, say, Marc Maron. But some comics, especially those eager to escape controversy, might appreciate Martin's use of subtitles; after a gender-related punchline, a disclaimer appears at the bottom: "That joke was not offensive."
Drew Michael: Drew Michael (2018)
If a comic tells a joke and no one is around to hear it, does it count as stand-up? That's the boundary-pushing premise for Michael's new HBO special, an hour-long show performed in front of zero people. Directed by Jerrod Carmichael, Drew Michael eschews traditional joke-telling rhythms for free-flowing monologues and occasional cutaways to Suki Waterhouse doing something arty. Watch the trailer on mute and it may as well be a Michel Gondry music video. "I don't even know if you'd call this a stand-up special," Carmichael laughs in a behind-the-scenes preview. If sitcoms can thrive without a studio audience, can live comedy follow suit?