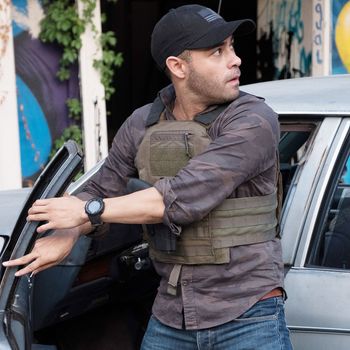 Photo: USA Network/Patti Perret/USA Network
The Purge earned mixed reviews when it arrived in theaters in June 2013, but those on both ends of the spectrum tended to echo the same complaint: Why concoct an ingenious, dystopian premise and then only use it as the background of a pretty familiar home-invasion thriller? What they couldn't have known was that the franchise was thinking long, and had plans to show more in subsequent installments. Creator James DeMonaco has put out three follow-ups (so far): The Purge: Anarchy, The Purge: Election Year, and this summer's The First Purge, each revealing a little more of a grim near-future world.
DeMonaco wrote and directed the first three Purge films, then handed directorial reins to Gerard McMurray for the most recent entry, no doubt partly because he's also serving as the creator and executive producer of USA's The Purge TV series, which brings the film's dark, violent world to the small screen. Its premise means politics are never far from the surface, even if the franchise has only gradually begun to admit that. "If it sparks any kind of discourse about violence in society, I think that's a good thing. If people just enjoy it, great," DeMonaco said of the first film back in 2013. But each subsequent entry has come closer and closer to making the subtext text, revealing that the New Founding Fathers of America explicitly use the Purge to thin out the mostly minority underclass to make America safe again for rich white people. The First Purge stopped playing coy about what the movies were really about, pitting the residents of Staten Island against government forces dressed up like the Klan and ending with Kendrick Lamar's "Alright," a protest fixture pretty much from the moment of its release.
That gave The First Purge the most upbeat ending of any entry except for one small detail: It's a prequel, which means its righteous call to arms ultimately went nowhere, or else none of the other Purge movies — and now this TV series — could have happened. In DeMonaco's world, every silver lining comes attached to massive storm clouds.
The Purge comes to television trailed by two questions: Can what works in two-hour movies work when stretched across ten episodes? And will The Purge continue to try to say something with its darkest timeline of America? The series premiere suggests the answer is "yes."
For those just tuning in, here are the basics of The Purge's world: At some point in the recent past — when is tricky to nail down because the chronology can be a little fluid — the New Founding Fathers of America assumed control of the U.S. government. Ultra–right wing (and increasingly resembling the Trump/MAGA contingent in the last two entries), they wrap themselves in patriotic iconography and boast of a thriving economy and plummeting unemployment as proof they've turned America around. (See above re: resemblance to Trump, MAGA, etc.) One of the cornerstones of their government is the Purge. Every year on Purge Night all crime is legal for a 12-hour period, with a few small restrictions involving Purge-free zones like hospitals and some limitations on the weaponry those participating in the Purge can employ.
Where The First Purge covers, well, the first Purge, and Purge: Election Year depicts what might be the final Purge, The Purge TV series takes place after the Purge has been around for a few years, almost to the point of having been normalized. It's not business as usual, exactly, but most of America has figured out they have only limited options during the Purge: hole up, die at the hands of a Purge participant, or hit the streets and raise hell.
"What Is America?" unfolds much like the first act of a Purge film, introducing seemingly unrelated characters who, it's a safe bet, will end up meeting each other over the course of the series. Currently, the series is weaving together three narrative stands.
We first meet Miguel (Gabriel Chavarria), a Marine who's returned from an unnamed war in search of Penelope (Jessica Garza), who's disappeared after sending a cryptic letter making vague reference to losing their parents in a past Purge and even vaguer references to some New Age-y sounding concepts. We'll learn, when Miguel visits the cult center after first beating the hell out of some rough characters living in an abandoned housing project, that she's joined a cult whose members offer themselves up as sacrifices to Purge participants, an act they refer to the as "the Giving," in order to join "the Invisible." But, in this episode at least, Miguel remains one step behind his sister, who's boarded a bus that makes periodic stops to unload members who happily let themselves be killed. Or maybe not so happily: The episode ends with one member whose face betrays he's having second thoughts shortly before he gets taken down. On the bus, Penelope seems to be having some misgivings too.
Across town and 38 stories above ground, Jane (Amanda Warren), is spending the night trying to close a deal before international markets open. We first meet her visiting her mother in a hospital, a Purge Night safe zone. And though her mom asks her to stay, work beckons. But, no worries, since everyone on the 38th floor of Jane's high-rise office building has agreed not to participate in the Purge and has security to protect them. But there's a loophole in the system: As the Purge nears, Jane leaves the 38th floor for a shady assignation with a stern, severe-looking woman she's hiring to do … something, most likely something to do with her boss Don (William Baldwin), who Skypes in to make sure everything's going well and to make some tense, kidding-but-not-really jokes that suggest he and Jane have an unpleasant history. And, speaking of unpleasantness, what's up with Jane's underlings Mark (Adam Stephenson) and Alison (Jessica Miesel)? There's no way these rivalries could find some kind of violent expression on Purge night, is there?
Finally, there's Rick (Colin Woodell) and Jenna (Hannah Anderson), a young, happily married couple who aren't into the Purge but plan to spend the evening at an upper-crust Purge party anyway, in hopes of securing financing for a charity that will provide housing to the underprivileged. Their plan: Get in, make the deal, mingle as little as possible, and by all means resist their hosts' pitches to join the NFFA. They're not that sort of people. They're kind, they want to help others, and they're definitely not rich. Only, relatively speaking, they are, as their car service driver tells them. He's going home to board himself in, even if other drivers are going to try for "that Purge Surge money." They have the luxury of going somewhere safe. He doesn't call it white privilege, but he might as well. Not everyone is equal when the Purge siren sounds, as Jenna's interactions with Catalina (Paulina Gálvez), one of her host's servants, reminds her.
But Rick and Jenna might face a different sort of peril. As the 7 p.m. start of the Purge nears, they quickly discover 1) they'll be getting a hard sell on joining the NFFA, 2) a mysterious woman (Lili Simmons) with whom they once had a threesome (depicted in some steamy-but-basic-cable-friendly flashbacks) and whom they now hope to avoid for unknown reasons is also at the party, and 3) everyone attending will be wearing paper masks with the faces of mass murderers like David Berkowitz and various Manson Family killers on them. "We wear these masks," on of their hosts explains, "to commemorate those who paved the way and Purged before it was legal. They risked their freedom because they knew the incredible, life changing, healing power of violence. Of killing!" Now that's a party. Cue Klaxons. And so the long night begins.
This first episode gives the series much on which to build, but so far the Rick and Jenna branch seems to be the most intriguing. It promises the most revelations about the NFFA and the true motivations of the Purge, while Jenna's interactions with Catalina suggest an upstairs/downstairs element that will touch on some of the racial and political tensions at the heart of Purge night. (Unless I missed someone, the masked revelers are all white.) Then there are those flashbacks, which suggest a deeper mystery set to emerge over future episodes. Right now they look like good people caught in a bad situation, but are they? Or is that just what they tell themselves to live with the compromises they've made?
Jane's storyline, on the other hand, starts exploring moral ambiguity from the jump. She might have her reasons, but she's clearly plotting something so dastardly she could only get away with it during the Purge. Meanwhile, although Miguel seems genuinely heroic (if not particularly reluctant to beat others up), his journey could take him into the heart of Purge-inspired weirdness. Presumably we'll find out just what sort of weirdness in future episodes, assuming we all make it to sunrise.
Survival tips
• The Purge is shot in New Orleans, and though it's keeping its setting ambiguous, it's not really trying to disguise that fact too much either. On their way to the NFFA party, Rick and Jenna pass through streets that look like nowhere else. Beyond that, the abandoned apartment building where Miguel beats up the toughs holding a woman hostage is a well-known New Orleans location. It's an abandoned complex covered in the murals of local artist/activist Brandan Odums, a.k.a. B-mike.
• Some of the best parts of the Purge films come in the form of fleeting details, particularly the gallows humor of some of the Purge participants' costumes. This week we see a bunch of Purgers dressed up in bunny costumes and a mask with the words "Free Hugs" written on it. But the episode's best (really only) laugh comes when Jane, on her way to make her shady deal, spots a man sharpening a machete. "Don't worry," he assures her. "It's not for you."
• Fiona Dourif plays the cult leader. She's the daughter of Brad Dourif, a talented character actor best known for his work in One Flew Over the Cuckoo's Nest and as the voice of Chucky in the Child's Play movies. Good to see she's inherited his talent for playing charismatic weirdos.