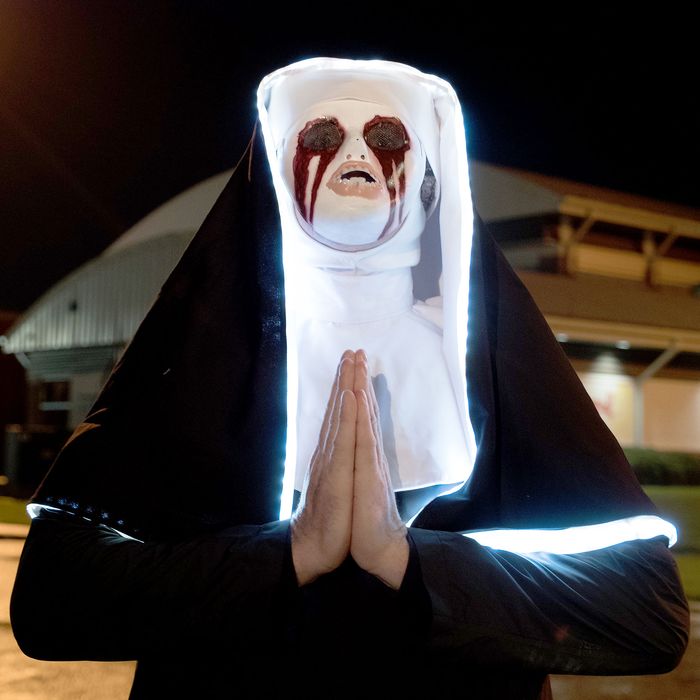 Photo: Patti Perret/USA Network
Technology, right? When doesn't it promise more than it can deliver? And doesn't it always fail at the worst moment? One day, you're happily signing up for an app that will allow you to track the progress of your hired assassin in real time as she goes about her deadly rounds on Purge Night. The next, you're watching it crap out at the worst moment, just as said assassin is due to show up on your boss's doorstep. And when the boss FaceTimes in, angry about some perceived screw-up, then gets an unexpected visitor at his doorstep, that frustration turns to embarrassment, even when the unseen person at the doorbell turns out to be somebody else.
Or is it? It's tough to read what's going on in that moment. Is David really just reaching out and chastising Jane in front of the others for not giving him an update on a deal that went down in the middle of the night? Is it really the pizza guy showing up with an unexpected delivery? His "Kidding, obviously" line blows that theory, but who is it? Has he struck a side deal with the assassin? Was it all a setup? Also, is David still working on the same drink he was sipping last week? So many unanswered questions!
That's not the only reason Jane's having a bad week. She closed the big deal in Japan, which is good news. What's not good news: Alison has decided to remove all doubt as to whether she or Mark will be getting the big promotion by luring Mark out of the safe zone as part of the post-deal celebration, then stabbing him to death with a pair of scissors. Jane witnesses the murder's final moments, but only she grasps the full extent of its senselessness. Not only was Mark a pussycat who was happy to let Alison jump ahead of him, we learned last episode that Jane had already decided that Alison had earned the spot. It's what passes for an O. Henry–like bit of dramatic irony in the world of The Purge, and it leads to the episode's one funny line (we're currently getting about one funny moment per week) when a panting, blood-soaked Alison asks Jane, "So, do you notify HR about my promotion or is that on me?"
Jane isn't the only one whose Purge Night is taking a turn for the worse. "The Urge to Purge" opens with Lila and Jenna kissing by the pool and Jenna seeming far more receptive to Lila's advances than a happily married woman ought to be, to say nothing of a mom-to-be who's theoretically in a stable, long-term relationship. Yes, it turns out that all the not-so-subtle clues that Jenna was with child were exactly that.
This is troubling for several reasons, the most obvious being that Jenna and her husband Rick are in the mansion of the Stanton family, enthusiastic party members of the New Founding Fathers of America. What's more, the patriarch of said family is Lila's dad, who tells Rick he'd trade in all his riches for a grandchild. Does he care where said grandchild comes from? He certainly doesn't care about murdering an employee in cold blood as his first Purge Night kill of the year in front of a shocked Jenna and Rick, whose business he's just agreed to back even though it's not the sort of endeavor he usually favors, what with it helping low-income residents getting a hand up and all. "I help the poor once a year — April 15," he says, before adding, "I'm just kidding. I don't pay taxes." (Okay, maybe there are two laughs this week.) He's a shrewd negotiator who keeps information to himself. Maybe he's just playing the long game here and has designs on Jenna's baby. Sometimes you have to give a little to get a lot.
He clearly has designs on Rick's loyalty, asking him to indulge in the Purge by killing the accused thief himself. Is Rick tempted and pulled away only by Jenna? It's tough to say, but he's certainly more open to staying in a business arrangement with Stanton, a man they just witnessed murdering someone in cold blood, than Jenna. I suspect when the hard-sell comes to join the NFFA, he'll be more susceptible than his wife.
It's not subtle, but this whole situation captures the real-world echoes that help make The Purge franchise effective. We all make moral compromises living in a system dominated by uncaring corporations, whether it's turning a blind eye to the way Amazon treats its employees because Prime is just too convenient or watching The Lego Batman Movie even though it means putting more money in Steve Mnuchin's pockets. Rick and Jenna are ready to make a big compromise by negotiating with Stanton to back their business because they tell themselves it's for the greater good. But how big a compromise? And can you still justify it when you can see literal blood on the hands of the corporate overlord with whom you're dealing?
Miguel and Penelope get the flashback focus this week, even if their storylines move forward the least. We learn that not only were their parents killed in a previous Purge, they were victims of the first Purge, in which the residents of Staten Island agreed to be guinea pigs in exchange for a government stipend (as depicted in The First Purge). That makes them members of an OMF, an Original Martyr Family, and lends Miguel an almost celebrity-like cache when he talks to the two freelance journalists covering the Purge. "The more Americans see this, the sooner it ends," one says hopefully. But Miguel's been there from the beginning and isn't so sure.
After trading the muscle car he won running the gauntlet — a 1971 Chevelle SS, to be specific — to Pete the Cop for information, Miguel comes thisclose to finding Penelope, only to catch up with the glowing blue cult bus after they've handed her over to some Purge participants dressed as creepy, glowing, murder-nuns. The search continues …
In many ways, this feels like wheel-spinning. Unless the show zags when it looks like it's set to zig — a feat it's yet to perform — Miguel will catch up with Penelope at some point. On the other hand, Miguel's search has offered a tour of what's going down on Purge Night all over the city, and even if it lacks urgency, I was still left intrigued as to where it would go next — and the next turns the other storylines would take. The series keeps stringing out the intrigue, but I don't yet feel strung along.
Survival Tips
• William Baldwin plays Jane's boss David Ryker, but IMDb lists the character as "Donald Ryker." Was this a change to avoid too many comparisons to his brother's performance as another high-powered Donald?
• Unlike last week's episode, none of the storylines cross each other, even via a telecast, though David does mention he's missing "the Stanton party" because of the Japan deal.
• I'd almost forgotten about the masked guy who's driving around listening to the pro-Purge motivational speaker until he shows up at the end to … rescue a helpless woman from other Purge participants? Clearly this guy is a wild card and we'll be seeing more of him.
• I have a feeling we haven't seen the last of Pete the Cop or that Chevelle SS. It feels like a case of Chekhov's muscle car.
• But have we seen the last of the cult? Penelope's out of their hands now, having parted ways with both her brainwashed fellow cult members and Good Leader Tavis. An unanswered question: Is the Good Leader a true believer, or is she using faith to make a buck off of the Purge?