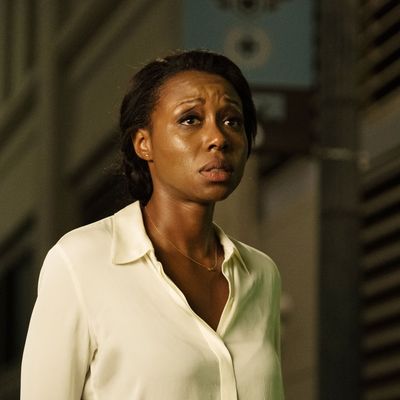 Photo: USA Network/Patti Perret/USA Network
We're in the thick of Purge Night now and a sense of urgency and desperation is starting to sink in for our protagonists, most of whom are starting to realize they've made some questionable choices about how to spend the evening. And as their situations have grown more intense, the show has begun to broaden its scope, showing us more of life during Purge time and how those living through it have changed. Some have grown stronger and more resolute in their beliefs. Others have taken advantage of the Purge and the lowering of inhibitions. After all, if it's legal, it can't be wrong, right? At heart, The Purge franchise is a series of morality plays and this fourth episode, "Release the Beast," leans into that, exploring what it's like to make moral choices under a government that's taken to normalizing the unthinkable.
But that doesn't make the unthinkable normal. The episode opens with Alison suddenly realizing that killing Mark is still committing murder, even if it's not against the law. (Poor, sweet, unsuspecting Mark, who'd taken off his pants not suspecting that Alison's offer to "celebrate" would include stabbing him with a pair of scissors.) Alison's shock at what's she's done got a laugh last week with her line about whether she or Jane needed to notify HR about her promotion, but stretched out further, it becomes tragic as she considers the consequences. Will she have to tell her parents about what she's done? Does Mark have a family? "Alison! Everyone has a family," Jane replies, but when Alison confirms that she knows Jane has hired an assassin to kill David, Jane realizes she doesn't have the moral high ground here.
So, after leaving a message for her mother saying that she loves and forgives her (I'm guessing we'll find out what's being forgiven in a future flashback), she heads out into the night to stop the murder, unprepared for what she'll have to face. She's quickly attacked by a would-be rapist, but saved by the Matron Saints, some well-equipped female avengers who "protect the females of this fair nation for the gendercide of Purge." Over the course of four movies, The Purge franchise made it increasingly clear that the New Founding Fathers of America instituted the Purge to thin the ranks of America's minorities. This new wrinkle brings gender into the equation, with the alarming statistic that three women are killed for every man each Purge Night, to say nothing of the spike in sexual assaults, reported and otherwise. As in the world we know, it's tough for everyone but tougher for women, especially when the government itself seems not to care.
It's certainly plenty tough for Penelope, whose dream of a quiet, peaceful, meaningful martyrdom takes yet another turn for the worse when the creepy glowing nuns deliver her to the Carnival of Flesh, a bacchanal that allows participants to kill Purge victims in a variety of historical settings. The Carnival of Flesh owes a lot to the Flesh Fair of Steven Spielberg's A.I., but in bare description it could be one of Stefon's clubs. This place has everything: Simulated Salem Witch Trials, a firing squad, a reenactment of the Fall of Saigon, circus food …
It also includes cattle pens filled with victims desperate to escape (including a poor guy who mistakes Penelope for his granddaughter) and an auction. If Penelope was questioning whether or not she had the right idea about the Purge before, the abuse she witnesses only intensifies that questioning. Then, when she's sold at auction to a creepy guy she recognizes from her past (surely the subject of another future flashback), her faith in the Purge cult seems to shatter in front of our eyes. She's not having a great night.
Meanwhile, Miguel continues to search for her, doubling back to the bar where Pete the Cop puts him in touch with Rex the Cowboy (we're only four macho occupations away from a full Village People set at this point) who promises to get him into the creepy nuns' ultimate destination: the Carnival of Flesh. Along the way, Miguel and Rex encounter some red armband-sporting Purge participants who only target rich NFFA types. (Welcome to #ThePurgeResistance?) They also bond a bit. Miguel points out the various foster homes in which he was raised and Rex (played well by hard-working character actor Christopher Berry) tells him he needs to think about the future and what he really wants. After all, he used to be a Verizon call-center employee. Now he's reinvented himself as a modern-day buckaroo and lives exactly the life he wants. Miguel's on board, too, until a thump in the back reveals the source of that independence: He rounds up victims on Purge Night and then sells them.
"Living the dream don't come cheap," Rex reminds his new friend. Is Miguel convinced? Is it foolish not to take advantage of the moral gray area opened up by the Purge? Is it just a matter of survival? The episode ends with a big TBD for Miguel, but elsewhere Rick seems to be slipping. We see him looking awfully chummy with the guests at the Stanton party, and Jenna's disappearances to hang out with Lila aren't exactly shoring up his beliefs that they remain a team in keeping their distance from the Stanton's underlying beliefs and the recruitment efforts of the NFFA.
Rick and Jenna are the subjects of this week's flashbacks, which don't so much fill in the blanks as confirm what the show has long hinted: They hooked up with Lila for an experimental threesome to revive their sagging marriage, but then things got complicated. Specifically, Jenna came to realize that she enjoyed spending time with Lila away from Rick. Then Lila started to act "unstable," in his words. Now she's back in their lives, and as Rick increasingly looks like easy pickings for the NFFA, Lila becomes more appealing. But maybe she has bigger things to worry about. As the episode draws to a close, Catalina warns her to "leave this house." Clearly, others have plans for her and her unborn child, but is it the Stantons, Rick, Lila, or someone else?
In "Release the Beast," the show finds another gear, which it needed to do after the relative slow burn of the first three episodes. We're suddenly introduced to big, new, intriguing elements of the NFFA-ruled world like the Flesh Fair and the Matron Saints, and its characters are facing hard choices about how best to live in this awful world rather than seeming like cogs in the series' machine. (Except for Penelope, who seems destined to life as a cog.) The most promising aspect of this series has always been the chance to expand on the implications raised by The Purge film at extended length. "Release the Beast" makes good on that promise, both in the creative ways it expands that world and the time it spends getting in the heads of its characters. Hopefully the remainder of its ten-episode run reaches the standard it's set.
Survival Tips
• Continuing a trend of putting the episodes in assured hands, actor/director Clark Johnson (S.W.A.T., The Wire, The Walking Dead) directs tonight's installment.
• Creepy Mask Guy only shows up at the end, where we again get evidence that he's on some kind of laudable quest to save potential Purge victims, even if this week he fails and then howls in frustration. Also this week: We get a look behind the mask, and he doesn't seem all that creepy. What's he up to? And which, if any, of the series' protagonists will he meet first?
• Is the series trying to make Colin Woodell, who plays Rick, look more like Jared Kushner the deeper he gets in with the NFFA, or am I just seeing things?