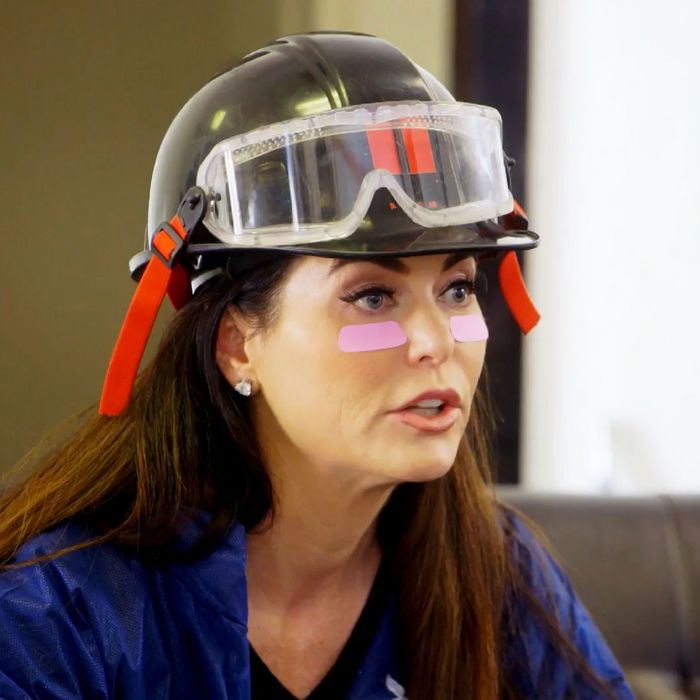 I know that they do things differently down there in Texas but I certainly wouldn't be caught dead with an ombré ponytail that went from raven black to Grimace purple and matches the exact color of my dress or whatever the hell it is that Cary is calling her eye makeup in her sit-down looks this season. But there is one thing that I know for sure and there is something seriously wrong with the color of Steve Kemble's face. You know who I'm talking about, LeeAnne's wedding planner and best friend who shows up in a suit made out of the lime and aqua print fabric usually only found on sofas in rectory living rooms.
I don't know what it was but his face was putty yellow. It was like a matte color that is either a signifier of an advanced case of jaundice due to liver failure (and considering he's LeeAnne's GBF that is a very likely possibility) or it is the result of hiring the world's cheapest makeup artist. There was just something ungodly and unnatural about the whole thing and the exact color of his suit, like a Paas Easter egg coloring kit gone horribly awry, only made the strange hue of his mug that much more apparent.
That wasn't even the most shocking thing about his meeting with LeeAnne and Rich, my favorite man on reality television, if only because he's the only one to wear an eye patch. They set a tentative date for their wedding, which was nice, but the shock came when Steve said he wanted to plan the bachelor party and was wondering if they wanted Stormy Daniels there. Rich and LeeAnne both laughed and I didn't know what it meant. Does that mean that Rich wants her there because he hates Trump or does that mean that Steve wants her there because he hates Trump and knows the two of them love him. Is there someone in Dallas who exists who didn't vote for Trump? Could LeeAnne love Stormy Daniels? Gosh, I hope it's so.
One of the funniest scenes of the episode was when Brandi has a visit with the social worker to discuss her adopting baby Bruin and her daughters Brooklyn and Brinkley are totally ratting Brandi out to the authorities. They tell her that her favorite drink is wine, that she doesn't really take Bruin on long walks like she claims, and that she is kind of an awful mother. I loved it.
What I loved more is that a social worker is actually coming to check on the house. I think Brandi and Brian are probably excellent parents, but the narrative of this baby arriving has been that Brandi just decided on a whim to adopt him and a day later he arrived and that is the end of that. I think we all need to know that there is some sort of oversight going on in the adoption world. I don't think Brandi is the one that needs it, but I think that we really need to stop the idea that people of privilege can just pick up stray babies and take them into their homes with no oversight at all.
Brandi's best friend Stephanie was at her husband's company talking about charitable giving and how they want to educate the children of the employees for free (as long as they go to the chintzy community college across the street from the factory). What I didn't realize is that Travis owns a company that is the world's largest manufacturer of lockers. That's where they get all their money from: lockers. Stephanie's kids are heirs to a locker fortune. How fucking random is that? This guy has all of that because of lockers? Think about that next time you put your $1,500 iPhone in one at your $38 SoulCycle class while drinking your $4 bottle of Smartwater that they overcharged you for at the front desk.
The thing that stood out to me most about that meeting, other than the lockers, was the giant cookie plate at the end of the conference room table. There are, like, 50 cookies on that plate and only about eight people around that table. How do they expect any of these people to get anything done where there are baked goods lying around like drunk people in the Murray Hill gutters the evening of SantaCon?
Speaking of businesses, the main conflict of the episode has to do with D'Andra wanting to take her business outside of her mother's company and start running it on her own with her own money. She is obviously very anxious about this decision, which you can tell because she keeps saying she is "at a crossroads" and jamming her hands together to form an X. I don't begrudge her this anxiety or how hard it must be to start a business of her own. What I do begrudge her is the way she talks about it.
D'Andra lets us know that she has a trust fund from her stepfather that takes care of all of her living expenses for her and her husband. She's just upset because there isn't enough money to live on and start a business. I get that she wants a career to feel fulfilled but, girl, how do you expect me to feel bad for you when all of your business expenses are already met? Then she says she has to go out and make money for her family because her husband is a retired military man and she is the family's "breadwinner." Um, didn't you just say that you had your living expenses covered? Girl, you don't need to work in the same way that a single mother of three needs to work. You don't need to work at all. You just want to work to feel good about yourself and so that you can afford your maid and shopping habit.
When D'Andra goes to have coffee at Cary's house to talk about this stuff, Cary tells D'Andra that LeeAnne told her that D'Andra only has $200 in her checking account. As Cameron points out, no one believes this is true. If D'Andra even did say this, she obviously must have meant it as a joke, because there is no way that she would be that poor, especially when she just dropped $4,700 on cowboy hats in Beaver Creek last week.
What's crazy is that D'Andra then goes on to explain that she only had $200 in her shopping account. Oh, you mean the pile of money that she uses just for shopping. Oh. Got it. That is entirely relatable. That is something that happens to most people all the time. D'Andra clears up that she actually has five bank accounts and when one of them runs out she just moves the money from somewhere else. Girl, when one of my accounts runs out of money I don't draw money from somewhere else, I go to the clinic and have them draw out my plasma because that is the only way that I'm going to get another $200 to have to my name.
This fight comes to a boil at the Anger Room, which is an establishment where people can smash mirrors, plates, furniture, poo emoji, and just about anything else with a crowbar or baseball bat to get in touch with their anger. I would like to visit immediately. Actually, if anyone ever invites me to an Escape Room I'm going to take a bat to it and be like, "Oh, this isn't an Anger Room? My bad?" LeeAnne said she wanted everyone to go there because they've all been getting along so something must be wrong. This is why LeeAnne is brilliant. Most people would be like, "We're all getting along, let's not mess this up." Not LeeAnne. She sees dysfunction when there is peace, not discord.
When everyone shows up at this outing that LeeAnne arranged, she's dressed in a horseshoe mustache and a spikey mullet with a bandanna wrapped around her forehead. She looks like Josephine Dirt. She explains the disguise is because everyone is fake and hiding something inside. Oh, LeeAnne, I love the way your dangerous mind works.
However, this all turns around on her when D'Andra starts yelling about how "humiliated" she is that everyone in Dallas society thinks that she's poor now. Um, chill for a minute. First of all, LeeAnne only told Cary. Should she have done that? No. Is it worth getting this worked up over? No. And how exactly is that humiliating when everyone knows that it's false? Leave it to Brandi to put it all into perspective. "It shouldn't be [humiliating]. I grew up in a trailer," she says with a shrug. If the social workers need a testament to Brandi's brilliance as a mother, they only need to look to that one quip.