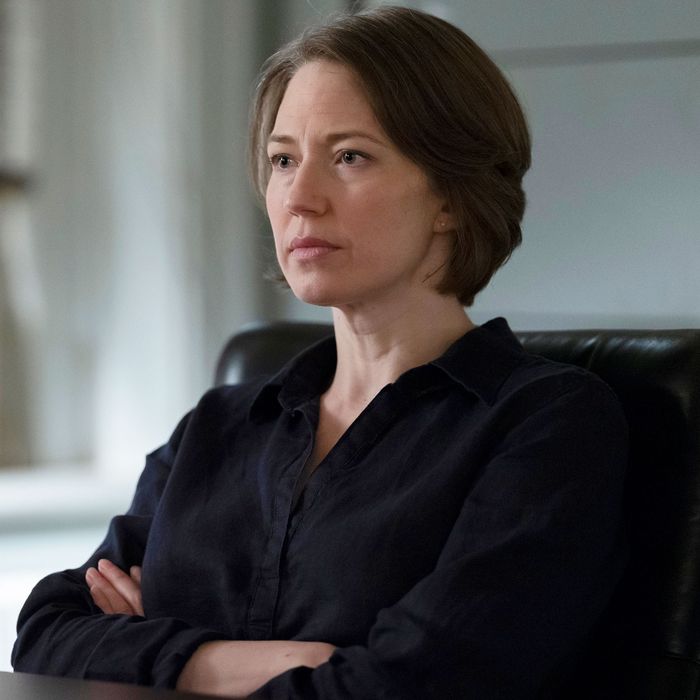 Photo: USA Network/Peter Kramer/USA Network
Up until now, The Sinner's second season had been operating in good faith. That ended with the rather nonchalant reveal that it was random suicide victim Britt Jacob's decomposing body at the bottom of Purple Lake — not Marin's. Not that anyone was rooting for Marin's demise (though if so, they'd get their wish soon enough), but the bait and switch was a bit half-assed, a fairly unsophisticated way of keeping viewers guessing without giving back to series lore. But, now we know that it was indeed Marin waiting for Julian in that storage container north of the border. Ditto for who's been stalking the poor kid in his bedroom, eventually stealing him away from his foster home for some belated mother-son bonding.
Alas, Marin — who'd recovered from addiction, spent some time in a Canadian convent, and returned to Mosswood, where her appeals to Vera for a reunion with Julian led to further exile — doesn't make it farther than the Five Nations Motel. And unless the corpse of Britt Jacob reanimated and took her out, it appears Julian has claimed his third fatality in self-defense. Though, it's highly suspect that this anxious 13-year-old could fire a steady shot to his biological mom's gut, even if he was rightly alarmed by her fidgety, extreme behavior. No, odds are Vera's a reliable gunslinger, and thanks to ponytail man's reconnaissance work at Grey Daughters, she knew exactly where Marin was hiding out.
If there's one truly important piece of information gathered during "Part VII," it's that Vera will do anything to keep Julian close. Rearing him has not only given her purpose, but it's helped her rationalize all those terrible things she let happen when Lionel was lording over the commune. Take Julian away and it's all meaningless guilt. She'd rather have brainwashed Julian into absolute obedience, sabotaged Bess and Adam, and sent Marin to the hereafter (it's all for you, Julian!) to fulfill what had become an obsessive, almost divine maternal duty, than head back to East Texas having been suckered into subservient faith by an egomaniacal psycho (that'd be the Beacon). Julian's whole life had been a kind of kidnapping, really.
It follows, then, that Vera was projecting a tad when lecturing Harry about how saving Julian wouldn't amount to saving himself. She's not off the mark either (we still don't know exactly what he confessed to her in his delirium at the cabin). What separates them is that Harry's been out in the world since he left Keller, immersed almost wholly in what makes others tick, to the detriment of his personal life and sense of self. All the while, Vera's been cocooned within Mosswood, persuading followers to conform to her fantasy of a singular path to peace, quieting any dissent in her own head or from outside their sanctuary about the damage done. Harry and Vera are very much two sides of the same coin, but "Part VII" reminds us who the show's protagonist really is.
Marin herself is arguably this season's biggest mystery, and just as arguably its biggest missed opportunity. Hannah Gross, so good here and in Mindhunter, becomes a tragic and clichéd figure as she gets lost amid Mosswood, nearly finds religion, and collects herself to come for Julian. She's an inherently sympathetic figure who spends all of her screen time from pregnancy on floundering and erratic, a bridge Harry and Vera have to cross to reach whatever intersection they're approaching that determines Julian's fate. It's very possible that she was placing Julian in harm's way, maybe even calculatedly (after all, if that body was Britt's, then we still haven't confirmed Lionel's in la-la land), but whatever her intentions or state of mind, she was also the only character who fundamentally got that you can't fix a broken past. Perhaps we'll least still find out what she had planned for the future.
What the show has in mind for Julian in his coming years is The Sinner's most pressing TBD. Yes, we'd all like to wrap up how Vera, Jack, Glenn, the police department, Heather, Heather's mom, Marin's mom, etc. were or weren't culpable in Bess and Adam and now Marin's deaths. It'll be duly satisfying to discover whether Lionel lost his life to a cup of jimson tea or is still waiting somewhere by Niagara Falls to sacrifice Julian to the alpha gods. And one supposes it can't hurt for Harry to get some closure on his whole "I almost killed my mom and then watched her rot in a mental institution" malaise. But let's hear it for Julian (and a great Elisha Henig), our head-scratching, shadow-selfing, manslaughtering young teen. He's been ripped from the arms of one mother, and then another, and then seen the other die; and in between, poisoned two innocent (we think) people (RIP Bess and Adam) and did some hard time in juvie. This kid doesn't stand a chance, but like Harry, hopefully he'll at least get the hell out of Keller.
Apart From All That
• One more time for Burl Ives.
• Who knew Harry was learned in augury?
• You might recognize Sister Joanna a.k.a. Marceline Hugot as a particularly intense cult member (how apropos) Gladys in The Leftovers.
• Looks like Vera's about to make the ultimate sacrifice, whether it's how she scripted it or not, and swap her freedom for Julian's.