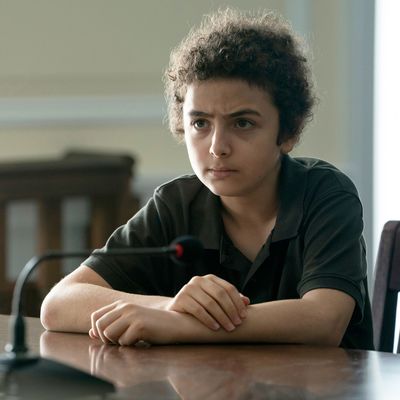 Photo: Peter Kramer/USA Network
Marin sure has Jack pegged. Tipsy and talking at the Novacks' dining-room table, with Heather sleeping one off upstairs, she stares a hole through her best friend's dad and declares, "You just make fucking pancakes and hope for the best." Amen. Alas, there are no farm-fresh eggs or scrumptious scrambles in jail, for Jack or anyone else (maybe ranch dressing though). All he gets now is a plastic cup of tap water in the Keller PD interrogation room as Heather pleads for answers as to how or why he could rape her best friend, hide that the resulting child — Julian — was his, and then funnel money to Vera for years through a bogus shell company so she didn't betray his secret.
But as Frankie's parents found out in season one, people who you scar and leave to sort through their personal wreckage have a way of happening back into your life. Jack, grief-stricken over the loss of his wife (a circumstance that was rather conspicuous in its absence of mention), seized control by taking away someone else's power. He's no better than Lionel, really, and he's certainly not superior to Vera, who confesses her own tyrannical tendencies to Harry but hasn't assaulted anyone under her away or run from committing her most horrible acts.
She is on the move though, with Julian, dropping in on a feminist friend in Manhattan's Chinatown while ducking the cops, intent on changing identities and starting over at some presumed new commune in Washington State. Then again, she did burn down Mosswood's ritual barn, an act that could be considered a fresh start but also a disavowal of psycho-spiritual pursuits. That's unlikely, and Julian knows it. So at Harry's advice, he makes a choice, a choice all his own. It's a wiser choice than those made by anyone else this season, a commentary on the supposed wisdom of grown-ups but also the delicacy of charting one's own path at a formative age before they too bear the permanent marks of trauma and pain. Marin, Julian's mom, was also his ultimate cautionary tale, more than Harry or Vera or his apparent half-sister Heather. Her tragic death, and the terrible history behind it, was as much a wake-up call to Julian as his very birth was to Vera back in 2005. (It's also rather pointed that he's released from New Horizons at the same age his mother was when her potential was cut short.)
What to make of Vera, anyhow? She's no criminal, not by Harry and the court's standards, nor is she accountable for the choices her and Lionel's followers made in following her lead. (Lionel's passing, all but certainly a result of jimson tea, was, à la Heather's mom, not mentioned overtly, but the flashback shot of those deadly flowers all but confirmed the Beacon's pushing up daisies.) She also brushed aside Marin's death, made haste for some great unknown with Julian without consulting him and — as is finally revealed — engaged in some super-intense fireside therapy with Harry that nearly left him autoerotically asphyxiated.
She sure does have the detective pegged though, no less precisely than Marin zeroed in on Jack's coping techniques for figuring out how to be a small-town widower with a gay daughter struggling to find love. Vera warned Harry that saving Julian wouldn't be the same as pulling himself from the ashes of his smoldering childhood. And it wasn't. All he could do at Niagara Falls was watch Julian from afar, waiting but never quite finding himself overcome with whatever peace feels like. Julian can see it on Harry's face, too, but Harry's made his choices. He just can't quite live with them. Julian, somehow, can (even though he totally murdered a woman who loved him and a poor schmuck eager to help).
Season two of The Sinner was marred by one contrivance after the next, the cost of coming to a conclusion so twisty that, paradoxically, it felt like a pretty straight line. Still, there are dots left unconnected. Did everyone, even ponytail man, ditch Mosswood for good? Did Carmen Bell benefit from any kind of vindication? Does Glenn Fisher get any kind of comeuppance? Do any of the men in town who pledged allegiance to Lionel and slunk back into the fabric of their community as if it hadn't been ripped apart? Is Harry going to ask Vera out on a date or simply pack up his belongings and emotional baggage and head back to Dorchester? (How could he, with so much left to personally and professionally explore in his hometown and at least one open bedroom at Jack and Heather's house?) Does eminent domain over the giant obelisk rock go back to the Fishers now? And most importantly, does Brick finally get a promotion or what?
Apart From All That
• Poor Heather.
• Husband-and-wife duo Carrie Coon and Tracy Letts really dueling for most uncomfortably physical performance.
• Daedalus Shipping — not too subtle.
• P.S. to the above: Try Google, Brick.
• At least Chief Lidell wasn't a total dick.
• Elisha Henig was terrific. The show did miss Jessica Biel, however.
• Motel key in the jeans? Something tells me Jack wanted to get caught.
• Thanks for reading along all season, and as always, the lesson is these shows are almost always more fun than satisfying. (The Sinner, once again, came close.)