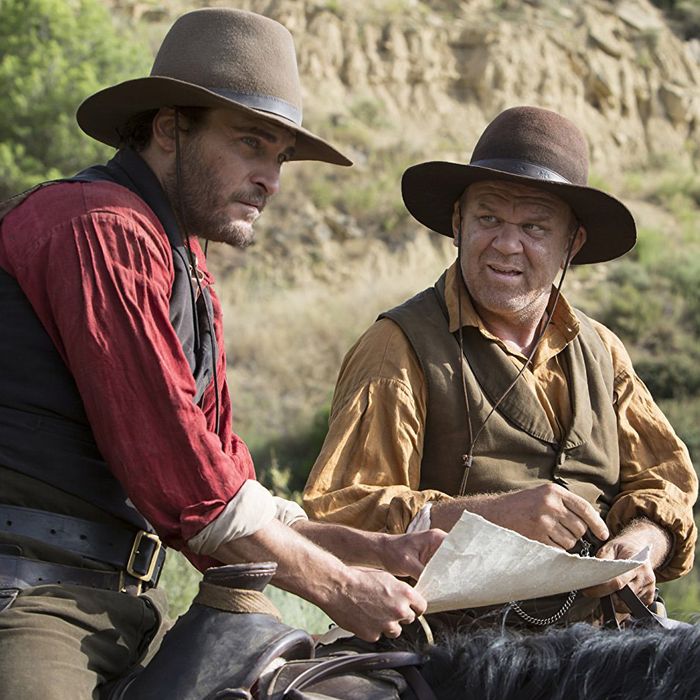 Photo: Annapurna Pictures
The Sisters Brothers' shootouts, including the one that opens the film, almost all take place in ultrawides, as if to suggest to get any closer to the action would not reveal anything we hadn't already seen before a dozen times. We're inclined to agree, especially if we know anything about the plot going in. But the idea that the well-worn Western genre has never seen the likes of this before is a stylistic and textual premise that almost has to be baked into contemporary stories. Of course, it can't be true for all of them (or necessarily a good thing). But credit to The Sisters Brothers: besides the cat-and-mouse chase across the frontier, the skeletal settlements and pristine wilderness, approximately half of it really does feel like a story about the American Frontier that is underreported at best.
The film follows Charlie and Eli Sisters (Joaquin Phoenix and John C. Reilly, respectively), assassin brothers who are making their way across the Oregon Territory, hired to apprehend a man who they're told has robbed their boss. That man is Hermann Kermit Warm (Riz Ahmed), a soft-spoken eccentric type who claims to have created a chemical formula that instantly detects gold deposits. A third associate of the brothers, John Morris (Jake Gyllenhaal), has been hired to go ahead of them to capture Hermann and hold him in custody until they arrive, but it doesn't take long for him to take a liking to his charge, and abandon the job he was hired to do. Hermann, in addition to being an entrepreneur, has dreams of starting a utopian community — a very hot trend in the 1800s that doesn't get nearly as much air time as its louder, more violent contemporaries — and Morris is swept up in the dream as well.
Ahmed is mesmerizing here — exuding a kind of radical kindness that's just strange enough to keep one on one's guard — and the friendship between his and Gyllenhaal's characters is quiet, curious, and affectionate. Of course most, if not all, attempts at intentional living such as Warm's failed, and there's a kind of bittersweet longing that hangs over The Sisters Brothers, for all the idiocy of man that stands in the way of peace and prosperity.
Maybe it truly does take an outside perspective to breathe new life into a genre — the director, Jacques Audiard, is making his English-language debut with the film, based on a 2011 novel by Canadian Patrick deWitt, and there's a pleasant enough tonal zag for every expected zig in the plot. But the central story, between Charlie and Eli, and the path of their contentious, lopsided, but ultimately loyal relationship, doesn't feel particularly insightful, even with a warm, vulnerable performance from Reilly. (Phoenix proves once again that there's nobody quite as good as him at playing violent idiots, though it's not exactly a revelation this time around.) Without the Western trappings (which are realized proficiently enough but lack some kind of conviction) this would be an exceedingly simplistic sibling drama, with barely enough meat on its bones for 90 minutes, much less 121.
The film reaches a strange, horrifying climax — a series of events that feels absolutely plausible as a lost chapter of tragic human idiocy. But then it hobbles on for another 15 or so minutes, dead-set on finding some resolution for Charlie and Eli that feels absolutely unearned — a little deus ex mommy. Put up side-by-side, the redemption of killers doesn't feel quite as urgent a narrative as the alliance of idealists, and in its final minutes The Sisters Brothers retreats back from some interesting, adventurous territory to something all too familiar.