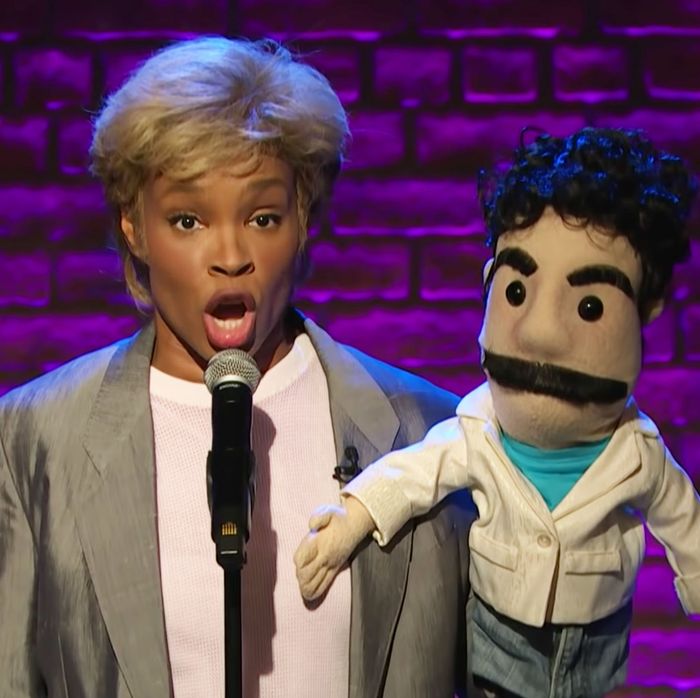 Writer Amber Ruffin on
Late Night With Seth Meyers.
Photo: NBC
There will be no discussion of the news today. We are in a hell of our peers' apathy's making, all the news is the same, and it sucks. Most women, and more men than you think, reliving the worst thing that ever happened to them; this is the totality of news. We can comment on the news, we can joke about the news, but the gift that late night gave us this week was obliterating the news with some of the dumbest content I've ever seen. Please, TV overlords, turn my brain into Jell-O with a soulful rendition of "Baby Shark."
The best thing about this business we call show is the herculean amount of effort that goes into producing a writer's most delusional brain farts. Someone bought all those shark masks. Someone played the piano while James Corden pretended to play the piano. Someone made Corden a fake martini with two olives in it, even though he doesn't like olives. Did you see how the green popped on those babies? I would not be surprised if color tests were done on multiple olives to see which ones looked best under those lights. The real heroes of late night are the men and women who know where to find two stuffed eagles, a taxidermy wolf, a Game of Thrones costume, and toy lizards for a Conan segment about Wahlburgers.
Conan knows how to properly salute his crew. Prop master Bill Tull has become a recurring character on the show, even getting his own branded content partnership with Honda. The tradition goes as far back as Late Night, when crew members would fill out the surreal sketches that set the tone for Conan's whole brand. In "Our Early Stuff," Conan, Richter, Max Weinberg, and then-prop master Bob Bowman play a cover of Led Zeppelin's "Dazed and Confused." The performance is interspersed with vignettes of each performer doing Zeppelin-y things like climbing a mountain to confront a hermit or riding a horse with a falcon. Except Bowman, whose reverie is just him getting coffee from craft services and reading the paper. It's so dumb. I watch it at least once a month.
Late night put its graphics departments through the ringer this week, too. Corden brought back his segment "James Wanna See It," where he asks the graphics department to create his most beautiful, dark, and twisted fantasies. And Seth Meyers really took advantage of his Adobe Premiere wizards. "Late Night Casserole" is a segment made of half-premises that are almost good enough to be on TV. If it's funny, but it won't support a full five minutes, put it in the casserole. The point of the segment is that the writers didn't do a good job, but the production people still have to make it a fully formed reality (complete with John Oates puppet).
The graphics department not only had to come up with title cards for every segmentito, but one piece relied entirely on animations. "The last couple of years since the election have been pretty frustrating for a lot of people. They've been pretty intense. And one of our writers, Ally Hord, is quote-unquote 'over it,'" said Meyers, ECHOING THE SENTIMENTS OF THE NATION. "We wanted to try and cheer her up, so we thought it'd be fun to have her come out here and tell some jokes with me. I'm going to deliver the setups, and she'll deliver the punch lines in a segment called 'Ally Oop.'" Each punch line got animation of Hord ruling ass at basketball and other such nonsense. None of it had an effect on poor Ally, even the unicorn farting a rainbow. It was the most relatable content I've seen all year.
Finally, I want to give a shout-out to the researchers and producers who prep celebs for their moments on the couch. Wednesday night on The Tonight Show, Alexander Johan Hjalmar Skarsgard showed Jimmy Fallon the Swedish midsummer frog dance.
I didn't know I needed to see a very tall Swedish man hop around and mock frogs for not having tails, but I did. Some dedicated producer squeezed that dance out of Skarsgard like brine from a pickled herring, and I salute them. Never mind that Alicia Vikander taught Fallon the exact same dance two years ago — this was a fun and necessary moment in my week! Let the content vacuum suck all the folk dances out of all the celebrities, and the world will be cleansed of its sins. Or at the very least, some people who need a laugh will get one.