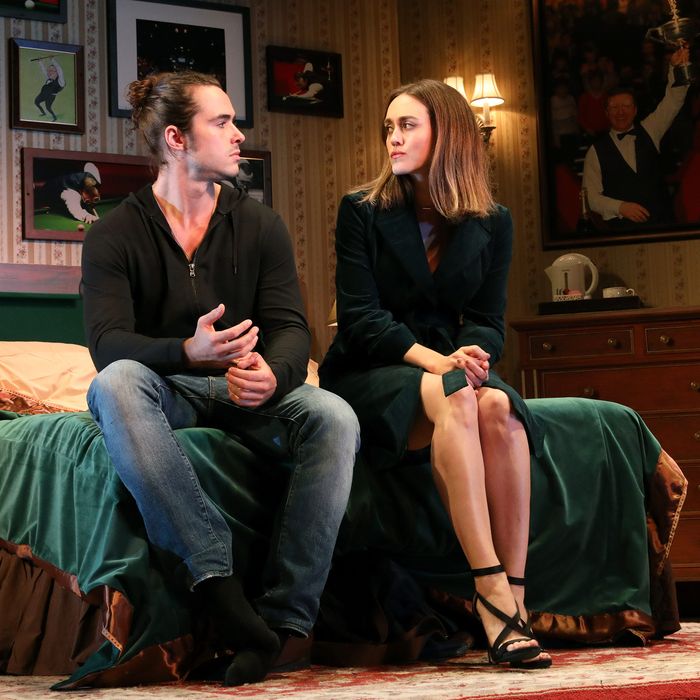 From Manhattan Theatre Club's
The Nap.
Photo: Joan Marcus
Until someone adapts The Great British Baking Show into a musical using re-lyricized Beatles songs (seriously, the possibilities are limitless: "While My Soufflé Gently Sinks," "Hey Choux," "Getting Butter," "Happiness Is a Warm Bun"), Richard Bean's very silly new comedy The Nap probably takes the cake for Most British Thing on Broadway. Bean — who worked as a stand-up comic before making the jump to playwriting, and whose One Man, Two Guvnors won James Corden a Tony in 2012 — has a gift both for one-liners and for satisfyingly structured farce. "I'm not interested in myself," he told Playbill recently, "I don't do autobiography. I don't think I have an insight into making the world a better place. I don't have a message. But … what I can do is tell a story in jokes. And not everybody can do that." He's right, and there's something refreshing in Bean's self-knowledge and in his commitment to a well-earned laugh. The Nap — a bouncy sports caper set in the world of high-stakes snooker, solidly directed by Daniel Sullivan — feels like a stage version of your favorite off-color BBC comedy program. It knows its business, hits its marks (or, as the players say, "pots its shots"), and, all in all, makes for a daffy good time.
For the unfamiliar, snooker is a form of billiards with a much bigger table and all un-striped balls. It derives from a game played by British army officers in India and retains some of that smoky, boys-clubby, large-mustachioed musk. It's got a reputation, at least in its amateur leagues, for enthusiasts whose daily lager consumption begins at breakfast, and like pretty much every sport in the U.K., its upper echelons are firmly tied to the betting industry. In writing The Nap, Bean was inspired by a real-life match-fixing scandal: He was anxious to avoid making a play about sports in which the actors had no real athletic skill. But by hanging his comedy on a thrown match — or, to use snooker-speak, a "tanked frame" — he could set up a situation in which all an actor playing a snooker champ would have to do on a key shot is … miss.
And so Bean gives us Dylan Spokes (Ben Schnetzer), a snooker whiz kid from Sheffield, who's used the game to climb his way up from a childhood with an ex- (or maybe not so ex-) drug dealer father and a batty, gambling-addicted mother. Dylan is a serious, committed young player who believes that his strength rests in his "psychology": He hardly drinks, he doesn't eat meat, and the very idea of cheating is an affront to him. "I could not tank a frame," he tells two investigators who have come to monitor the integrity of the Snooker World Championships, in which Dylan has gotten farther than expected. "Mentally, physically, whatever else there is," he insists, "[It would be] impossible … I play straight. I honor the god of snooker, and he — or let's be fair, she — looks after me."
Of course, with his skill, his pride in his own honesty, and his hometown connections to the shadier parts of Sheffield (where the championships are being held), Dylan is the perfect target. Soon enough, he's embroiled in a sticky match-fixing scheme involving his own mum, a local gangster, a lot of money owed to some very angry Filipinos, and blackmail that quickly turns bloody. No amount of Zen and vegetarianism can help our hero out of this mess, and Bean, who has compared his playwriting style to "a kettle boiling," sets about gleefully turning up the heat.
The play makes its personality clear right from the get-go. After we've watched Dylan enter the snooker room of a British Legion Hall, investigate his surroundings with an air of reverent gravity, and begin preparing for practice, in comes his beer-bellied, sweatpants-sporting dad, Bobby (John Ellison Conlee), tabloid and Tesco bag in hand. Breaking Dylan's cultivated silence, he offers his son a shrimp sandwich. "I don't eat anything with a brain, do I?" asks Dylan curtly. Conlee pauses just long enough before huffing, "They're shrimps, they're not novelists." Bean has a knack for building standalone jokes into character, and Conlee is especially good at landing his deadpan zingers. Later, as Bobby, who was a "good amateur" at snooker in his day, reminisces about a surprisingly devout fellow player, Conlee muses unironically: "Christianity, yeah. It was like a fucking religion to him."
The hearty, hefty, somewhat short-fused Bobby isn't just a plum part for Conlee; he's also a smart creation on Bean's part. When your play focuses on a niche subject, it helps to build in a nostalgic, cheerfully bloviating sort of character: Bobby's recollections of the bad old days of snooker are both genuinely in-character and a sly way of delivering a good deal of exposition. He teaches us what we need to know and makes us laugh while he's at it. Fondly remembering one particularly inebriated player — a bloke who showed up to a final with two black eyes, spent the night in the hospital after falling and cutting his head open on his own trophy, and was known to eat only raspberry-jam sandwiches because "they're the only thing that tastes just as good coming up as they do going down" — Conlee's Bobby sighs over lost days of glory. "That's what's missing from the modern game," he proclaims. "Personalities."
Personalities are the building blocks of Bean's comedy, and there are plenty of big ones orbiting Dylan's steady center. It's a credit to Schnetzer that he's not lost in the whirl. Dylan is necessarily the straight man, but Schnetzer gives him backbone, appeal, and enough wit to hold his own — whether against the pompous "integrity officer," Mohammad Butt (a very funny Bhavesh Patel), who rhapsodizes about sportsmanship as if he's a community theater Olivier, or against Max Gordon Moore's schmoozy, handsy Tony DanLino, a manager with a cell phone glued to his ear, who wants to sign Dylan as a client and who has a penchant for candy-colored suits and leather shoes without socks. (Kaye Voyce designed the bang-on costumes, which are just tawdry enough to up the comedy without being overly spoof-y.) Balancing out Conlee's Bobby is the amusingly wheedling Johanna Day, in fake fur and yellow polyester and a fried blonde blowout, as Dylan's well-meaning but not-to-be-trusted mother, Stella, who arrives with her smarmy, noticeably pungent, small-time forger boyfriend, Danny (a bleary-eyed, wily Thomas Jay Ryan). And then there's the ex- (or maybe not so ex-) gangster who used to carry a torch for Stella, the wealthy Sheffield entrepreneur whose generous sponsorship has put Dylan in her debt: the highly coiffed and highly dangerous Waxy Bush.
I'm not sure that you'd be able to find a contemporary American play with a character like Waxy. Played with smooth, feline complacency and the distinctive hilarity of the very serious by Alexandra Billings (of Transparent and How to Get Away With Murder), Waxy is a transgender mobster with a fake arm, a closetful of animal-print pantsuits, a chain of bikini-waxing salons (thus her moniker), and a propensity for absurd malapropisms. "Aren't we all lucky to have this child effigy in our mist?" Waxy says of Dylan on her first entrance, beaming with something a little more menacing than pride. Whether she's switching "optimist" for "optometrist,", or admitting to a "peanut analogy," or asking Bobby, who's been "making allegations" about her, if he's "one of the alligators," Waxy remains utterly self-possessed, blithely unaware of her verbal mix-ups, and entirely hilarious. The delightful Billings looks like she's having a blast, and it feels liberating to see a transgender performer play both a comic character and a villain of sorts, a part in which her gender identity figures but isn't the substance of what she's being asked to perform.
As Waxy draws the immaculate Dylan and his hapless parents into her web, Bean finds opportunities for mirth both inside and outside the advancing plot. A couple of The Nap's funniest sequences involve the characters' desperate attempts to remember the names of movies (Bobby thinks Waxy's pre-transition romance with his ex-wife was just like the plot of Moonstruck, and his attempts to recall that title are deeply, stupidly funny), and once the championship matches begin, a pair of disembodied snooker commentators supply a series of dry, shamelessly expository quips to keep us know-nothings up to speed. "Just to explain the game if you're watching on the internet in Antarctica," drones one of the voices, in a perfectly affected monotone, "any ball is available to either player."
Though Bean may have originally intended for the actor playing Dylan to escape the necessity of being good at snooker, Schnetzer in fact does a fair bit of impressive cueing. The Nap even has alternate endings that the actors follow depending on how the high-pressure, very real final shots play out. Upping the credibility of the proceedings (and clearly enjoying himself) is the real-life snooker champ Ahmed Aly Elsayed. He plays two different opponents for Dylan, pots every shot he takes, and charmingly mentions his days as a "child actor" in his Playbill bio.
If The Nap has any loose threads in its tight comic weave, the most noticeable might be the character of Eleanor Lavery, a "sexy copper" who shows up to question Dylan about possible corruption at the snooker championships and ends up — surprise, surprise — getting a little more involved. It's no shocker that Bean included a fairly traditional love story inside his comedy, and that in the struggle against cliché it puts up the hardest fight. Eleanor's not an awful part, but it certainly isn't the most rewarding, and I'm not sure that Sullivan and actor Heather Lind are getting the best out of it. Lind does kittenish well, but Eleanor is written with so much sultry sass that an actor hardly needs to overplay it. When, for reasons that shall remain unspoiled, her character changes course and Lind no longer has "sexy" to play, her performance turns sulky and thin. Happily, Bean has a sense for balance, and doesn't let his farce linger too long over romance. He soon gets back to the table: "[Play] with the nap," Dylan tells us, "the ball will run straight with the natural line … against the nap, the ball can deviate and drift." For Bean, the nap is a straight line to a good joke. He knows his game.
The Nap is at the Samuel J. Friedman Theatre.