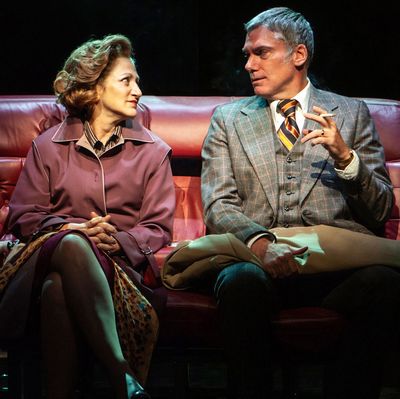 From the New Group's production of
The True.
Photo: Monique Carboni
The title of Sharr White's drama The True — about real-life Democratic party insider Dorothea "Polly" Noonan and her relationship with Albany "mayor-for-life" Erastus Corning II — reportedly raised a few hackles among those who knew the major players. Don Arnold, a close friend of the real Polly Noonan, who died in 2003 at 88, feared theatrical fake news. "How does this guy come along and write this play and not talk to any primary sources?" a fretful Arnold asked The Times Union. "If it's fiction, he shouldn't use the people's actual names … I may be biased because I was [Polly's] friend, but she was a beautiful person who was generous and helped out the poor and downtrodden. Sure, she had flaws like anyone else, but she was intelligent and complex. If [the play] portrays her as a one-dimensional, foul-mouthed Democratic hack, I'll be upset."
Arnold need not worry. First off, although White's stage version of Noonan is certainly salty, she's got smarts to spare, energy to burn, and that specific combination of verbal acrobatics and intriguing inner life that's catnip to actors — and here, in Scott Elliott's world-premiere production for the New Group, she's embodied with immense dynamism and humor by the powerhouse Edie Falco (of Nurse Jackie and The Sopranos, as well as Frankie and Johnny in the Clair de Lune, onstage). Second, White's title is intentionally ambiguous. Of course it's meant to pique our interest in a political moment clamorous with bald-faced assertions and specious narratives, but it ultimately refers not to factual accuracy but to loyalty. White is not making a documentary but telling a story. What interests him most is the intersection of the political and the personal, the ways in which the would-be high-minded machine of government chugs along on the combustion engines of love and hate, allegiance and resentment, bargaining and betrayal. Like every story about power and patronage, The True is a game of thrones, but with less visible blood and more Naugahyde armchairs.
It's also the story of a love triangle. Not, as folks like Don Arnold might fear, in a salacious way (Polly Noonan, who was Corning's confidant for over fifty years, was dogged by rumors about their relationship, and even whispered skepticism over the paternity of her children) — but in a more measured, emotionally nuanced sense. On either side of the vigorous, voluble Polly is a reserved, watchful man: her husband Peter Noonan (the compelling Peter Scolari) and the long-unchallenged Albany mayor, Erastus Corning (a wavering, buttoned-up Michael McKean). What exists between them is not some cocktail of flaming adolescent passions, but the product of years of mature intimacy. They are a three-way support system, a triangle of honest affection that has not only sustained each one of them individually, but has sustained Erastus's reign as mayor for 35 years. It's a comfortable arrangement that has its shadows: There are the unpleasant rumors, and then there's Erastus's own marriage to a woman called Betty, whose name makes him shiver. He often crashes in the Noonans' guest room instead of returning to the big house where she stalks the halls, cigarette and martini in well-manicured hand.
For the most part, the trio can dispense with these ghosts with a healthy mix of avoidance, deadpan humor, and whiskey. What they never acknowledge is the obvious: that their triangle has the wrong point on top. Given their personalities and talents, it's Polly that should — and could — be running Albany. But this is 1977, and Polly is a grandmother with P.T.A. duties and culottes to sew for her granddaughter (that granddaughter being none other than New York senator Kirsten Gillibrand). She's also been loyal to Erastus since Roosevelt was president, and though she might have her bursts of justified frustration—"I know plenty of men just like me," she tells Peter, "and they're admired"—being the truest of the true is in fact more important to her than being in power. She wants to win as badly as anyone, but she would never change horses, even when the race looks dire.
White's play is an old-fashioned beast, as solidly structured as Derek McLane's set, which practically smells of leather-bound books and rich, or at least middle-class, mahogany. (And Scotch, Scotchy, Scotch, Scotch.) But its form seems to fit its subject, which is, in part, the entrenchment of the political status quo, even within the party that prides itself on standing for progress. It's a play about complex people — people with a lot of good in them who genuinely care about integrity and public service — fighting tooth and nail to keep things the same. The True follows Polly and Erastus during a moment of shake-up: In 1977, following the death of Dan O'Connell, the leader of Albany's Democratic party machine, Corning's 35-year stint as mayor was threatened in the primary by the candidacy of a shiny young state senator, Howard Nolan (Glenn Fitzgerald, playing canny and slick but not slimy). That much is historical. What's dramatic is that White envisions an attempted "break-up" between the mayor and his right-hand woman, kicking off the play with Erastus's tearful, tight-lipped confession, made in the Noonans' living room in front of them both, that he's got to "end [his] association" with Polly.
Wisecrack and quibble though she might, Polly is hit hard, and The True follows her as she copes with her dismissal, responding in the only way someone with her fierce belief in an ordered moral universe can: by doubling down on her allegiances. She may be heartbroken, but she's sharp enough to see that, since her job was never official, there's nothing to stop her from continuing to do it. "Associated" with the mayor or not, she'll be damned if she stops working for him.
Falco — who begins and ends the play perched upstage center at her sewing machine, subtly but unmistakably holding court — is in complete control throughout. The True is essentially a gift to its lead actor, a series of tough, satisfying arias, spiked with profanity and humor and just enough vulnerability, fashioned to let a performer like Falco shine. She's blistering and as quick as a brushfire, frolicking through the language and clearly having a grand old time. "There's no young blood any more," she shoots at the fidgety Erastus, "the whole party's gettin' old! And the youth today, they don't give a shit — oh, they gave a shit in the '60s, but the shit they gave didn't flush. Just sat there in the bowl 'til we closed the lid on it." Falco's so swift and muscular in the part that even her line flubs (one or two are practically inevitable with the amount of text she has and its speed of delivery) feel natural and playful — picked up by the performer like just another ping-pong ball and batted right back into the game.
"I thought you could see it yourself, but maybe you can't," she warns the mayor, "that people, regular people — they don't give a shit what you do behind closed doors so long as their lives are working. But their lives aren't working anymore. [A] committeeman used to know every. Single. Voter. In his district. Every single one. That voter had a problem. And you know what happened at the end of the day? It got taken care of. Now all people can see is committeemen with no-show city contracts who don't even care what their name is. That ward three mother? Who's she voting for? Let me tell you who. Nobody fuckin' knows. When we were all doing our job, Erastus, we knew what she was having for dinner. You know why? Because we were eating it with her."
White's dialogue is audibly fun to speak, and often peppered with political observations that feel meaty and real. I won't call it prescient; more accurately, it's well-observed: This is the way the game is played and always has been. Warnings like Polly's to Erastus — that he'd better "clean house" after O'Connell's funeral, before "Dan's people" come for him — can be found in Shakespeare. They're surely still whispered on a daily basis behind all levels of contemporary closed doors. It's whom you know and whom you owe. It's always personal.
Falco's got strong scene partners in her fellow actors, especially Scolari, whose Peter has much less sheer verbiage to get himself across, but who emerges as a rich, thoughtful presence with his fair share both of personal struggle and mordant humor. The pair share one of the play's most touching scenes together as Polly sits at her sewing machine late at night (she often has too much energy to sleep) and Peter sits up with her, admitting to his own insecurities and offering her quiet support as she pours her hurt and anxiety into those culottes. They also get to do a tensely enjoyable, almost George-and-Martha song and dance when Polly invites a young potential protégé over for dinner. Poor, green Bill McCormick (an amusing Austin Cauldwell, with his foot all the way in his mouth) doesn't know what he's in for when Polly Noonan decides to put her stamp of approval on him for committeeman. And he certainly doesn't expect the gale-force explosion that occurs when he finally admits that "it's been really cool to check out politics for a while," but he's probably going to move to L.A. with his art history-Ph.D. girlfriend.
It shouldn't be too much of a spoiler to reveal that, after all the upheaval and internal maneuvering, The True ends much the way it began. You only have to look up who served as Albany mayor until his death in 1983 to know how the 1977 primary went. Elliott and his actors find subtle shades in the play's ending, which should, dramatically, make us feel good for our heroes, but whose very comfort feels eerily uncomfortable. Here we are after another much-hyped New York primary that's left us with the status quo. Cuomo himself even makes a sly little appearance in The True, as Peter, watching the primary results from down south in Manhattan, jokes: "Koch and Cuomo … Sounds like a vaudeville routine." Routine is what it is, and a damn hard thing to break.
The True is at the Pershing Square Signature Center through October 28.