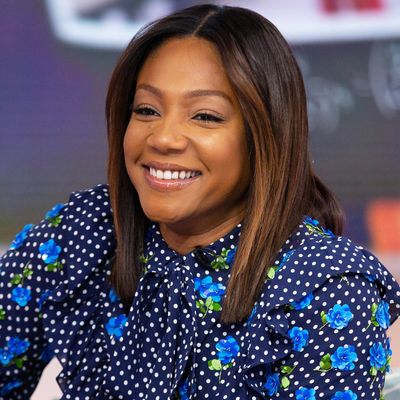 Tiffany Haddish.
Photo: NBC/NBCU Photo Bank via Getty Images
The comedy podcast universe is ever expanding, not unlike the universe universe. We're here to make it a bit smaller, a bit more manageable. There are a lot of great shows and each has a lot of great episodes, so we want to highlight the exceptional, the noteworthy. Each week our crack team of podcast enthusiasts and specialists and especially enthusiastic people will pick their favorites. We hope to have your ears permanently plugged with the best in aural comedy.
The Bill Simmons Podcast - Tiffany Haddish
Tom: There is no denying Bill Simmons is a skilled interviewer. He's been able to have relaxed yet insightful conversations with world-class athletes, politicians, and some of the biggest names in Hollywood. This week, however, guest Tiffany Haddish turns the tables on Simmons. Much to the delight of the listener, the Girls Trip and Night School star has Simmons on his heels from the get-go. If you've ever wanted to hear the sound of someone blushing, download this episode right away. Simmons takes such a long pause after Haddish tells him what she learned about 13-year-old boys while working a Bar Mitzvah, I checked to see if I accidentally paused the podcast. From talking about who she finds to be the funniest person in the room — we're looking at you, Kevin Hart and Will Forte — to why she'd be happy to host the ESPYs, Haddish is great match for Simmons. Their conversation hits its peak when Haddish runs a new bit by Simmons that involves his wife's internet browser history and pornography. If none of that interests you, at least tune in to hear Haddish scold Simmons for not knowing his own credit score.
Listen: Spotify | Apple | Website
Doughboys - Benihana with D'Arcy Carden
Anna: The Doughboys and guest D'Arcy Carden (The Good Place, Barry) initially label Benihana a place for special occasions, maybe dates, and definitely podcasts. Do they change their own minds? First, though, is a magical coincidence surrounding orecchiette. It would seem wizardry abounds, with actual moments of genuine gratitude and love from the Spoonman and (newly nicknamed) Morning Boy, but it's all Carden. Quick with digs, her upbeat and supportive energy is a nice match for the hosts. The trio swears it's totally fine to be a foodie, celebrates fall with a confusing soup-ranking system, and shares on-set snacking and nap secrets of the stars. We love naps, but we're here for dinner and a show! Is it a spoiler to say it's an overall enthusiastic review of Benihana and all of its garlic-butter glory? Only if you're not here for pointless arguments and deep dives into Mario characters. Carden's willingness to try anything lands her in the middle of the growing debate/criticism over Yusong's green-tea ice cream. Also, does she personally know Elvis's preferred Benihana chef? Like a good meal, this episode ends with a treat: the reveal of this year's Rockdoughberfest.
Listen: Spotify | Apple | Website
Alison Rosen Is Your New Best Friend - Ralph Garman Doesn't Hold Grudges … Anymore
Pablo: While not as famous as KROQ's other alumnus Jimmy Kimmel and Adam Carolla, Kevin & Bean's Ralph Garman has made a nice career for himself as a voice actor, host of the cult-classic reality show The Joe Schmo Show, and co-host of the Hollywood Babble-On podcast with Kevin Smith. Morning zoo radio personalities get a lot of well-deserved flak, but Garman elevated the show from the usual a.m. drudgery with his Swiss Army knife array of impressionist talents. I use the past tense because after 18 years, Garman was recently fired by KROQ's new management and it was not a pretty exit. As he tells Alison Rosen — who had her own unceremonious exit from Carolla's podcast — his longtime co-workers and namesakes of the show knew about the layoff but kept it a secret. Worst of all, Garman was not allowed to give specifics about his departure, which led to rumors that he was Me Too'd! But after decades in show business, Garman now says he's trying to be a "move on" guy, instead of the young hothead who used resentment as fuel. Not having to be at work before the sun rises certainly helps with that new mind-set.
Listen: Spotify | Apple | Website
Dumb People Town - Greg Fitzsimmons - Show Me What's the Truth
Marc: I was surprised it took comedian Greg Fitzsimmons, host of Fitzdog Radio, this long to make his way into Dumb People Town, but it was worth the wait. After all, his sardonic slant on the stupidity of people has been popping up on his own podcast for years in segments like "Overheard." So when he gets the chance to sink his teeth into the delicious dumbness of the trio of news bites in the latest installment, he's the perfect complement to hosts Jason and Randy Sklar and Daniel Van Kirk. From the very first story about a Florida (surprise!) couple that installed a "drive-thru window" on the side of their mobile home so that they could sell drugs more conveniently ("Not only that, we can deliver!" quips Fitz), through the tale of a man who put up an electric fence to keep the kids waiting at the nearby school bus stop from playing in his yard, and ending with a third story about a remedial robber who loses his gun and almost his pants, Fitz's well-placed zingers hit every time. He may not be one of the three mayors, but he clearly has the qualifications to be on the Dumb People Town council.

Listen: Spotify | Apple | Website
Suicide Buddies - Attempts tr3́s!
Mark: The excellence of Suicide Buddies' dark comedy has already been well-documented here on Vulture, but the show also deserves credit for its lightest episodes. Enter the third installment in the hilarious "Attempts" series, a.k.a. "Hampton's Mind-Blowers," where Dave Ross tries to blow co-host Hampton Yount's mind with stories of those who lived through suicide attempts. Many of these survivors went on to do extraordinary things, like past mind-blowers Mike Wallace (wow), Oprah (woah!) and Princess Diana (WHAT?). It's basically Suicide Jeopardy! After a rare topical rant about Brett Kavanaugh and his recent drop-in at the Comedy Cellar, they dive right into the failed attempts. No spoilers, but stories about a certain game-show host, a spelunking country music legend, and a beloved member of the Fab Five are all here to blow minds. With the recent creation of a supportive community of Buddies on the cesspool of humanity known as Facebook, Suicide Buddies has gone well above and beyond its origins as a vehicle for highly specific Rage Against the Machine and Blink 182 riffs.
Listen: Spotify | Apple | Website
Yelling About Pâté - Alt Milk w/ Kate Berlant
Elizabeth: Don't listen to the first 20 minutes of the latest Yelling About Pâté if you're hungry — or if you can't eat gluten — because you will want pizza. Hosts Joel Miller and Karl Hess take listeners on a tour of Los Angeles pizza hot spots before speaking out against mayo shaming and putting Ranch on blast as the quintessential white-person food. After inventing guacamayo, they're joined by comedian and alternative-milk enthusiast Kate Berlant who comes in hot on Scottish food (completely inedible) and Michelin stars (total bullshit). Berlant talks about her struggle to find oat milk in Los Angeles and making her own nut milks at home. They break down the milk-making process and their most wanted kitchen appliances. They go through Berlant's hot takes on shredded carrots, Prosecco, and juice, and she declares that she would rather die of thirst than get a Brita filter. L.A.-based listeners will come away with a list of restaurants to try and maybe even an urge to try oat milk. Maybe.
The Breadcast - Lauren McGuire
Kathryn: (Trigger warning: chewing sounds.) In the first of the three-part series The Breadcast, host Joe Saunders makes a zucchini spice bread recipe for guest Lauren McGuire (Wrecked, Comedy Bang Bang). It's a limited series expansion of the "After Dough With Joe" segment of the Doughboys podcast, available under the umbrella of their Patreon, because listeners have an insatiable appetite for Doughboys content. Saunders is an amateur baker the way the bakers on The Great British Baking Show are amateurs: still pretty good. It's not a gross-out, eat-this-trash-I-made podcast, it's an "I made a nice thing I want to share with a friend" podcast, and Joe and Lauren chat casually about the Martha Stewart recipe, and whether or not to squeeze the water out of grated zucchini (the Martha Stewart recipe doesn't specify). As long as you don't mind hearing people chew on mic, you'll have a pleasant half hour with The Breadcast. It's short and sweet and not too labor intensive as long as you already have all the ingredients (which, if you're a fan of Doughboys, you do).
Listen: Website
Other Podcasts We're Listening To:
Black Men Can't Jump in Hollywood - The First Purge ft. Tosin Morohunfola
Listen: Spotify | Apple | Website
The Dumbbells - Weighing In (w/ Jon Gabrus and Ben Rodgers)
Listen: Spotify | Apple | Website
Entry Level With Brooks Wheelan - Matt Braunger
Listen: Spotify | Apple | Website
Origins - SNL / Goodbye Vacation; Hello Studio 8H
Listen: Spotify | Apple | Website
Bill Burr's Monday Morning Podcast – 9-24-18
Listen: Spotify | Apple | Website
We Hate Movies – The Stepford Wives (2004)
Listen: Spotify | Apple | Website
Got a comedy podcast recommendation? Drop us a line at comedypodcasts@vulture.com.
This week's reviewers: Pablo Goldstein, Kathryn Doyle, Marc Hershon, Elizabeth Stamp, Mark Kramer, Tom Rainey, and Anna Marr.