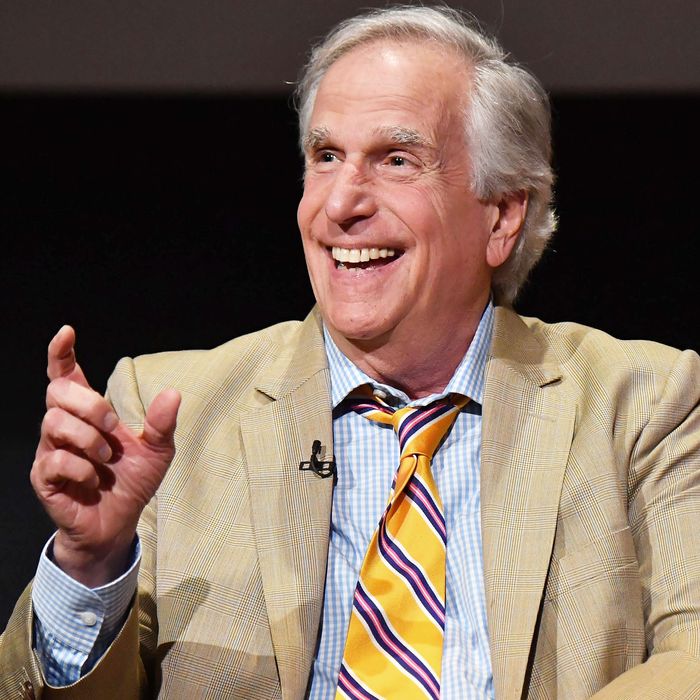 Henry Winkler speaks onstage in a panel discussion for
Barry.
Photo: Jeff Kravitz/FilmMagic for HBO
The comedy podcast universe is ever expanding, not unlike the universe universe. We're here to make it a bit smaller, a bit more manageable. There are a lot of great shows and each has a lot of great episodes, so we want to highlight the exceptional, the noteworthy. Each week our crack team of podcast enthusiasts and specialists and especially enthusiastic people will pick their favorites. We hope to have your ears permanently plugged with the best in aural comedy.
You Made It Weird - Henry Winkler
Mark: Even though Henry Winkler has been been in the public eye for nearly 50 years, he still manages to surprise. His recent Emmy-nominated turn as pretentious acting teacher Gene Cousineau in HBO's Barry aside, did you know Winkler is the world's biggest Sia fan? And that he once spent a half hour standing in Whole Foods fanboying out on a disguise-less Sia? The Fonz tells all during what he calls "one of my favorite interviews ever" on this week's You Made It Weird. He's as charming and kind as one would expect from his body of work, and has no problem getting weird about the late-night knocks on his door in his 20s, parenting, and even extraterrestrial life. After opening up about how being typecast early on as the Fonz shaped his career, he still drops a few casual "ayyy"s and "ooooh"s for the people. At about the 90-minute mark he gives the best and most Henry Winkler-iest advice possible: "Listen to your instinct. Your head only knows some things, your tummy knows everything." This man is a delight and a true national treasure.
Listen: Spotify | Apple | Website
Getting Curious - Being a Fierce Woman in Comedy? With Nicole Byer & Erin Gibson
Pablo: Jonathan Van Ness's meteoric rise from hairstylist to co-host of the Emmy-winning Queer Eye reboot deserves an origin story retelling. And on the latest episode of his podcast with guest Erin Gibson, we finally got one: Six years ago, Gibson asked JVN if he watched Game of Thrones and he said yes. It was that simple. Eschewing its usual format of diving into one of Jonathan's curiosities, this live episode features the Gay of Thrones co-creators and comedy goddess Nicole Byer dishing about anything that pops up, from inappropriate IUD removal behavior by doctors to Roseanne's comments about her "privileged" writers' inability to craft The Conners without her working-class presence. Byer also announces that she's taping a Netflix special, which isn't a surprise given Nailed It!'s massive popularity and Netflix's mandate of one new stand-up special a week. But success hasn't been all good news for Byer; she's now accosted by her least favorite people — children — who point at her and scream "Cake Lady!" on a daily basis.
Listen: Spotify | Apple | Website
Queery - Tig Notaro
Anna: If you're like Tig Notaro's (Happy to Be Here, One Mississippi) family, you know her best from her Wikipedia page. This week, Cameron Esposito chats with the stand-up comedian and actor about family (new and old), selfishness, and doing what makes you happy. As usual, Notaro is blunt and honest, and I truly hope some of her sincere gratitude rubs off on us listeners. As a gift to all people, she and Esposito examine work-life balance struggles. From raising kids in L.A. to evaluating how she spends her time, the fact that she's still figuring it out is relatable to folks in all industries. There's plenty of stand-up talk, from killing it in your first set to patches of bombing to "the type of person who can work in comedy." (Can it be someone who's in bed at 8:30??) In an enlightening five-minute stretch, Notaro spells out the complicated process that led her to her twin boys, then emphasizes how lucky she is to be in Instant Family, the new film she's in with Octavia Spencer (!) about adoption. Most importantly, though, she finally addresses the age-old question: Who has better hands, Cameron Esposito or Paul F. Tompkins?
Listen: Spotify | Apple | Website
The Need to Fail - Frank Garcia-Hejl
Kathryn: It is a basic truth that the internet has an insatiable hunger for SNL audition stories. We want to know everything: did they troll you, how dark was the stage, did Lorne laugh, have you been to his office, did you eat the popcorn, etc. Frank Garcia-Hejl (Difficult People, Just for Laughs) tested for season 40, and the all-star UCB sketch performer probably has the most storied relationship with the SNL hiring process of any live performer in New York. For years the underground comedy community was fraught with will-they-won't-they-hire-Frank-Garcia-Hejl-this-time tension. So it's a big deal for him to go on TNTF and tell that story in his own words, from holding SNL up as a singular dream from age zero, to barreling through improv and sketch at the same time, to panicking and overthinking things throughout a process that is designed to make you panic and overthink, to seeing Guardians of the Galaxy six times while waiting to hear that he didn't get it, to taking four years to come to terms with it.
Listen: Spotify | Apple | Website
Inside of You - Zachary Levi
Marc: Now that we're deeply into the Age of the Nerd, I don't mind revealing that I was a huge fan of NBC's series Chuck, a show that ran for five seasons and focused on a geeky guy who worked in a big-box store and who accidentally had a neuro-computer force-fed into his cerebral cortex. After that, he could do all kinds of cool spy stuff but he was still a nerdy dweeb with a cranky NSA handler and a superhot spy girlfriend. While Zachary Levi isn't asked much about his role as Chuck Bartowski when he visits with pal Michael Rosenbaum on Inside of You, it's still a treat to hear him talk about the excitement of landing his first big Hollywood gig and how that led him on a track to where he's going to be starring as the lead character in DC's upcoming Shazam! movie. (Funny enough, one of the roles he auditioned for previous to Chuck was that of Smallville's Lex Luthor, which eventually went to Rosenbaum.) Normally there is a lot of lather-light chitchat on this podcast before Rosenbaum's guests relax enough to get to some depth but these two guys, for whatever reason, jump the tracks very quickly into the episode and before you know it, Levi is talking about the mental and emotional abuse he endured from his mother starting when he was only 6 years old. He and Rosenbaum both start to get a little choked up as it turns out that the host didn't have the rosiest of upbringings himself. The mutual outpouring turns out to be somewhat cathartic, and the two guys brush it off, sip a little more whiskey, and close the show out with Levi warbling a sweet, a cappella rendition of "If I Had a Hammer" for no good reason.
Listen: Spotify | Apple | Website
Other Podcasts We're Listening To:
The Jeselnik & Rosenthal Vanity Project - JRVP: Game On
Listen: Apple | Website
I Think You're Interesting - Janet from The Good Place and Kelli from Insecure on making TV's funniest shows even funnier
Listen: Spotify | Apple | Website
Yeah, But Still - Dude my parents NEVER had sex
Listen: Apple | Website
The JJ Redick Podcast - Hasan Minhaj on Comedic Wisdom, His New Netflix Show and the White House Correspondents' Dinner
Listen: Spotify | Apple | Website
Armchair Expert With Dax Shepard - Kathryn Hahn
Listen: Spotify | Apple | Website
Why Won't You Date Me? With Nicole Byer - Booty Call Horror Story w/ Jameela Jamil
Listen: Spotify | Apple | Website
Obscure With Michael Ian Black - Laying the Lard on Thick
Listen: Apple | Website
Dumb People Town - Kyle Kinane - I'm Just the Wrong Mammal
Listen: Spotify | Apple | Website
Got a comedy podcast recommendation? Drop us a line at comedypodcasts@vulture.com.
This week's reviewers: Pablo Goldstein, Kathryn Doyle, Marc Hershon, Mark Kramer, and Anna Marr.