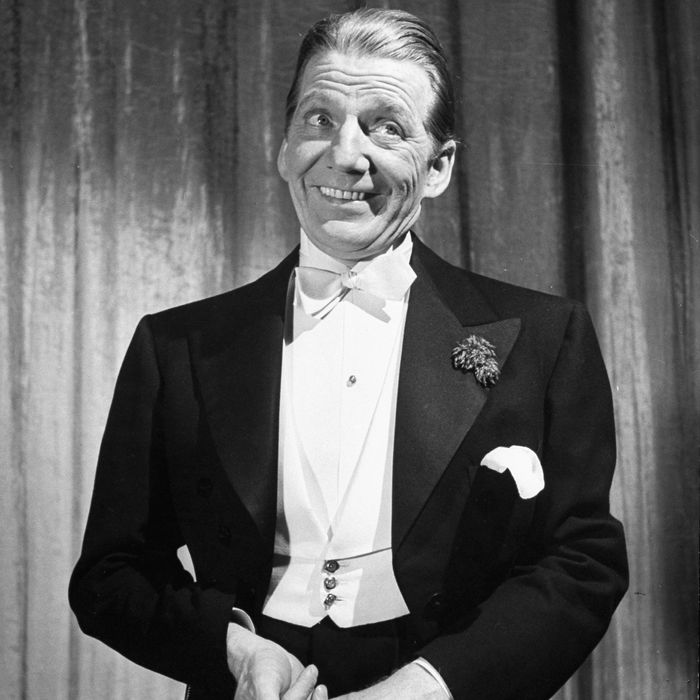 Actor Frank Fay performing in the play
Laugh Time
.
Photo: George Karger/The LIFE Images Collection/Getty
The comedy podcast universe is ever expanding, not unlike the universe universe. We're here to make it a bit smaller, a bit more manageable. There are a lot of great shows and each has a lot of great episodes, so we want to highlight the exceptional, the noteworthy. Each week our crack team of podcast enthusiasts and specialists and especially enthusiastic people will pick their favorites. We hope to have your ears permanently plugged with the best in aural comedy.
The History of Standup - In One, Television, and the Birth of Standup
Marc: Comedian Wayne Federman has made it his business to know his business. He's written about where and how stand-up comedy got started and evolved. He's so into it that he's teaching about it at USC. Now, with the help of podcaster and comedy fan Andrew Steven, Federman is imparting his comic knowledge by way of a six-part podcast mini-series, The History of Standup. In the debut installment, Federman makes clear the connection between the advent of television and the rise of stand-up. He dips back into vaudeville in order to shake the dirt from its roots, pointing to comic performer Frank Fay as the primordial version of what would later be seen as the stand-up style of presenting comedy. (The term "stand-up" itself is a bit cloaked in mystery, although scholars of the form indicate evidence that it came from someone being a "stand-up guy" as designated by the mob — a dude that would look the other way when the shit went down around them, possibly even during a nightclub performance.) Along the way they tap comedy know-it-all Judd Apatow for his take on the biz, as well as historian Kliph Nesteroff. There are also some fascinating clips of old-timer comedians such as Milton Berle and even Fay himself, the stand-up guy who just might have started it all.
The Jeselnik and Rosenthal Vanity Project - Early Retirement, Antonio Brown and the Last Thing to Say Before You Die
Pablo: When I last wrote about The Jeselnik and Rosenthal Vanity Project — then known as The Rosenthal and Jeselnik Vanity Project — I praised the short-lived experiment for its morbidly Jeselnik-ian take on football but mourned the NFL-produced podcast for its inevitable cancellation. But as part of Anthony Jeselnik's new Comedy Central deal, he's brought the show back to life. Don't worry if you couldn't care less about football; since co-host and NFL.com writer Gregg Rosenthal isn't legally allowed to analyze each week's games, this reboot is mainly two longtime best friends shooting the shit. There's talk of novella recommendations, spiked Gatorade coolers, and the occasional NFL story, like Vontae Davis's baller move to retire at halftime during last week's Bills-Chargers game. Besides that, not much has changed from the original show, as Rosenthal is still the ultimate straight man to Jeselnik. Tune in every week as Jeselnik tries to get the father of his godchildren fired, like positing that the NFL's gambling-averse commissioner Roger Goodell is taking bets on which teams have more white players.
Raised by TV - Reading Lessons (w/ Bowen Yang, Matt Rogers)
Elizabeth: Two of the podcasting world's most delightful duos join forces this week when Las Culturistas' Bowen Yang and Matt Rogers stop by Raised by TV. They have a cultural exchange, with Yang and Rogers teaching Gabrus phrases like "spilling the tea" and "reading," and Gabrus sharing straight terms that may or may not actually exist. Rogers and Gabrus bond over their Long Island childhoods and family road trips to Florida. They really cover the entire cultural spectrum of the late '90s and early aughts, reminiscing about Titanic (from groundbreaking alpha twink Leonardo DiCaprio to the moving melody of "Rose's Theme") and celebrating the offensive signature characters of MADtv. Bowen and Matt declare Billie Myers's "Kiss the Rain" culture, and along with Lapkus, they sing a medley of some of the best songs of the era, most of which were featured on Dawson's Creek. Listen for Rogers revealing Chris Harrison's power play during his Who Wants to Be a Millionaire? and stay for Gabrus's story about modeling a cock sock as a VH1 intern.
Listen: Spotify | Apple | Website
Andy Daly Podcast Pilot Project - The Pee Tape with Don DiMello (w/ Jason Mantzoukas, Matt Gourley, Eddie Pepitone & Mary Birdsong)
Mark: Eight years after Don DiMello's legendary debut on Comedy Bang Bang (then Comedy Death-Ray, formerly not a thing), he's somehow managed to evolve. For those unfamiliar with the extended Andy Daly universe, DiMello is the gravelly-voiced director of the Radio City Christmas Spectacular known for his unauthorized Disney adaptations and pervy catchphrase, "Bring out the girls!" How could this controversial figure possibly adapt to our current culture? The same route seemingly all of pop culture has taken: politics. Along with his trusty accomplice Falcon (Jason Mantzoukas) and controversial theater critic Mal Bachman (Matt Gourley), DiMello briefly gets listeners up to speed on his latest musical, Jewmanji (California theater fans can catch the production by sneaking into the second-story window of the Pasadena Fairytale Playhouse anytime from 1–3 a.m.). DiMello then shifts his focus to the infamous Pee Tape he so desperately wants to watch. Surveillance expert/amateur cinematographer Bob Fredricks (Eddie Pepitone) joins to discuss how one would best film such a Pee Tape, and "consultant" Irina Gotsikova (Mary Birdsong) shares her Russian hospitality expertise. Travel tip: If you ever stay at a hotel in Russia, do not ask for a chocolate on your pillow. Rest assured, theater freaks — this episode has more than a little something for daddy.
Listen: Spotify | Apple | Website
Gilbert Gottfried's Amazing Colossal Podcast! - Alan Zweibel
Tom: Although Alan Zweibel may not be the first person you think of when you hear the term "show business," his storied career certainly warrants him a favorable spot in the history books of comedy. Zweibel, best known for his work on Saturday Night Live, sits down with Gilbert Gottfried and Frank Santopadre to talk about everything from his friendship with Gilda Radner and Garry Shandling to dinner parties at Rob Reiner's house with Sid Caesar, Mel Brooks, and Martin Scorsese. I can't reiterate enough that this episode feels more like an audio guide to the National Smithsonian of Comedy rather than a podcast. As SNL alums, Zweibel and Gottfried have a strong rapport, often laughing over each other while reminiscing about fabled stories from the hallowed halls of 30 Rock. In addition to memories of Milton Berle and Desi Arnaz, Zweibel shares deeply personal stories about the late Gilda Radner, who, ironically enough, he referred to as "Gilbert." Kevin Bacon better watch out: Sooner or later there may be a petition to rename his game the Six Degrees of Alan Zweibel.
Listen: Spotify | Apple | Website
My Dad Wrote a Porno - Zachariah's Magic Wand
Kathryn: It's been a while since we've touched on My Dad Wrote a Porno, and in the interim the gang has completed a world tour and tucked in to the fourth installment in Rocky Flintsone's soft-core saga Belinda Blinked;: An erotic story of sexual prowess, sexy characters and even bigger business deals whilst the darkness increases; (both semicolons are essential to the process). In Book 4, Belinda trips the light erotic at the lavish wedding of Tony Sylvester and Giselle Maarschalkerweerd de Klotz for three whole chapters, lubricating every available surface in the process. She finally escapes this week, following Helga from a bathroom stall at the wedding to the Ritz in central London, "all braless tits and swing." Rocky has gotten to be a more confident writer at this point, no doubt due to the blinding success of his books and his son's podcast about them, and he gladly trots out old favorite characters like the Youngish Man and the Duchess, while introducing some new favorites, like the Muscleboy Bodybuilder With a Tiny Pee Head. Chapter 4 expands the Blinked mythology considerably, adding a cigar-smoking wizard named Zachariah and his "creatures of the puff" in a secret Middle Eastern speakeasy, and spends several delightful sentences as an older Irish man tries to describe a hookah without using the word "hookah." What happens next defies description, but let's just say Zachariah executes a sexual act approaching Bill Clinton levels. And of course we're only part way through Book 4, so there are plenty of questions left unanswered, like: If a man hotboxes your box, does that get you high? And, how bad does a restaurant's shrimp need to be before you complain?
Off Book: The Improvised Musical - Live from Dynasty Typewriter (w/Taran Killam)
Leigh: The best episodes of Off Book: The Improvised Musical podcast feature guests who can keep up with both the improv part and the musical part. For most guests, it's assumed they can handle the improv part. Nailing the musical theater of it all usually comes as more of a pleasant surprise (looking at you, Doughboys). With Taran Killam on this week's episode, there were no such surprises. Listeners know right from the start they're in good hands with someone who can balance both. He was, after all, in a little show called Hamilton. With a run as King George on Broadway under his belt, Killam had no trouble at all keeping up with hosts Jessica McKenna and Zach Reino. What starts as a outpouring of love for the Counting Crows eventually turns into Poetry: 1959, a fully improvised musical about being a poet in, you guessed it, 1959. Proving once again just how good they are at the improv and musical theater of it all, this group skillfully and seamlessly manages to bring the whole thing full circle back to the Counting Crows, and that's pretty impressive 'round here.
Listen: Spotify | Apple | Website
WTF - Kristen Bell
Anna: This interview has already inspired a slew of articles obsessing over Kristen Bell's (The Good Place, Bad Moms) weed habits, so here are some alternate article titles: "Positive Badass Bell Inspires Widespread Parent Sleepovers!" or "Bell Models Effective Friendship Test: click to see if Maron made her lunch after 'I'm starving' text!" KB fans and new followers alike will delight in how she brings Maron to task ("God, open up to some optimism"); she's the kindest person with the sharpest sting. From navigating substance use around her sober husband to approaching taboo topics with her kids, Bell proves how she handles tough subjects truthfully and head-on. She also offers up some of her personal philosophies, like her catchy and powerful mantra, "Happiness versus suffering." Speaking of which, The Good Place season three premieres September 27! Naturally, they cover her midwestern upbringing, Veronica Mars superfans (pre-revival announcement), and acting toolboxes. Maron's preinterview report of his awkward interactions at the Netflix Emmy party may trigger your social anxiety, but it's nothing American Treasure Kristen Bell can't remedy.
Listen: Spotify | Apple | Website
Other Podcasts We're Listening To:
Alison Rosen Is Your New Best Friend - Nikki Glaser Is Monogamous With Her Hatred
Listen: Spotify | Apple | Website
Everything Is Rent - Out Tonight With Rachel Bloom
Listen: Apple | Website
Hound Tall - Medical Ethics
Listen: Spotify | Apple | Website
Bodega Boys - Ben's Fingers
Listen: Apple | Website
Action Boyz - Eraser
Listen: Website
On Comedy Writing - Broti Gupta
Listen: Apple | Website
Spitballers - A Scary Situation and a Cartoon Kid Gets DESTROYED!
Listen: Spotify | Apple | Website
Homophilia - John Early
Listen: Spotify | Apple | Website
Penpals With Daniel & Rory - RE: Cults & Agoraphobia
Listen: Spotify | Apple | Website
Got a comedy podcast recommendation? Drop us a line at comedypodcasts@vulture.com.
This week's reviewers: Pablo Goldstein, Kathryn Doyle, Marc Hershon, Leigh Cesiro, Elizabeth Stamp, Mark Kramer, Tom Rainey, and Anna Marr.