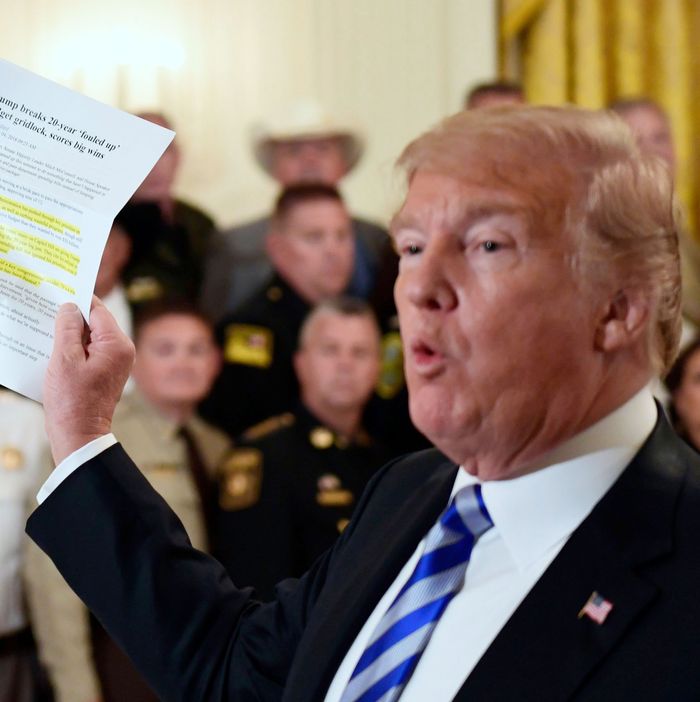 President Donald Trump responds to a reporter's question during an event with sheriffs in the East Room of the White House in Washington, D.C.
Photo: Susan Walsh/AP/REX/Shutterstock/Susan Walsh/AP/REX/Shutterstock
As has been much discussed, by critic and comedian alike, Trump is bad for comedy. When he was elected, muggles were all like, "Well at least this will be good for late night hahaha," but it super was not. Trump isn't funny because Trump isn't relatable. Like a late-season Seinfeld episode, the plots are contrived and the protagonists are needlessly cruel. But when the news cycle is all bananas White House news, what is a news commentary show to do? Tell similar jokes, is what.
One particular joke didn't run the table this week, like the "one thing he wouldn't put his name on" bit did when the Stormy Daniels news broke. Instead, a few leitmotifs ran throughout late night's first week back from summer vacation. Colbert, Fallon, and Kimmel all had variations on, "The call is coming from inside the house!!!" with regards to the anonymous op-ed.
On Colbert Wednesday night, it was the "resistance" coming from inside the house. On Fallon, it was "fake news."
Multiple hosts noted the absurdity of not invoking the 25th Amendment to unseat Trump. The op-ed writer felt it would be too messy, and possibly cause a constitutional crisis. But you can't use the Constitution to create a constitutional crisis. Both Colbert and Trevor Noah compared the op-ed writer to someone who refuses to break glass to get to a fire extinguisher because they don't want to deal with broken glass later on.
The internet seems to think that Mike Pence is the op-ed writer because he uses the word "lodestar" a lot. But "lodestar" is a word used by many evangelical Christians. There is no way Pence wrote the op-ed because there is no way Mike Pence is anyone's conscience. He is quiet, but he is just as much of a nightmare as Trump. Pence used campaign funds to pay his golf fees. They are not different. Maybe that's why Jimmy Kimmel thinks it's Jared Kushner.
It's not the greatest of sins to have similar joke structures. Chuck Klosterman once wrote that "important things are inevitably cliché, but nobody wants to admit that." He also wrote about how much Kiss rules, but this time he's right. Hesitance to use the 25th Amendment is like someone refusing to break glass in the case of an emergency. The call for resistance was coming from inside the White House. As Colbert noted, the late-night writers only had a few hours to write monologue jokes about the New York Times op-ed. First, the best ideas were going to win because reality is hacky and they were under a time crunch. But that doesn't explain why three shows — after all three were on hiatus! — highlighted the same story about a Kuwaiti fishmonger glueing googly eyes onto his fish.
That is truly baffling.