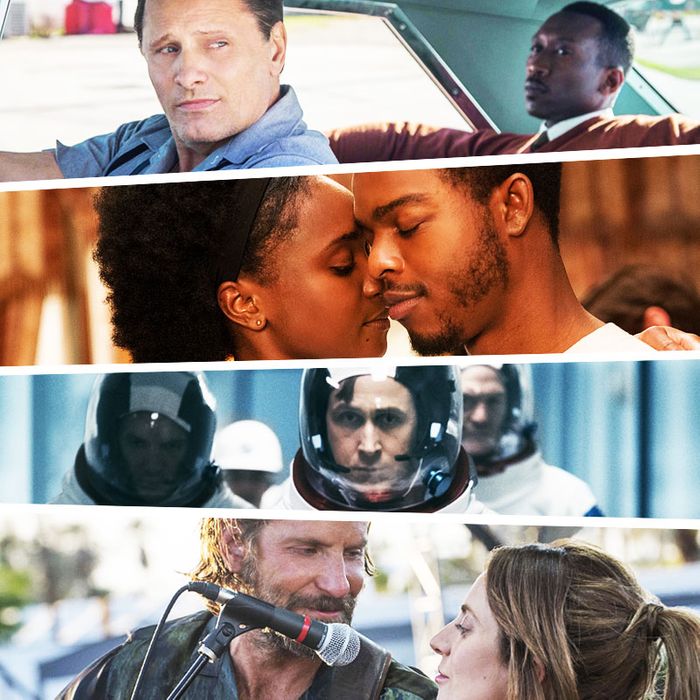 From top:
Green Book
,
If Beale Street Could Talk
,
First Man
,
A Star Is Born
.
Photo: Universal Pictures/Annapurna Pictures/ Warner Bros. Pictures
In recent years, the Toronto International Film Festival has embraced its identity as part of the starting gun for the fall awards race. Accordingly, we thought we knew what to expect at our first trip up north — stately biopics, tasteful indies, and plenty of showcases for great actors to Do Their Thing. And we did find that! But we also found a lot more. With TIFF 2018 in the bag, here's a roundup of our festival superlatives.
Best Picture Front-runner: A Star Is Born
It was the wail heard across Toronto — HA AHH AHH AHHHHH HAAAAAAAAA — from lines wrapping around the festival to impromptu karaoke sessions long after screenings let out (okay, maybe that was just us). Bradley Cooper's version of A Star Is Born, the oft-remade classic of a broken male superstar who discovers and uplifts a woman who was always a phenomenal talent, but didn't quite know how to actualize it, delivers on the promise of the trailer. It's a big, made-for-Hollywood-by-Hollywood story about an unknown breaking through the gilded ranks of celebrity. Lady Gaga is tremendous, and easily carries on the mantle of Janet Gaynor, Judy Garland, and Barbra Streisand. Readers, we anoint our Oscar front-runner. —EAJ
Best Reminder Not to Write Anything Off: Green Book
Going into a festival, you think you know what all the big movies will be, but really, you have no idea. Case in point: Green Book. Peter Farrelly's solo debut, the real-life tale of a white bodyguard and a black musician traveling across the Jim Crow South, didn't exactly come out of nowhere, but it didn't have anything close to the pre-festival buzz of a Star Is Born, Roma, or Beale Street. Green Book screened later in the festival, when many journalists had already flown back home, and it was not high on either of our priority lists. But those who did make it to the premiere came out raving about the performances of Viggo Mortensen and Mahershala Ali, and the movie eventually won TIFF's People's Choice Award, a reliable harbinger of a Best Picture nomination. Next time I'm thinking of skipping a screening, I'll think of Green Book, and shudder in despair. —NJ
Best "Silence Is Golden" Moment: The Moon Landing of First Man
The moment Neil Armstrong (Ryan Gosling) lands on the moon in Damien Chazelle's First Man, you see nothing but gray moonscape. The sound cuts out entirely. During our screening at the IMAX theater at the Ontario Cinesphere, all we could hear was a collective gasp from the audience. First Man is mostly about the sacrificial journey required of Armstrong to get to the moon, but the moment it happens is one of pure cinematic awe. —EAJ
Most Beautiful Boy: Timothée Chalamet in Beautiful Boy
It's the year of boy-pain, with Lucas Hedges in two films — one as a gay kid sent to conversion therapy in Boy Erased and the other as a drug addict in Ben Is Back — and Timothée Chalament playing a drug addict in Beautiful Boy. In the race of damaged male ingenues, it's Chalamet who wins again. The 23-year-old actor plays Nic, the beguiling and frustrating object of his father David's (Steve Carell) concerns and affections, using his natural charm and charisma to thwart dad's best intentions. While the movie mostly plays as a glorified PSA, Chalamet's performance — and the way Felix Van Groeningen shoots him with an eye for naturalism — takes on an eerie, practically exquisite quality. —EAJ
Best Mid-2000s Period Detail: The fashion in Boy Erased
Like last year's Lady Bird, both Beautiful Boy and Boy Erased are subtle period pieces — you don't quite realize they're set in the recent past until you start to notice certain details. Gigantic cell phones and computers give the game away in Beautiful Boy, but I think I preferred the way Boy Erased did it — by dressing everyone in the most mid-2000s fashions possible. Sideburns are in, as are loose, billowing button-ups, often worn with a visible white T-shirt underneath. (The sole exception is Troye Sivan, whose shirts are cut slim and buttoned all the way up, as if he's a time traveler from 2018.) It's enough to give you flashbacks to the glory days of the old WB. —NJ
Best Lady Gaga Impersonation: Natalie Portman in Vox Lux
Give Natalie Portman a look and an accent and she'll give you a performance. In Brady Corbet's Vox Lux, Portman plays Celeste, a pop star who turned personal tragedy into a lucrative music career. While Lady Gaga dresses down as the suddenly seen Ally in A Star Is Born, Natalie Portman is brash and loud with a mean streak — a product, it seems, of endless commodification. The final act of the movie is essentially a concert video as Celeste takes center stage for her latest tour, which has an ArtPop–meets–Daft Punk-dipped-in-glitter vibe. —EAJ
Most Terrifying Supervillain: Rick Snyder in Fahrenheit 11/9
Fahrenheit 11/9, Michael Moore's latest piece of agitprop, has a lot of targets, but it's when the film focuses on the water poisoning in Moore's hometown of Flint, Michigan, that he finds his most damning villain: current governor Rick Snyder. The former head of Gateway computers promised to treat citizens like customers, which meant that his real clients turned out to be his fellow businessmen. All of this has culminated in the ongoing, completely pointless disaster when he switched Flint's water supply from Lake Huron to the polluted Flint River. It's what Moore calls a "slow-motion ethnic cleansing." —EAJ
Most Beautiful Full-Frontal Face Shot: KiKi Layne and Stephan James in If Beale Street Could Talk
Can anyone shoot faces like Barry Jenkins does? The director practically worships his young Beale Street stars, capturing them gazing into the camera in his trademark slow-motion portrait shots. If you need help finding the perfect aesthetic for your next selfie, let these two be your guide. —NJ
Most Beautiful Full-Frontal Body Shot: Chris Pine in Outlaw King
This year's TIFF opener, a biopic of medieval Scottish hero Robert the Bruce, received mixed reviews. But viewers did come out of the film raving about one thing: a split-second shot in which Pine emerges fully nude from a cleansing swim. Without getting too explicit, let's just say he's no George Costanza. —NJ
Most Harrowing Mass Shooting: 22 July
From Assassination Nation to Hold the Dark to Peterloo to Vox Lux, indiscriminate violence was in the air in Toronto this year. As I get older, I find myself growing much more sensitive to gratuitous violence, and I had mixed feelings about many of these onscreen massacres. But the one that got my hackles up the least was the re-creation of Anders Breivik's terror attack in Norway that opens Paul Greengrass's 22 July. As in Mike Leigh's Peterloo, it's clear that Greengrass has done his research, and his no-frills style stands out among a bevy of films competing to see who could construct the prettiest stack of corpses. But it's his focus that impressed me the most: While other filmmakers would have seen the attacks as a climax, Greengrass devotes the bulk of his run time to exploring their impact on both the victims and the country at large — a cathartic respite from the blood-soaked nihilism on display elsewhere. —NJ
More Harrowing Long Take: Roma
When it came time to start shooting Roma, Alfonso Cuarón's longtime cinematographer, Emmanuel "Chivo" Lubezki, wasn't available. So Cuaron stepped up to shoot the film himself, and turned in a more-than-capable Chivo imitation, executing a series of long takes that stand up to his work in Children of Men. Two of them — one in a department store, the other on a beach — stand out as master classes in camera movement and framing, but the most heartbreaking is nearly motionless: a single take foregrounding Yalitza Aparicio's Cleo while a flurry of activity goes on around her. Some critics bristled at what they saw as shameless emotional manipulation, but everyone else was too busy crying to care. —NJ
Handsomest Sociopaths: Daniel Kaluuya, Widows and Steven Yeun, Burning
Daniel Kaluuya does a heel turn from last year's Get Out role and gives a steely-eyed performance as the muscle to Brian Tyree Henry's Chicago politico in Widows. Like most of the performances in this (literally jacked) ensemble, it's lean and economical; he's only in the film for a few scenes, but you can't stop thinking about each and every one of them.
Then there's Steven Yeun in Lee Chang-dong's Burning, in which he plays the other side of the sociopathic coin as Ben, a suave, dashing ne'er-do-well whose narcissism is astonishing in its matter-of-factness. It's a restrained, subtle performance made up of glances, smirks, and yawns that only make it more chilling. —EAJ
Best Smile: Robert Redford in The Old Man and the Gun
In The Old Man and the Gun, Robert Redford plays an elderly bank robber who keeps getting away with it because he's so charming, his victims aren't even mad. It's the kind of role that demands all the charisma a star can muster, and Redford is happy to lean into the star image he's developed over the past 50 years. His performance is so relaxed, confident, and carefree you'd wish he was robbing you, too. If this is, as he's said, his last acting role, his 58-year career could not have had a better capstone. —NJ
Worst Wig: Destroyer
Nicole Kidman recently shut down a fan who asked her where her Destroyer wig ranked among the many hairpieces she's worn in her career. It's her right as an actor to refuse to answer silly questions, but her lack of response does leave a gap in the wig discourse that we can helpfully fill: This wig is very bad. As an L.A. detective investigating the return of a group of criminals she'd gone undercover with 16 years earlier, Kidman spends half the movie in old-age makeup, topped off by an unconvincing brown wig that sits atop her head like a loose lampshade, part of a look we can only describe as Dark Tig Notaro. Thankfully, it wasn't all bad on the hair front for Kidman at TIFF, as her Boy Erased wig did great work in establishing her "rich southern mom" character. —NJ
Frenchest Film: Non-Fiction
The Toronto consensus on Olivier Assayas's Non-Fiction was that it's a minor work, a palate cleanser after the weighty Clouds of Sils Maria and Personal Shopper. But for Francophiles, it's a dream: a love triangle between an author, his publisher, and an actress (and their assorted spouses and flings) as they debate the future of literature, the nature of "autofiction," and whether giving a blow job in a screening of The Force Awakens is different than giving one in a Michael Haneke movie. I don't know if it adds up to anything, but as a highbrow farce, it's a delight. —NJ
Worst Twist: The entirety of Life Itself
What's the phrase for an emotionally manipulative jump scare? Life Itself. —EAJ