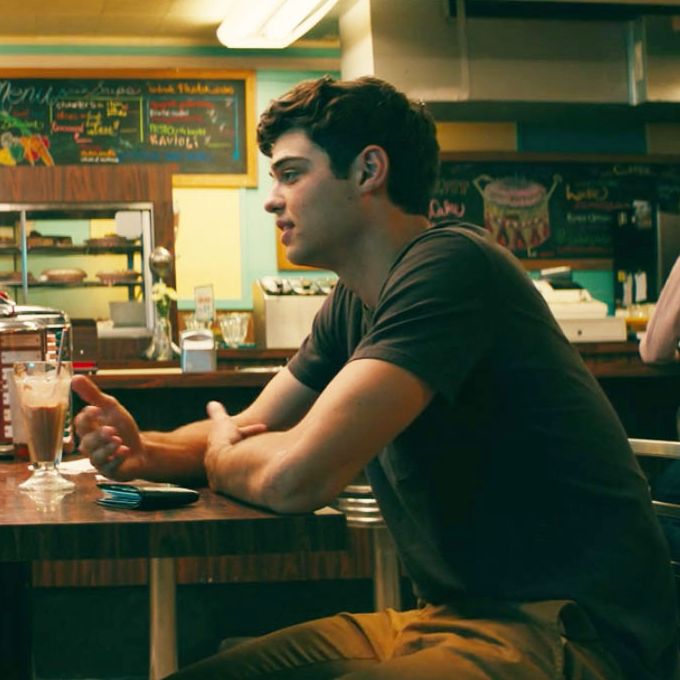 When Lara Jean Covey makes her determined stride across the Adler High School lacrosse field in the last scene of To All the Boys I've Loved Before, the star of the scene isn't either of the two lovers we've just spent almost 100 minutes falling for — it's LJ's platform Oxford shoes, which she's paired with mustard thigh-high socks. The platforms succinctly and stylishly communicate everything about a shy character's interior life: Lara Jean is an updated, millennial version of a classic romantic comedy leading lady like Meg Ryan or Sandra Bullock. She's the elevated version — literally, in platforms that helped close the nine-inch height difference between Lana Condor and Noah Centineo.
To All the Boys costume designer Rafaella Rabinovich is well aware of the platforms' appeal. "The beautiful shoes by Jeffrey Campbell!" she says. "They are unfortunately not available anymore, but it's the most coveted item in the movie."
To design costumes for the high-school romantic comedy, Rabinovich worked hard to remix the usual high-school stereotypes. Instead of a letterman jacket, the hot jock wears a bomber jacket; the popular girl wears chokers instead of a Mean Girls–esque plaid micro mini, and the annoying younger sister wears tees emblazoned with "girl power" "[It's] not to create a stigma or make fun of [those clichés], but just so everybody can find themselves in the movie," she explains. "So we're speaking to everybody, and they can feel familiar."
Here's Rabinovich on the rest of the movie's fabulous looks.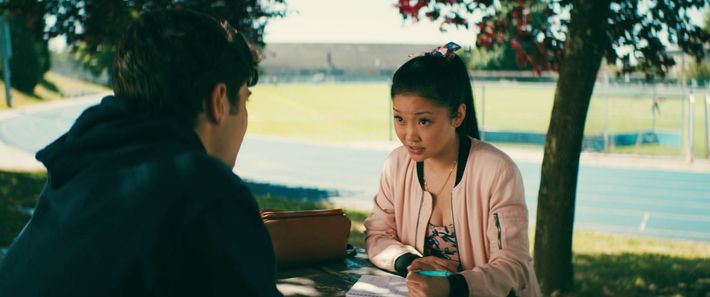 Lara Jean
Lara Jean is slow to talk about her emotions, but she expresses her vivid inner life through her bold, surprising style. Rabinovich wanted the character's style to seem culled from vintage stores and eclectic shops: For the first day of her junior year, she pairs khaki shorts and combat boots with knee-high socks and a flannel. But when Lara starts fake-dating Peter Kavinsky, her style relaxes into pale pinks and florals. "I think it shows that she becomes more confident," Rabinovich says. Flower details begin to show up at important moments with Peter: LJ wears a floral print dress when she signs their relationship contract, a flower-print apron when Peter comes over to invite her to a party, and wears a bomber jacket with embroidered flowers to the house party.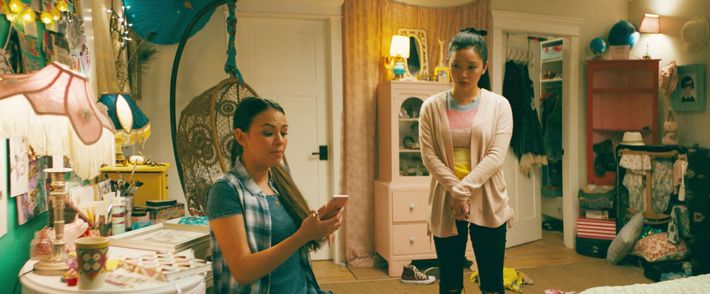 After the big confrontation between Lara Jean, Peter, and Josh, Lara Jean rips up the fake dating contract, and learns that a video leaked of her kissing Peter. She mopes around the house during winter break, wearing a sweater with big pink and yellow stripes. Rabinovich was inspired by an unlikely holiday: "It's Christmas and she's so bummed, we [used a sweater with] the Easter colors on it, which kind of looks like the concept of rebirth," Rabinovich says. "We wanted a moment to say, 'Everything is going to be okay.'"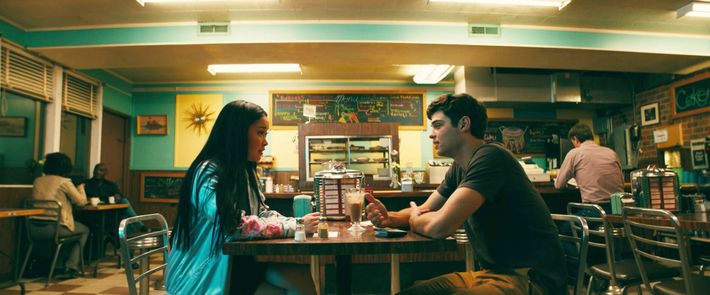 Peter
For hot, wholesome lacrosse jock Peter Kavinsky, Rabinovich considered putting Noah Centineo in a classic letterman jacket, but eventually decided on khakis. "We were looking to make him into that dreamy guy, but find the middle between the jock and the guy who wears J.Crew," Rabinovich says. With Josh in lots of denim, khakis were a good alternative for Peter, who Rabinovich wanted to look like a very attainable crush. "[The boys' style shouldn't] define things too much for you," Rabinovich says. "This is not to say that there hasn't been a lot of thought put into what they look like, but we wanted to make them real."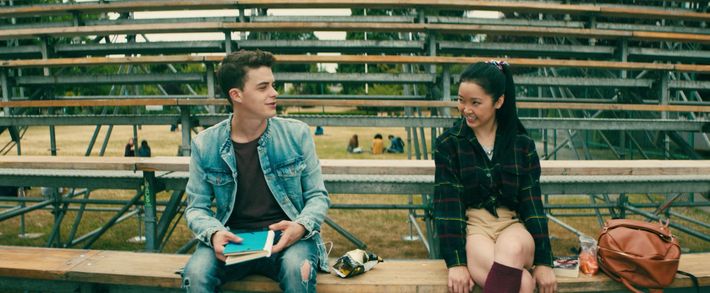 Josh
The filmmakers wanted to tap into a certain lonely boy-esque stereotype for Josh Sanderson, Margot's ex-boyfriend and Lara Jean's secret crush. When Israel Broussard arrived for his fitting, he asked Rabinovich to do him a solid: "He was like, 'Can do me a favor? I don't want to wear too much plaid.'" He couldn't tell me why but he told me, 'On my last job I wore a lot of plaid.' " In that movie, the Groundhog Day–esque Happy Death Day, Broussard wore plaid throughout the whole movie's resetting timeline. Instead of plaid, Rabinovich says, Josh wore lots of denim. "We wanted to make Josh into a guy who is an artist and into rock and listens to Elliott Smith, but without making it into full-on grunge. Israel was a really big collaborator in his look. The denim that Israel wears, the majority of the denim is actually his own denim."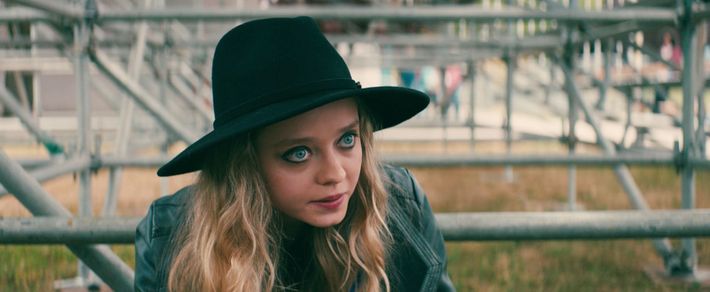 Chris
The '90s were a uniting theme in all the To All the Boys costumes. This was clearest in Chris, Lara Jean's rebellious (and, curiously, Subway-loving) best friend. "Her inspiration really came from Stevie Nicks, Winona Ryder, and Natasha Lyonne, from her earlier movies," Rabinovich says. To differentiate the Chris character from the Covey sisters, Rabinovich wanted to give Chris a darker palette with more texture. In the movie, she layers fishnet stockings under black ripped jeans, and sports wide brimmed black hats. "When I read [the script], it was clear to me that she was going to be a little bit punk-rock, a little bit of a rebel," says Rabinovich.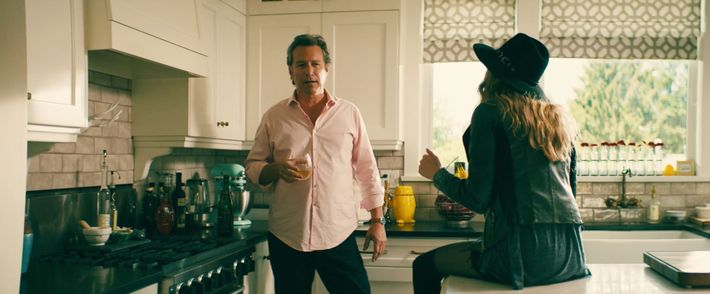 Dr. Covey
Rabinovich wanted to lean into the fact that the Covey's father was a single dad to three daughters. "What I didn't want to do is put him in rigid clothes because he's a doctor. This is a love story," Rabinovich says. "We want to make people real." Instead of stiff (and bland) muted button-downs, Rabinovich wanted John Corbett to wear brighter colors and softer textures. "We really honed in on putting him in polos and putting him in light sweaters. A dad of girls will have pink and purple in his closet, right? There was a big decision to look at the overall color palette for him."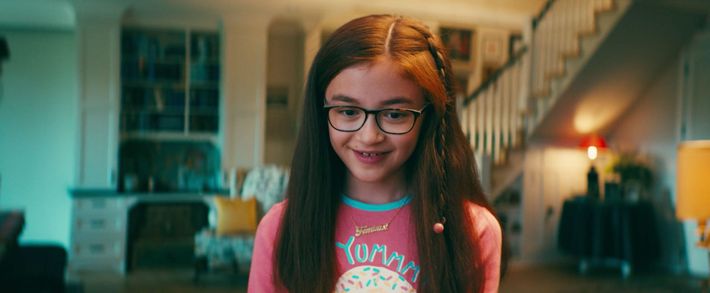 Kitty
For Lara Jean's witty, wise-beyond-her-years little sister, Rabinovich wanted Kitty's clothes to reflect her politics — literally. "Kitty's the girl that everybody wants to grow up to be, even though she's the youngest," Rabinovich says. "It was very clear that she needs a proclamation, something that really says 'this is who I am' in a gentle detail." Rabinovich decided on a nameplate necklace, with the word "feminist" inscribed instead of Kitty's first name. The necklace, from U.K. brand Rock N Rose, was one of actress Anna Cathcart's favorite details, and the producers let her keep it after filming wrapped.