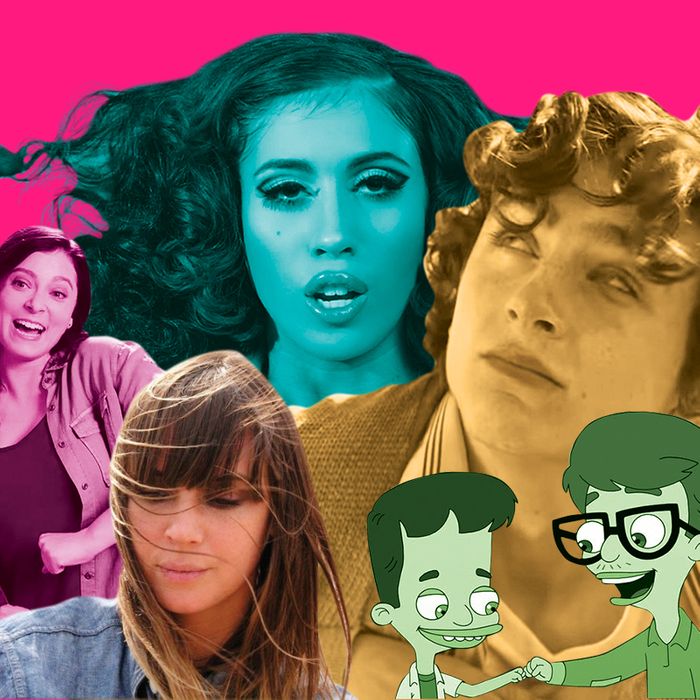 Photo: Courtesy of the CW (My Crazy Ex-Girlfriend); courtesy of Netflix (Big Mouth); courtesy of Amazon Studios (Beautiful Boy)
Art
1. See Punch
Pow!
Every work at Jeffrey Deitch's group show is visually on fire. Each painting, sculpture, and photograph, by a diverse cast of up-and-coming artists from leading painter Nina Chanel Abney's own circle, comes at you with graphic power and blows away any institutional curatorial fears of art with keyed-up color, striking lines, and bold-faced visual aggression. —Jerry Saltz
Jeffrey Deitch, 18 Wooster Street, through October 27.
Opera
2. Hear Jonas Kaufmann
If he shows up.
In opera houses the world over, Jonas Kaufmann is renowned for his flaxen-voiced tenor, his ease in strenuous roles, and his habit of last-minute cancellations. Assuming he shows up for his recital, he'll set Wagner aside and train his powerful voice on light music: cabaret, operetta, and pop songs from the 1920s and '30s. —Justin Davidson
Carnegie Hall, October 5.
Art
3. See Ten Years
A commemoration.
I measure the perspicacity, acumen, passion, and visual acuteness of gallerists by their history of identifying unknown artists of their own time, exhibiting their work (whether I like it or not), and seeing it become part of the discourse. Rachel Uffner has done this for ten years. Against all odds, Uffner has shown and nurtured deserving, previously nameless artists. This anniversary exhibition celebrates and shows just this. Hail, gallerist. —J.S.
Pop Music
4. Listen to Desperate Man
"Hey, what can I say?"
Country-rock king Eric Church follows his 2015 highlight Mr.
Misunderstood with Desperate Man, a new batch of songs written in his North Carolina mountain cabin, which, like the work of his peers Chris Stapleton and Sturgill Simpson, attempt to expand country's boundaries while honoring its foundations, a balance you can feel in the Stones-go-Nashville title track. —Craig Jenkins
EMI Nashville.
TV
5. Watch Flight of the Conchords: Live in London
Bret and Jemaine return for one night only.
The bad news: The series Flight of the Conchords, about struggling New Zealand musical duo Bret (Bret McKenzie) and Jemaine (Jemaine Clement), isn't getting a reboot on HBO. The good news: A special based on a recent concert will be streaming on HBO, and in it, McKenzie and Clement sound as smooth and witty as ever. —Jen Chaney
HBO, October 6.
Classical Music
6. Hear Place
A new light on gentrification.
Few topics in urbanism and social dynamics lend themselves to vocal/orchestral treatment as readily as gentrification. Maybe that's because artists are often both its harbingers and its victims. Composer Ted Hearne has co-written an oratorio (with Saul Williams) on the topic, inspired in part by his time in Fort Greene, to be premiered at the epicenter of neighborhood change. —J.D.
BAM, October 11 through 13.
TV
7. Watch Big Mouth
Puberty ain't pretty. But it's funny.
The animated series co-created by Nick Kroll & Co. returns for a second season that deals frankly — very frankly — with the nasty business of middle schoolers' discovering their sexuality, which, as it happens, is totally hilarious when it's happening to cartoon preteens and not to you. —J.C.
Netflix, October 5.
Classical Music
8. Hear Louis Andriessen
Dutch treat.
The Dutch composer, an impish guru to generations in the New York new-music scene, gets a ten-day tribute from the New York Philharmonic. Jaap Van Zweden leads the world premiere of his orchestral work Agamemnon, David Robertson conducts his TAO, and Andriessen curates a smaller show with music by Ravel, Miles Davis, and other composers who inspired him. —J.D.
New York Philharmonic, October 4 through 14.
Audiobooks
9. Listen to Cherry
Even if you've already read it.
If you're new to audiobooks, which happen to be the fastest-growing sector of the publishing industry, start with Nico Walker's Cherry — a searingly beautiful narrative of opioid addiction — narrated by Jeremy Bobb. Its use of music between chapters from artists like Modest Mouse and Dinosaur Jr is a "sweet departure from the old-time radio hour soundtrack that's all too common in this medium," says Vulture's Jenni Laidman.
Penguin Random House Audio.
Theater
10. See Renascence
The original riot grrrl.
Directors Jack Cummings III and Dick Scanlan and composer Carmel Dean, making her New York debut, tell the story of '20s literary celebrity and "It" girl Edna St. Vincent Millay in a world-premiere musical that sets the Pulitzer-winning poet's words to a lush, contemporary score. —Sara Holdren
Transport Group @ Abrons Arts Center, October 5 through November 17.
Classical Music
11. Hear Orchestre Révolutionnaire et Romantique
Masterpieces of a Romantic.
Conductor John Eliot Gardiner has spent decades re-creating the sound of the past, using a mixture of scholarship, speculation, and showmanship. Now he trains the orchestra he's led for nearly 30 years on the question of What Would Hector Berlioz Do? The two concerts cover his major warhorse, Symphonie Fantastique, the viola concerto Harold in Italy, and a handful of rarities. —J.D.
Carnegie Hall, October 14 and 15.
Pop Music
12. Listen to Wanderer
Cat Power is back.
Atlanta's Chan Marshall returns with Wanderer, her first album as Cat Power since 2012's Sun. Wanderer's collection of wispy folk, blues, and country delicacies includes the single "Woman," a collaboration with Lana Del Rey, and a mournful, stately solo-piano cover of the Rihanna hit "Stay." —C.J.
Domino Recording Co., October 5.
Theater
13. See Plot Points in Our Sexual Development
Honest mistakes.
Margot Bordelon directs a new play from Miranda Rose Hall about a couple — one cisgender woman and one genderqueer — who want to be honest with each other about their sexual histories and wind up risking everything in their quest for truthful intimacy. —S.H.
Lincoln Center, Clair Tow Theater, in previews October 6 to 21, opens October 22.
Books
14. Read Killing Commendatore
Fantastical quests and morose meditations.
When his marriage fails, a portrait artist seeks refuge in a friend's home, where a painting in the attic helps him slip into another dimension and his reality begins to shift. For longtime Haruki Murakami fans. —Boris Kachka
Knopf, October 9.
TV
15. Watch Crazy Ex-Girlfriend
Rebecca Bunch's swan song begins.
The final season of Crazy Ex-Girlfriend should answer the question last season left hanging: Will Rebecca (Rachel Bloom) serve time for attempted murder? If she does, I'm pretty sure there will be some singing and dancing in that jail. —J.C.
CW, October 12.
Movies
16. See Beautiful Boy
Bring on the tears.
Based on an eponymous memoir by David Sheff and another by his son, Nic, a frustrated father (Steve Carell) witnesses the slow spiral of his teenage son (Timothée Chalamet) into meth addiction and explores a question that often haunts American families today: How can such a thing happen?
In theaters October 12.
Talks
17. & 18. Read The Virgin Suicides and Hear Jeffrey Eugenides
Remembering the Lisbon sisters.
The rare book that focused on adolescence but sought adult eyes, Jeffrey Eugenides's haunting debut novel, The Virgin Suicides, arguably kicked off our pop-culture obsession with teenage tragedy that is still pervasive 25 years later. For its anniversary, Eugenides joins Paris Review editor Emily Nemens in a conversation about the book's legacy and cult following.
Strand Books, 828 Broadway, October 9.
Books
19. Read White Dancing Elephants
Short stories, enduring issues.
Women both endure violence and wield it against one another in Chaya Bhuvaneswar's debut collection of 17 stories about sexual harassment, a therapist obsessed with her new client, mourning a miscarriage, and more. —B.K.
Dzanc, October 9.
Podcasts
20. Listen to 30 for 30
Strap in, folks.
ESPN's sports-documentary podcast returns to its classic anthology format. This season, the show will feature stories on Jose Canseco, a protest at the New York City marathon, and the legendary 2003 World Series of Poker.
ESPN, October 16.
TV
21. Watch The Conners
How do you solve a problem like Roseanne?
The Roseanne reboot came screeching to a halt earlier this year when its star, Roseanne Barr, was fired because of a racist tweet. Then it got started again with The Conners, the attempt to continue the success of Roseanne without Roseanne. Will the weekly travails of Dan (John Goodman), Jackie (Laurie Metcalf), Darlene (Sara Gilbert), Becky (Lecy Goranson), and D.J. (Michael Fishman) be enough to sustain audience interest? —J.C.
ABC, October 16.
Pop Music
22. See Kali Uchis and Gabriel Garzón-Montano
The next generation.
Kali Uchis is a gifted young singer-songwriter whose spirited collaborations with rappers like Tyler, the Creator blossomed into an excellent, genre-hopping debut album, Isolation. Catch Kali with the equally talented Gabriel Garzón-Montano, whose soulful singing garnered national acclaim when Drake sampled his 2014 gem "6 8" in the moody "Jungle," at Terminal 5. —C.J.
Terminal 5, October 12 and 13.
Books
23. Read The Taiga Syndrome
Newly translated.
A Lynchian noir by Mexican novelist Cristina Rivera Garza tracks a missing couple in a ravaged no-man's-land, weaving a mystery out of fairy tales, disaster capitalism, and shadowy afflictions. "One of Mexico's greatest living writers," says Jonathan Lethem, "and — go figure — we are just barely beginning to catch up to what she has to offer." —B.K.
Dorothy.
Theater
24. See Oklahoma!
Oh, what an unsettling morning!
Director Daniel Fish looks through a glass darkly at Rodgers and Hammerstein's usually sunny — and, in its day, revolutionary — 1943 musical, here performed with a seven-piece band including pedal steel and banjo. Fish's diverse, bare-bones production asks how — or whether — we can reconcile the beauty and humor of the musical's score with the violent history of America's building of nationhood. —S.H.
St. Ann's Warehouse, through November 11.
Pop Music
25. Go to The Velvet Underground Experience
A stroll down counterculture lane.
Celebrate the art and impact of the seminal New York punk-rock progenitors the Velvet Underground as the traveling multimedia exhibition touches down near the band's old Greenwich Village stomping grounds. The immersive experience uses film and archival photography to examine the life of the band, its members, and the long tail of artists and musicians they inspired. —C.J.
718 Broadway, October 10 through December 30.
*This article appears in the October 1, 2018, issue of New York Magazine. Subscribe Now!