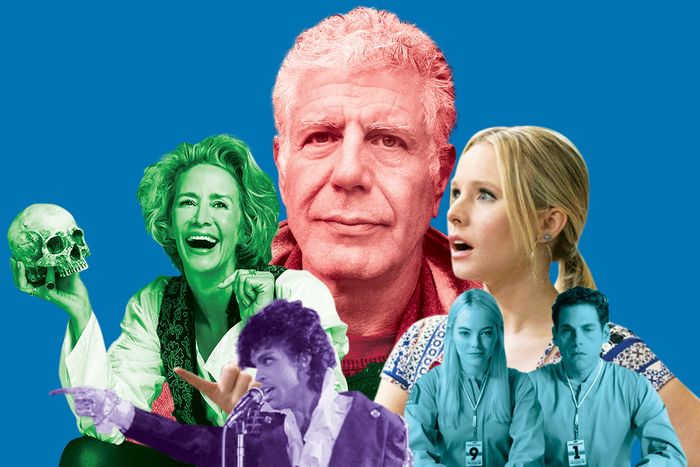 Photo: Jake Chessum/Courtesy of Warner Bros./Colleen Hayes/Courtesy of NBC/Courtesy of Netflix/David Scott Holloway
Theater
1. See Uncle Romeo Vanya Juliet
Fortune's fools.
Bedlam has made a name for itself with high-energy, small-ensemble reinvigorated classics (Saint Joan, Hamlet, Sense and Sensibility), and here director Eric Tucker mashes two together. Five actors explore Shakespeare's tragedy and Chekhov's moody comedy at the same time, underlining the flights and follies of romantic desire in both youth and middle age. —Sara Holdren
Bedlam @ A.R.T./New York Theatres, through October 28.
Art
2. See Jane Fine
Family matters.
A key insight for "Love, American Style," Jane Fine's intriguing show of intensely painted and colored quasi-abstractions, is revealed in its PR release: In January, Fine learned her father was not her biological father. Her revisited childhood is piled into these complicated and charged new works, telling veiled personal stories and acting as a healing mechanism. Whatever's going on, the whole show is optically enkindled. —Jerry Saltz
Pierogi, 155 Suffolk Street, through October 7.
TV
3. Watch Maniac
Alternate reality.
Maniac is one of those series that's hard to describe. It's set in a weird version of the future, where Jonah Hill plays a guy with paranoid delusions who joins a medical study along with Emma Stone, who Hill's character believes will help him save the world from … something. Look, just trust me: It's oddly absorbing — Cary Joji Fukunaga directs — and I immediately enjoyed it even though I wasn't exactly sure what the heck was happening. —Jen Chaney
Netflix, September 21.
Movies
4. See The Complete Jean Vigo
Vive la France!
Vigo? You go! To the Film Forum, that is, to see Jean Vigo's poetic 1934 masterpiece, L'Atalante, his only feature film (he died in his 20s), as well as a program of Vigo shorts, including the incomparable Zero for Conduct, Jean Taris, and À Propos de Nice. The newly restored feature — in which a barge captain wins, loses, and refinds his bride — should be seen at least three times: once to see how, in the hands of a visionary, surrealism can seem as natural as breathing; again to be reminded how many sensuous tools of cinema are so rarely used; and a third time … just because. —David Edelstein
Film Forum, September 21 to October 2.
Pop
5. Listen to Piano & a Microphone 1983
Posthumous Prince.
From the year he and the Revolution first took radio by storm, Piano & a Microphone 1983 presents a home-studio recording of Prince alone on piano and breathtaking vocals, running through classics like "Purple Rain" and "International Lover" and treasured covers like Joni Mitchell's "A Case of You" and gospel standard "Mary Don't You Weep." —Craig Jenkins
NPG/Warner Bros., September 21.
Classical
6. Hear New York Philharmonic
The opening gala.
Jaap van Zweden gives his first downbeat as music director, and the new era opens with fresh sounds: Filament, by Ashley Fure, whose "opera for objects," The Force of Things, enlivened Mostly Mozart last month. There will be megaphones. —Justin Davidson
David Geffen Hall, September 20.
Books
7. & 8. Read Washington Black and See Esi Edugyan
Echoing Whitehead's Underground Railroad.
In her third novel, Esi Edugyan takes slave history in a fabulistic direction. Her language is exquisite, and the life story of her titular slave, a Barbadian who uses his artistic talents to secure his freedom, is a swashbuckler (hot-air balloons! Arctic expeditions! Science!). But all of Black's eventual accomplishments can't counterbalance the suffering that spawned the New World. Edugyan will appear in conversation with her Knopf editor in Brooklyn a day after the book's release. —Boris Kachka
Knopf; Greenlight Bookstore, 686 Fulton Street, Fort Greene, September 19.
TV
9. Watch Quincy
Quincy Jones has more to say.
It's hard to ask for a more thorough and affectionate tribute to a father than Quincy, a doc about the great pop composer, arranger, conductor, trumpeter, and producer Quincy Jones, co-directed by his daughter Rashida Jones (Hot Girls Wanted) and Alan Hicks (Keep On Keepin' On). The film hits most of the expected highlights, including Jones's collaborations with Frank Sinatra, Michael Jackson, and Steven Spielberg (for his Color Purple score) and his oversight of the "We Are the World" single. —Matt Zoller Seitz
Netflix, September 21.
Theater
10. See Bernhardt/Hamlet
Hamlet, thy name is woman.
The great 19th-century diva Sarah Bernhardt played Hamlet in doublet and hose in 1899 — to popular acclaim and a good deal of critical pearl clutching. Now playwright Theresa Rebeck weaves a story of the backstage politics surrounding Bernhardt's cross-dressing star turn, with the indomitable Janet McTeer in the title role. —S.H.
Roundabout @ American Airlines Theatre, in previews, opens September 25.
Art
11. See Gertrude Abercrombie
Little private mysteries.
Organized by the savant curator Dan Nadel, this overdue gallery survey features the mostly forgotten fabulist–surrealist painter Gertrude Abercrombie, who oversaw a lively Chicago salon of artists, jazz players, eccentrics, and other visionaries in the late 1940s and '50s. The show includes haunted, uncanny depictions of curious cats, body fragments, doors, kites, and more that whet the appetite and ring painterly bells. —J.S.
Karma, 188 East 2nd Street, through September 23.
Movies
12. See The Sisters Brothers
Fresh from the Venice Film Festival.
In the hands of director Jacques Audiard (A Prophet), Patrick deWitt's best-selling novel, a sardonic Old West bloodbath set during the gold rush, becomes a chill, disturbing parable of men poisoned by greed and brutality. John C. Reilly is the warier, more attentive older brother, Eli, and Joaquin Phoenix the unfathomably disturbed younger, Charlie — both hired killers on the trail of a hapless inventor (Riz Ahmed) and their wayward ally (Jake Gyllenhaal). Wherever you think it's going, it's not. —D.E.
In theaters September 21.
Pop
13. See Paul Simon
Bidding farewell.
The last leg of Simon's final tour takes the Newark native back to New York and New Jersey for a string of dates. In the event you've never seen him play "50 Ways to Leave Your Lover" or "The Sound of Silence" or "Diamonds on the Soles of Her Shoes" in the flesh, watch the singer-songwriter close out 50 years on the road with one last blast. —C.J.
Madison Square Garden, September 20 and 21.
Opera
14. Hear Samson et Dalila
Palestine, 1150 B.C.
The Met opens a new season with a production by Darko Tresnjak. Although all else is comfortingly familiar, reliable stars Roberto Alagna and Elina Garanca brandish the swords and tie up the sandals for Saint-Saëns's biblical romance. —J.D.
Metropolitan Opera House, September 24.
TV
15. Watch The Good Place
Your favorite philosophical comedy.
Is it possible for humans to become better people? That's the meaty question tackled every week in one of the best comedies on television, one rife with twists, inventive ideas about the afterlife, and lots of jokes about Jags quarterback Blake Bortles. —J.C.
NBC, September 27.
Opera
16. Hear The Mile-Long Opera
A biography of seven o'clock.
David Lang's latest composition for a crowd will stretch along the High Line. A combination musical event–art installation–sociological research project, the work, which Lang developed with the architecture firm Diller Scofidio + Renfro, weaves together personal stories gathered from hundreds of New Yorkers and told by 1,000 singers. —J.D.
High Line at Gansevoort St., October 3 through 7.
Theater
17. See What the Constitution Means to Me
An American tale.
Last summer, playwright and actor Heidi Schreck performed her thoughtful, funny, articulate memoir play as part of Clubbed Thumb's Summerworks series, and now it returns to the East Village. Schreck and her fellow performers revisit and restage the speeches about American government she made as a teenager competing in rhetoric competitions to help pay for college. —S.H.
New York Theatre Workshop, through October 21.
Pop
18. See Graham Coxon
Rolling solo.
It's rare to see Blur founding member and guitarist Graham Coxon in a solo tour. In fact, he's never done one in North America. But Coxon will make not one but two appearances in September with a set list spanning his own eight records as well as his work as a composer.
The Bowery Ballroom, September 24; Elsewhere, 599 Johnson Avenue, East Williamsburg, September 25.
Podcasts
19. Listen to Serial Season 3
"One courthouse, week by week."
For its third season, the hit investigative podcast is switching things up.
Instead of focusing on a single case, host Sarah Koenig, joined by reporter Emmanuel Dzotsi, dives into the infinitely complicated topic of the American criminal-justice system by delivering weekly stories from Cleveland.
WBEZ, September 20.
Books
20. Read Fear: Trump in the White House
The final days? One can hope.
Bob Woodward, who made his career blowing up Richard Nixon, won't exactly depose the president with this book. But what he's demonstrating, among more high-minded policy discussions, is just how little respect Trump's closest associates ultimately have for him and how much they tremble for the republic. —B.K.
Simon & Schuster.
Movies
21. See Science Fair
Best in show.
Before you conclude that technology has made kids lazier and stupider and humanity is doomed, consider Cristina Costantini and Darren Foster's endlessly delightful documentary, Science Fair. Competing in the world's largest science fair, nine students among a field from 78 different countries (including American children of immigrants) suggest there's no shortage of verve, inspiration, commitment, and — oh, yes — family-driven nuttiness in the next generation. —D.E.
In theaters.
Pop
22. Listen to Young Sinatra IV
"Bringing that boom bap back."
The Maryland rapper Logic is back with Young Sinatra IV, an album-length installment in his long-running Frank Sinatra–inspired mixtape series that seems intent on pulling Logic back to his hardscrabble rap roots, judging from recent releases like the motivational Ryan Tedder collaboration "One Day" and the meat-and-potatoes beats-and-rhymes showcase "The Return." —C.J.
Def Jam, September 28.
TV
23. Watch Murphy Brown
Making fictional TV journalists great again.
We know, we know: There are so many reboots. But Murphy Brown's seems justified. What better time than now to welcome back one of TV's bravest feminists and journalists, as well as the parade of stars who'll inevitably make cameos as part of her rotating fleet of secretaries? —J.C.
CBS, September 27.
Classical
24. Hear Conrad Tao
A new age.
To launch the Jaap era, the New York Philharmonic has recruited composers to write music and curate concerts. First, in the big hall, Conrad Tao's Everything Must Go serves as the opener for Bruckner's Eighth Symphony; the after-party moves upstairs for a "Nightcap" concert, where Tao, a formidable pianist, will presumably play as well as preside. —J.D.
David Geffen Hall, September 27 and 28; Stanley H. Kaplan Penthouse, September 28.
TV
25. Watch Anthony Bourdain: Parts Unknown
Gone but not forgotten.
The great cook, gourmand, travel journalist, gadfly, and celebrity activist may be gone, but we'll still get one last meal of his great series when its final season — including an episode that was finished before his death —premieres on CNN. —M.Z.S.
CNN, September 23.
*This article appears in the September 17, 2018, issue of New York Magazine. Subscribe Now!