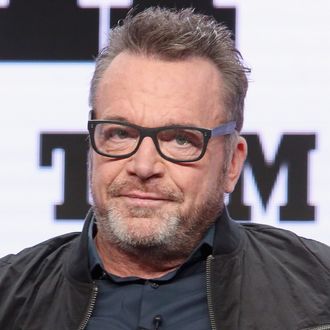 Tom Arnold.
Photo: Jesse Grant/Getty Images for A+E Networks
As part of his crusade to unearth the so-called Trump tapes, actor Tom Arnold has repeatedly gone after The Apprentice's creator, Mark Burnett, chairman of MGM Worldwide Television Group, for allegedly burying the rumored videos, which reportedly include then-host Donald Trump behaving inappropriately, specifically in racist and sexist ways, while filming the NBC reality show. Now, in a bizarre turn of events, Tom Arnold has taken to Twitter to accuse Burnett of allegedly physically assaulting him at an Emmys party.
"Mark Burnett just went apeshit & choked me at this huge Emmy party and then he ran away with his torn Pink shirt & missing gold chain," Arnold tweeted Sunday night. "I'm waiting for LAPD."
Arnold is the host of Viceland's upcoming series The Hunt for the Trump Tapes, which details the actor's attempts to locate the footage of the future POTUS acting offensively on-set — videos which Arnold, a former Celebrity Apprentice contestant, and former White House employee and Apprentice star Omarosa Manigault Newman maintain do exist.
Burnett has denied supporting Trump in the past, and noted that he does not have the ability to release MGM-owned footage at will. On August 13, the President tweeted about a rumored tape of him saying the n-word, claiming Burnett personally called Trump to reassure him there is no Apprentice footage of Trump using "such a terrible and disgusting word." Said the President of Manigault Newman's assertion otherwise: "She made it up."
"I'm going to keep hammering Mark Burnett on that," Arnold said in July while promoting his series at TCA. "He sits next to Donald Trump and gives him cover. He never says one word. People at the border are getting their kids snatched. Mark Burnett says he's a Christian and he lets Donald Trump [do this]."
Update: After Arnold tweeted, Burnett's wife Roma Downey posted a photo of her hand with a bruise, claiming that she "Got this bruise tonight when Tom Arnold tried to ambush my husband Mark and me at a charity event. Is your TV show worth it Tom?Please stop". Arnold responded by tweeting "bullshit" and "You lie your crazy husband attacked me you psycho. I'm filing police report & suing you for defamation." He also retweeted a post claiming that Downey had photographed a "days-old" bruise, a photo Patton Oswalt shared of himself and Arnold, and claimed Kevin Bacon was a witness to the altercation. Arnold's lawyer, Marty Singer, told The Hollywood Reporter that Burnett "attacked" Arnold