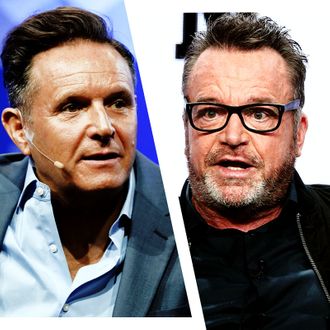 Fashion Week gave us Cardi B versus Nicki Minaj. The Democratic primaries gave us Cynthia Nixon versus Andrew Cuomo. What blessed power struggle has Emmys weekend presented? Tom Arnold scuffling with Mark Burnett, apparently! Late Sunday night, Arnold accused Burnett, Apprentice executive producer and chairman of MGM Television, of choking him during an Emmys event: "Mark Burnett just went apeshit & choked me at this huge Emmy party then he ran away with his torn Pink shirt & missing gold chain. I'm waiting for LAPD," Arnold tweeted. Here's what we know:
What beef does Burnett have with Arnold?
Arnold is the host of Viceland's series The Hunt for the Trump Tapes, where he will ostensibly search for damning footage from President Trump's past. The first episode will tackle Trump's time on The Apprentice, which Mark Burnett executive-produced. Arnold was previously a Celebrity Apprentice contestant and Trump ally, and claims there are tapes of Trump acting offensively on set, and using the N-word. (Former White House employee and former Apprentice contestant Omarosa Manigault Newman also says the tapes exist.)
During the press tour for his Viceland show, Arnold has repeatedly said that Burnett knows the tapes exist. "Mark Burnett says he's a Christian and he lets that man do all this bullshit and he's in this town making money and people are working? He let a sexual harasser work on his show?" Arnold said at TCA event in July. "Four times, producers on The Apprentice had to pull Donald Trump out and say, 'Whoa, you can't do that.' That's something you're going to see on my fucking show."
What's Burnett's association with Trump now?
Burnett says he's "not pro-Trump," despite Trump's own tweets to the contrary. In August, Trump claimed Burnett called him to assure him that no such tapes exist. Arnold maintains that Burnett has all the unedited, unaired Apprentice tapes, and Burnett says that he "does not have the ability nor the right to release footage or other material from The Apprentice," and that the footage is MGM's property. MGM is also unable to release the footage because of "contractual and legal requirements."
So what happened Sunday night?
Arnold and Burnett were both attending the Evening Before Emmy party, the 12th annual fundraiser for the Motion Picture Television Fund. Sources told Variety that the men arrived around 9:30 p.m., and the brawl began as they walked in near the entrance. On Twitter, Arnold said Burnett choked him, while Burnett's wife Roma Downey tweeted that Arnold "tried to ambush" the couple. (A source within earshot of the tussle said Arnold challenged Burnett on the Apprentice outtakes, specifically.) The source also said it was unclear who made the first move. Variety's source says both men were eventually allowed to enter the party.
Arnold also claims Icarus director Bryan Fogel has footage of the altercation, and that Downey knocked Fogel's phone out of his hands:
Any witnesses?
In addition to Fogel's as yet unreleased tape, Arnold says Kevin Bacon and his daughter Sosie (a star of 13 Reasons Why) witnessed the scuffle. Actress Alyson Hannigan (How I Met Your Mother) says she also saw what went down, including Survivor's Jeff Probst trying to break it up:
It's unclear if Patton Oswalt saw the fight itself, but afterwards he tweeted that he was "with Tom Arnold," and that the host was safe.
What's next for this scuffle? Will Arnold press charges?
The LAPD has been made aware of the altercation, but a report has not been filed. Arnold's attorney Marty Singer confirmed to The Hollywood Reporter that Arnold was "attacked" by Burnett, but didn't say what their next steps will be. Before this brawl, Arnold told Salon that he planned to confront Burnett, saying, "I'm definitely going to do something at the Emmys."
Update 5:15 p.m.: Tom Arnold has filed a police report, a spokesperson for the Los Angeles Police Department confirmed to Vulture Monday afternoon. No arrests have been made.
This is a developing story.