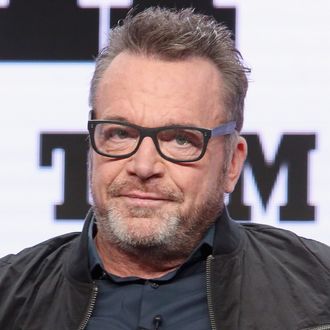 Photo: Jesse Grant/Getty Images
Actor Tom Arnold, the host of Viceland's new show The Hunt for the Trump Tapes, filed a battery police report Monday against reality producer and MGM chairman Mark Burnett, the Los Angeles Police Department has confirmed to Vulture.
An LAPD spokesman declined to offer more information about the allegations Arnold made in his complaint at the west L.A. police station, and a police report was not immediately available. But on Sunday night, the two men got into an altercation at pre-Emmys party and a source told Variety it was not clear who started the brawl.
The fight erupted near the entrance to the 12th annual fundraiser for the Motion Picture Television Fund. Afterward, Arnold claimed in a tweet, "Mark Burnett just went apeshit & choked me at this huge Emmy party then he ran away with his torn Pink shirt & missing gold chain. I'm waiting for LAPD." But Roma Downey, Burnett's wife, countered with her own tweet and a photograph of a bruise on her hand. She claimed Arnold "tried to ambush" them.
On Arnold's new show, which premieres on Tuesday, he is searching for damning footage from President Trump's past. The first episode will tackle Trump's time on The Apprentice, which Mark Burnett executive-produced. Arnold, who competed on Celebrity Apprentice, claims there are tapes of Trump using racial slurs on set. During the press tour for his Viceland show, Arnold repeatedly said that Burnett knows the tapes exist. (Former White House employee and former Apprentice contestant Omarosa Manigault Newman also says the tapes exist.)
A source within earshot of the fight said Arnold challenged Burnett on the Apprentice outtakes, specifically. Actress Alyson Hannigan tweeted that Survivor host and executive Jeff Probst tried to stop the fight.