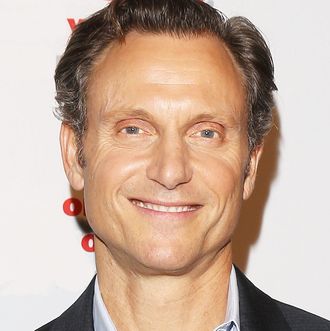 Tony Goldwyn.
Photo: Michael Tran/Getty Images
Kerry Washington is doing American Son, Katie Lowes is in Waitress, and now Tony Goldwyn is joining Network — let the Scandal takeover of Broadway begin! Goldwyn will play Max Schumacher, the role William Holden played, in the upcoming stage adaptation of the Sidney Lumet–Paddy Chayefsky film. Bryan Cranston stars as the mad-as-hell Howard Beale, transferring with the show from London, while Tatiana Maslany will play the Faye Dunaway role of Diana Christensen that was performed by Michelle Dockery on the West End.
Ivo Van Hove is directing Network, and the rest of the cast includes Joshua Boone (Holler If Ya Hear Me), Alyssa Bresnahan (War Horse), Ron Canada (Jack Ryan), Julian Elijah Martinez (Father Comes Home From the Wars Part 1,2,3), Frank Wood (Sideman), Nick Wyman (Catch Me If You Can), Barzin Akhavan (All the Way), Jason Babinsky (Billy Elliot), Camila Canó Flaviá (Dance Nation), Eric Chayefsky (Stalked: Someone's Watching), Gina Daniels (All the Way), Nicholas Guest (Madam Secretary), Joe Paulik (Love and Money), Susannah Perkins (The Wolves), Victoria Sendra, Henry Stram (Junk), Bill Timoney (All the Way), Joseph Varca (Pentecost and Monster), Nicole Villamil (Queens) and Jeena Yi (Somebody's Daughter). Network begins performances on November 10 at the Belasco Theatre and opens December 6.