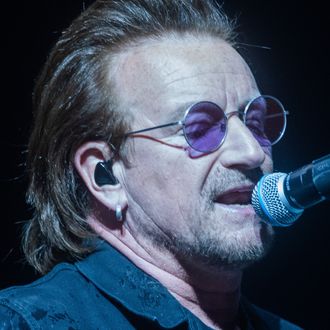 Bono.
Photo: picture alliance/picture alliance via Getty Images
It was a rough night in Berlin for U2, who had to end its 30th performance on the 'Experience + Innocence Tour' after only a few songs when lead singer Bono's voice gave out. The band was performing 'Red Flag Day' when the singer began to struggle, and while Bono attempted to recover by drinking water and sitting out a few verses, it was no use. After then attempting to perform Beautiful Day Bono apologized to the crowd, and suggested taking a 10-15 minute break to try to recover, with the supportive crowd cheering him on. Unfortunately, the concert ended up being canceled after the singer's voice did not return. The band released the following statement on their website, describing the sudden nature of Bono's "complete loss of voice:"
We're so sorry for tonight's cancellation. Bono was in great form and great voice prior to the show and we were all looking forward to the second night in Berlin, but after a few songs, he suffered a complete loss of voice.

 

We don't know what has happened and we're taking medical advice.

  

As always, we appreciate our audience's understanding and all our fans' support in Berlin and those who travelled from afar. We will update you very soon.

 

Adam, Larry and Edge
Reportedly Bono had been complaining earlier in the show about smoke in the arena, which apparently does allow smoking in certain areas. "This is like being in a giant cigar," the singer can be heard telling the crowd in a fan video posted to Twitter. "I've lost my voice and I don't know what to do. I was singing like a bird about 10 minutes ago." So far, the band is still slated to continue its tour with the next show in Cologne on September 4. Video of Bono attempting the Beautiful Day performance and then apologizing to the crowd can be seen below.
Updated, 9/3/2018 2:36 pm: Bono has issued a statement that his voice has in fact recovered and the band's tour will continue on, with a makeup date for the cancelled Berlin show in November.
"I've seen a great doctor and with his care I'll be back to full voice for the rest of the tour. So happy and relieved that anything serious has been ruled out. My relief is tempered by the knowledge that the Berlin audience were so inconvenienced. There was an amazing atmosphere in the house, it was going to be one of those unforgettable nights but not for this reason… We can't wait to get back there on November 13th." - Bono